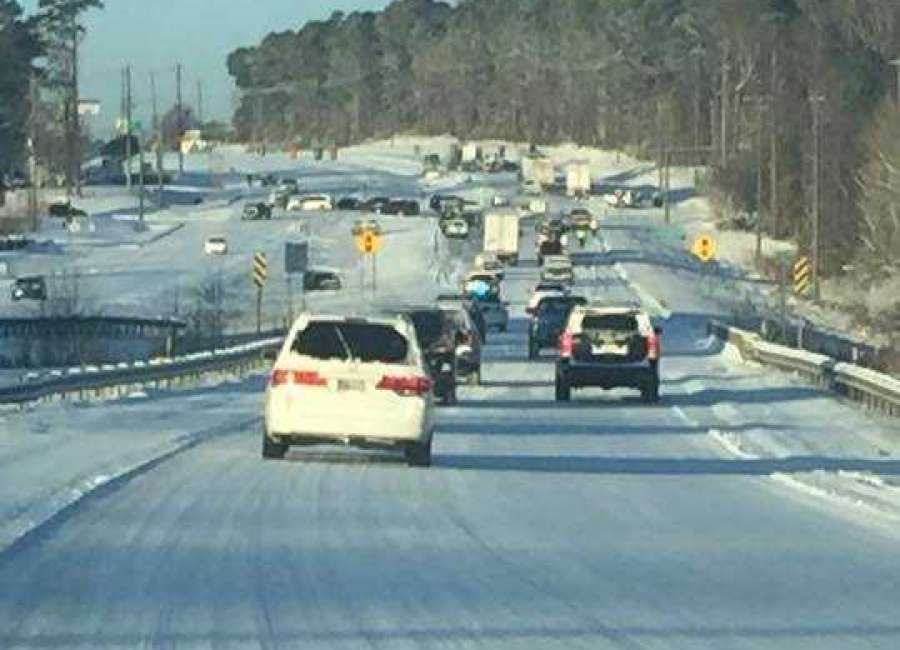 The state's Winter Weather Awareness week may end with a pop quiz for residents in Coweta County and people living in North Georgia.
According to the National Weather Service in Peachtree City, freezing rain, sleet and snow – either separately or mixed together– will fall on Coweta County this weekend.
"Right now, we have a rain/snow mix coming in late Sunday night through Monday morning, but the models are showing no accumulation at this time," said Laura Belanger, a meteorologist with the National Weather Service. "It's still too far out to predict exactly what will happen, but people need to be alert about this storm system because it has the most potential for winter weather going into the work week. That's when schools and business may change the way they operate that day."
Freezing rain and sleet are also predicted to fall in Coweta County and the surrounding areas late Saturday night into early Sunday morning, Belanger added.
The moisture coupled with below freezing temperatures may cause some slick spots on the county's roads and interstates.
The potential for winter weather comes as the Georgia Emergency Management Agency and the Coweta County Emergency Management Agency wraps up Winter Weather Awareness Week.
The goal is to help people prepare for cold weather and make plans in case of an emergency.
Winter Weather Awareness week and the incoming storm system hits almost a year to the day of a storm that blanketed Coweta County with snow and ice on Dec. 8, 2017.
A few weeks later, a second storm dumped 4-6 inches of snow, created icy conditions and knocked out power on Jan. 16, 2018. The weather created chaos on the roads the following day causing the city of Newnan and Coweta County officials set a mandatory curfew to keep people off the roads.  
Some residents are taking heed of the state's tips and preparing for a potentially cold and wet winter.
"We bought a gas generator after last year's power outage. Hopefully, (we'll be) a little more prepared," said Sharon Harrington Howard.
"Be ready for the unexpected no matter what time of year it is," said Jay Jones, director of CEMA and the Coweta 911 Center. "Always be alert as to what's going on with the weather. Make sure you have a preparedness kit and a plan in place so you're not caught off guard."
During the winter months, Jones said people should have two kits – one for the home and one that's kept in peoples' cars.
The car kit should contain items such as jumper cables, gloves, hand warmers, blanket, an ice scraper, water and snacks, Jones explained.
Drivers should also inspect their cars – including making sure there's a proper amount of antifreeze and oil under the hood, he added.
Jones advised homeowners to make sure their house is insulated correctly, have other sources of heat and light on hand, and, if possible, fill propane and gas tanks. Kits should include flashlights, batteries, bottled water and non-perishable food items for people and pets.
People should also refill daily medications before a storm is expected to hit the county, Jones said.
According to Belanger, based on weather models and the El Nino pattern, a band of unusually warm water that develops in the Pacific Ocean, this winter may be colder and wetter for Coweta County residents.
"This kind of set should result in cooler than normal temperatures and above normal chances for precipitation," she explained. "Sometimes those two things correlate together and give us a winter weather event, but it doesn't necessarily mean we'll see more snow. We might have a sunny day with below freezing temperatures or a rainy day with average temperatures."
The city of Atlanta and surrounding areas typically sees at least one inch of snow per year, Belanger added.
Jones said either way, Coweta County public work crews are ready.
"They already have their supplies of sand and brine to pre-treat roads," he said. "They have equipment ready. We have more than 1,000 road miles to cover. I spoke with City of Newnan officials, and the city is ready as well."
For more information on winter weather hazards and how to build a safety kit, visit www.ready.ga.gov .