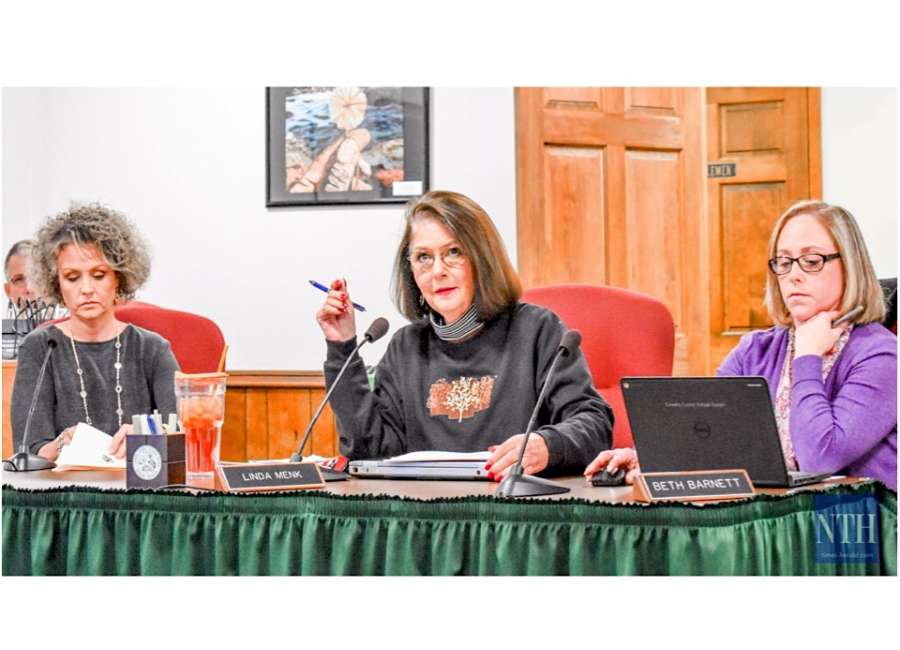 Coweta seniors who campaigned for increases in school tax exemptions want to know if their efforts will be thwarted by a lone opposition vote.

In October, the Coweta County Board of Education voted 6-1 to move ahead with a proposal for local legislation that would provide more than $1.8 million in tax relief for senior citizens. District 4 representative Linda Menk cast the sole vote against the measure, protesting that it wasn't "aggressive enough."
A split vote could be a problem for the local legislative delegation, which historically has required a unanimous vote by a governing body before it will move forward with a resolution on the state level – making Menk's "no" a potential fly in the ointment.
That's a concern for Donald Smith, who asked the Coweta County Board of Education Tuesday whether it can remedy the situation.
"If the person who voted against it is willing to change her vote, is there a mechanism within the school board to revote on that and get a unanimous vote?" he asked. "The senior citizens need the tax relief, and we need it as soon as possible."
Chairman Larry Robertson replied that while such a mechanism exists under Robert's Rules of Order – the meeting format adopted 7-0 by the board in January – Menk missed the window of opportunity to change her vote during the school board's October meeting. Robert's Rules of Order states that a member can change a vote until the results have been announced by the presiding officer.
"That result was announced," Robertson said.
A member also can request unanimous consent from the other members to change her vote, but consent can only be granted "promptly after the vote and before any intervening debate or business."
"That request was not made at that time," Robertson said.
With Menk's opposition vote official, the proposal moved along to the Coweta County Board of Commissioners, which earlier this month voted 5-0 to pass a resolution requesting local legislation.
"Even though it's the school system's request, pursuant to the law it has to come before the board of commissioners for them to pass a resolution requesting that the legislature take action," board attorney Nathan Lee said.
"Is there a chance that this will not be voted on (at the state level) because of the non-unanimous approval?" Smith asked Robertson.
"That would be up to them," Robertson said. "It would not be up to this board right here."
Coweta's five state legislators last year refused to introduce legislation to raise the countywide hotel/motel tax because of a single dissenting vote by Newnan City Council member Dustin Koritko.
While delegations set their own policies for legislation that originates in their districts, the unofficial rule is that local legislation is only introduced in the Georgia House of Representatives with unanimous votes from local governing bodies, according to Rep. Lynn Smith (R-Newnan), who said the practice encourages all levels of government to work more efficiently.
"Local governments have to resolve their issues locally," she said. "The better job they do facing the problems locally, the better job that we can do when it gets to the state level."
During board comments Tuesday, Menk said she wants to correct any misinterpretation of her vote on the senior tax exemption increase.
"In no way should my vote be misconstrued as opposition to the proposed increases afforded to our seniors relative to school taxes," said Menk, reading from a prepared statement.
Menk said she hopes the local delegation will take action to increase the amount of the senior exemptions approved by the board of education.
"Personally, I believe the proposed exemptions should be increased above the BOE recommended levels with a potential 100 percent exemption policy that will settle the issue for years to come," Menk said. "The 100 percent exemption would remove the uncertainty of future reappraisals, which are totally out of the control of our seniors as our community continues to grow and expand."
Three exemption scenarios – prepared by the Coweta County Tax Assessors Office – first were introduced at the board's May 22 and May 29 budget workshops, neither of which Menk attended.
To date, Menk has not made any formal motion addressing the senior tax exemption issue.
In September, the scenarios were posted on a dedicated, school system-hosted website for review and comment, along with other information about senior citizen school tax exemptions, which respondents overwhelmingly supported.
Several residents have spoken at board of education meetings since early 2018, encouraging board members to consider increased exemptions. Three – Donald Smith, Jeff Binion and Robert Eaton – served as points of contact for the school board's senior tax exemption website.
Coweta's delegation will set its two-year policy for dealing with local legislation after the five members are sworn in Jan. 14, and carrying local legislation that lacks a unanimous vote may be part of that policy. But Smith cautioned against sidestepping local officials.
"The government closest to the people – they have specific issues they must deal with," she said. "When you elect your state representative, your state representative isn't in place of your city council or your commission member. We're not the mama and the daddy of the school board, or the county or city elected people. They are equally elected to perform their duties as we are elected to perform ours."
(Staff writer Sarah Campbell contributed to this article.)