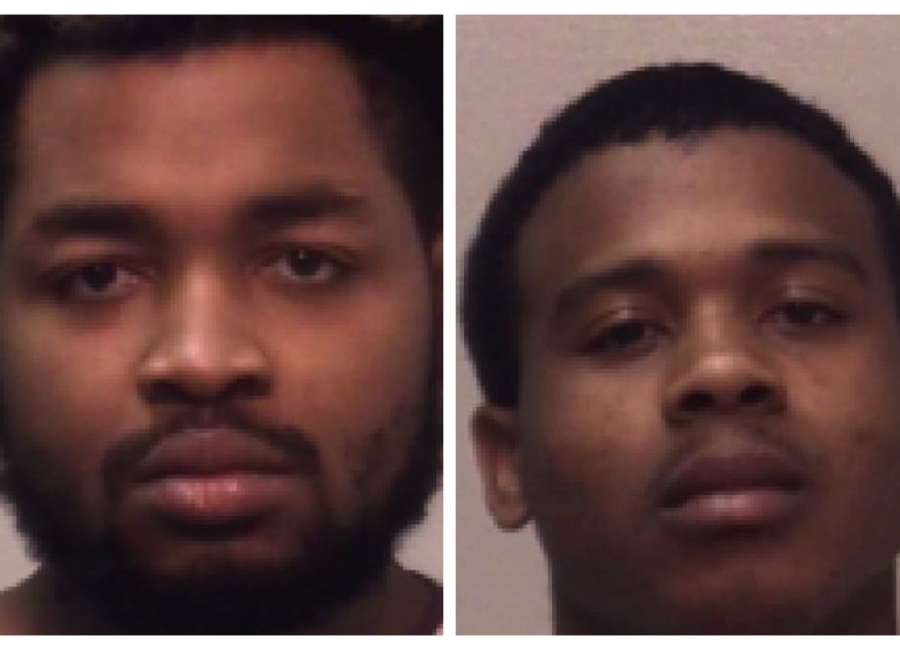 Two Newnan residents are heading back to prison for robbing a man at gunpoint.
Darkarah Kanye Harmon, 23, and Dontavius Tyrese Johnson, 19, each were charged with  armed robbery, aggravated assault and sale of marijuana, according to the indictment.
Harmon and Johnson were tried separately in Coweta County Superior Court.
A jury found Johnson guilty in October of all three charges against him.
Superior Court Judge Travis Sakrison sentenced Johnson to 20 years behind bars.
Harmon was on trial last week. A jury found him guilty of armed robbery and the sale of marijuana, but determined Harmon was not guilty of aggravated assault, according to court documents.
Sakrison sentenced Harmon to 20 years to serve 10 years in prison. Harmon will serve the remainder of his sentence on probation.
Harmon and Johnson reportedly stole a man's clothing off his person in December 2017 during a drug deal on Lakeside Drive, the indictment stated.
According to arrest warrants, Harmon took the victim's hoodie, while Johnson pointed a gun at the back of the man's head and told him to "empty all his pockets." At some point during the crime, Johnson also fired a gunshot toward the victim, but did not hit the man, according to the arrest warrant.
Harmon and Johnson both have criminal histories in Coweta County.
According to court documents, Harmon attempted to rob the Little Caesars Pizza at 44 Bullsboro Drive in July 2014.
Harmon, then 18, was arrested and indicted on charges of criminal attempt to commit armed robbery, possession of a firearm during the commission of a felony and obstruction of an officer, an indictment stated.
Harmon pleaded guilty to all three charges and was sentenced by Superior Court Judge Emory Palmer to a total of 15 years to serve five years behind bars, according to court documents.
The documents also stated the five-year sentence against Harmon would be suspended if he successfully completes boot camp. Harmon could then serve the rest of his sentence (10 years) on probation.
Johnson's brush with the law was more recent. He was indicted in November 2016 of burglary and theft by receiving stolen property, according to the indictment.
In a negotiated plea with the Coweta County District Attorney's office, Johnson pleaded guilty to the burglary charge in January of this year and was sentenced to 10 years to serve one year behind bars, according to court documents.
The rest of Johnson's sentence would have been spent on probation, the documents stated.
At the same time, Johnson was facing new charges in a separate case after it  was discovered he was reportedly manufacturing marijuana, according to the indictment.
According to court documents, Johnson pleaded guilty in March to a lesser charge of possession of marijuana-less than one ounce. He was sentenced to one year in the Coweta County Jail.
In both cases, the juries were not made aware of Harmon's and Johnson's criminal histories while deliberating their most recent alleged crimes, according to the Coweta County District Attorney's office.
District Attorney Herb Cranford said he was pleased with the outcome of both trials.
Johnson's lawyer has already filed a motion for a new trial, according to court documents.