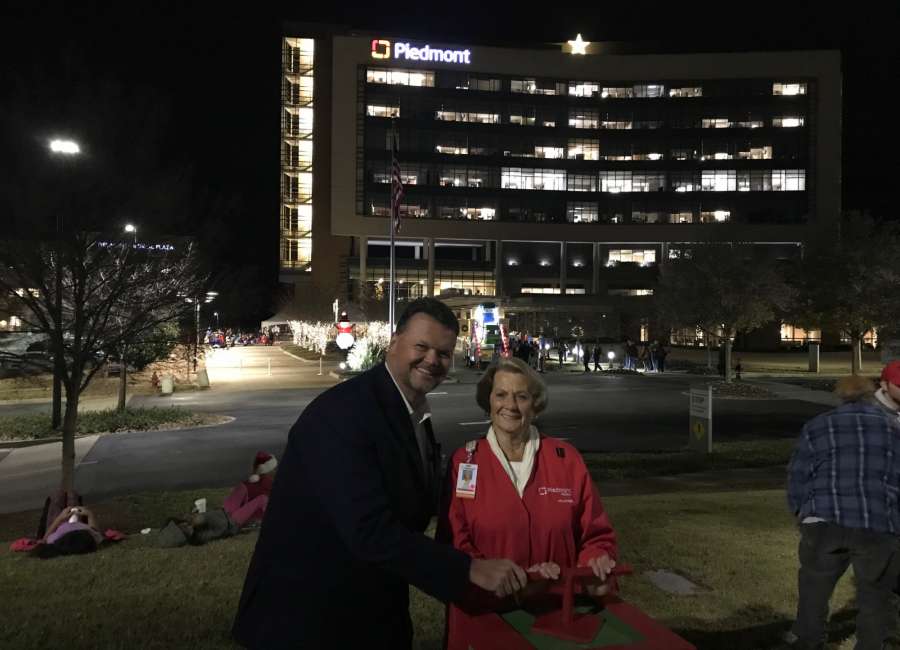 The stars shined brightly over Piedmont Newnan Hospital Thursday evening – especially one particular star.
Hospital staff, volunteers and residents helped kick off the holiday season during the fourth annual Starry Night – A Celebration of the Season event.
Hospital volunteer Maxine Morris hit the button to light up a gigantic star that sits on top of Piedmont Newnan, the county's tallest building. Morris has volunteered at the hospital for almost 30 years, officials said.
The star, donated by the hospital volunteers, will stay lit each night throughout the holiday season.
The family-friendly event celebrated the holiday season with the community and featured photos with Santa Claus, refreshments and kids' activities.
According to Piedmont Newnan officials, more than 1,500 people attended the event Thursday night.
"This has been a very exciting year at Piedmont Newnan – receiving our eighth consecutive Leapfrog 'A' for quality and safety and we will open a new 18-bed unit later this month," said Piedmont Newnan CEO Mike Robertson.
"As a local community hospital, we continue to look at ways to expand services that help save lives, prevent disease and keep people closer to home for the care they need. We have so much to be thankful for, including your support, and thank you for celebrating with all of us at this annual holiday event."
Guests of the annual Starry Night event were encouraged to help those in need by bringing an unwrapped toy for Toys for Tots.
Piedmont Newnan will serve as a local Toys for Tots collection point through Dec. 7.
The hospital is located at 745 Poplar Road.