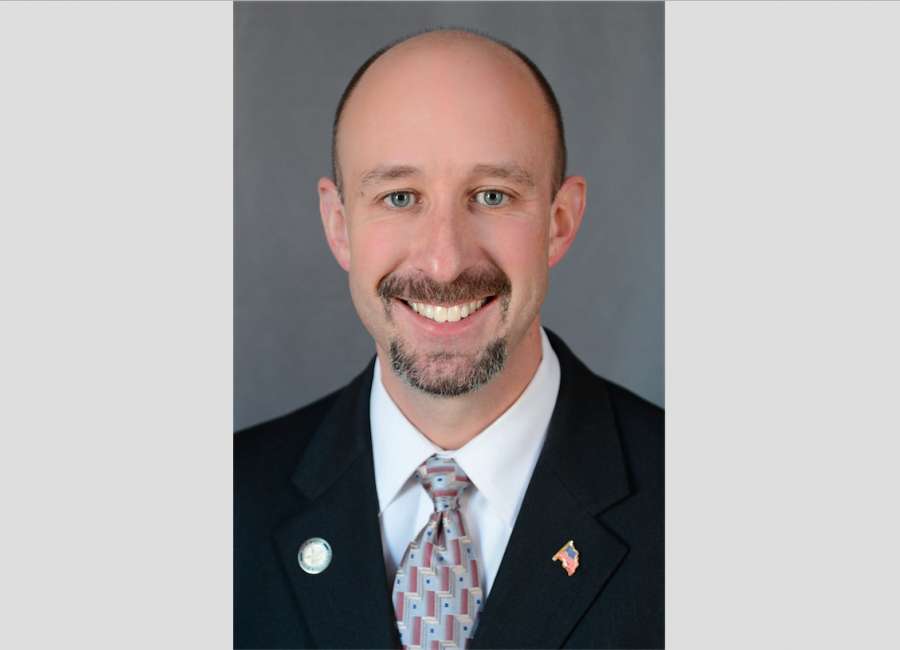 Though State Rep. David Stover has married a woman who lives in England and has been spending time in England, he said he plans to be present for every day of the 2019 and 2020 Georgia General Assembly sessions.
"I will be back in the session and not missing any days in 2019. I know that for certain. And I plan the same for 2020," Stover said Thursday.
On Wednesday, an Atlanta news station ran a story about Stover being out of the country, mentioning a vacant home he owns and a letter written on state letterhead to a British judge.
Stover and his then-finacé had been hoping to receive permission for her two children, whose father lives in England, to move to Coweta County.
During hearings on the issue, the judge asked about Stover, he said. His wife's attorney told the judge that Stover was an elected official, and the judge asked for more information.
"The judge said 'well, what I would like is a letter from him on his letterhead stating who he is and what his intentions are,'" Stover said.
So Stover said he did what the judge asked, sending the letter on his official letterhead. The letter outlines where the family would live and go to church and school, and mentioned extended family, sports and a college savings plan.
In hindsight, Stover said he should have written a short letter on his official letterhead, and then written the other details without letterhead.
If he had the opportunity to do it again, Stover said that's what he would have done.
"The letter wasn't meant to say 'you should listen to me because I'm a state rep,'" Stover said. "It was simply 'if this happens, then this, if that happens then that.' Nothing more."
In the letter, which is undated but was written before Stover's marriage in August, Stover wrote that if the request was denied, he would apply for a visa so that he can work in the U.K. and resign from his office with the state.
"We will endeavor to make our situation work," he wrote.
In May, the judge denied the request to allow the children to move to Georgia, according to the news story. So now the Stovers are trying to figure out their future options.
"I haven't figured it out yet," Stover said.
But he said he plans to serve out his new two-year term as state representative.
In the Atlanta news story, William Perry of Georgia Ethics Watchdogs called the letter "appalling" and "absolutely disgusting," saying "the fact that such personal business is put on state letterhead tells me he's willing to abuse his power."
"I own this, and if presented with similar circumstances in the future will do better," Stover said in a written statement. "I would not have written the letter had it not been requested by the judge."
The news story also referred to a home – which is vacant, and on the market – owned by Stover. The story stated the news organization "knocked on (Stover's) door in Newnan to see if he was home."
Though Stover purchased the home with plans to remodel and live in it, he's never lived there, he said. According to Coweta property tax records, the home was purchased in February.
His legal residence is at his mother's home on Ridley Road, where he has lived after his divorce from his first wife. It has been his legal residence since July 2017, Stover said.
"I never listed that as my residence," Stover said of the house featured on the television broadcast.
Stover did not attend the five-day special legislative session in November, held to budget money for hurricane relief. He said he had a 102-degree fever and didn't want to sicken other people. Stover said he was in the U.K. during that time, and didn't want to fly home while sick.
In 2017, there were issues with Stover missing some days of the legislative session.
However, "I was present to vote on every major bill that came through without unanimous consent," Stover said in a written statement.
Many legislators miss days of the session because of work, illness and family issues, he said.
"While this was a challenge during the 2017 session, it was not an issue in the 2018 session and I do not foresee this continuing to be an issue in the future," Stover said.
Stover said in the statement that his number of votes during the 2017-2018 term was average, with more than half of the members of the House missing more votes than he did.
The Atlanta news story was written without any input from Stover, he said.
The reporter apparently visited the UPS store where Stover has a mailbox, and knocked on the door of the vacant home. But Stover said an email from the reporter didn't get to him until a few hours before the story ran.
Stover said he checked call logs on his cell phone and saw no calls from a reporter, and said there were no messages left either on his voice mail or at his capitol office.
Stover was re-elected to his seat in November after beating a Republican challenger in the May primary and a Democratic challenger in November. He received 74 percent of the vote in November.
Stover took issue with allegations that he is hard to contact.
"Over the last two years I have answered over 1,500 emails directly," Stover said.
Constituents can email him at david.stover@house.ga.gov , call his capitol office at 404-656-0177 or call his cell phone at 404-890-0026.
"I've got a cell phone number listed," he said. "I may not pick it up every time, but I'll call people back if they leave a message. I don't ignore people."
Stover's official Facebook page was down for several hours on Wednesday but was back up by Wednesday afternoon. He said he temporarily took it down because of so many negative comments. He has since posted a point-by-point answer to the television news story.
Stover, who first took office after a special election in 2013, was subject to a residency challenge earlier this year. Thomas Finnegan filed a challenge against Stover in March, questioning whether he actually lived in House District 71.
At a court hearing, Finnegan presented no evidence that Stover wasn't a resident of District 71, and a judge ruled Stover met all qualifications to be a candidate.