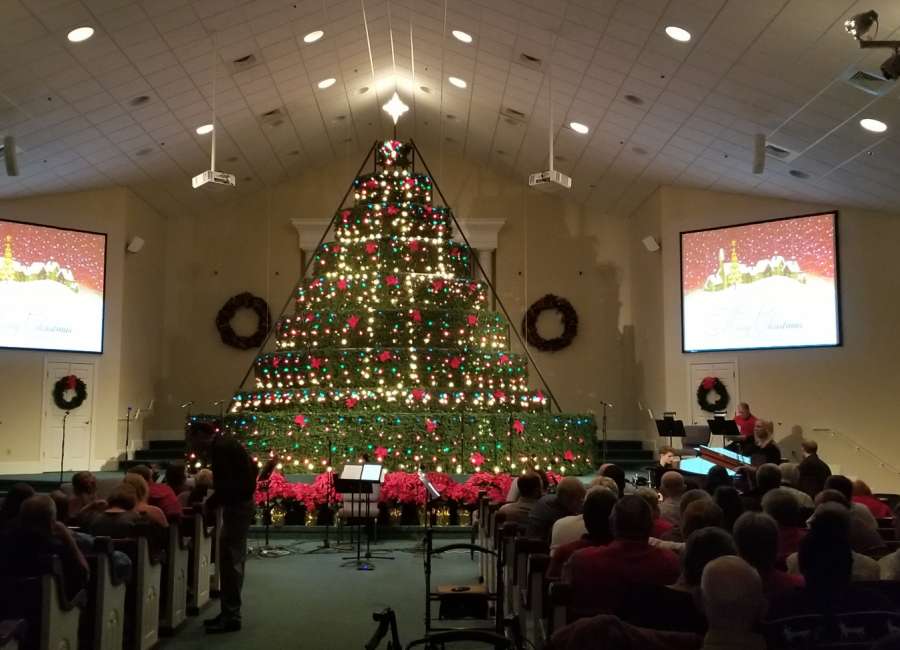 East Newnan Baptist Church held their Singing Christmas Tree presentation again this year.

This year's program, "Let's Have a Christmas Celebration," was presented on the evening of Dec. 7 and then again on the afternoon of Dec. 9. The program included music and a narration of the biblical Christmas story.
Choir members stood on a tiered Christmas tree with lights that flickered and formed patterns during the program.
More than a dozen songs celebrating the Christmas season were included in the program. Soloists – Holden Davis, Victoria Gates, Zoie Langley, Kylie Pack, Heath Polly, Aubriella Reed and Savannah Stevenson – sang solos for "Nuttin' for Christmas."
Also in the children's choir were Isabelle Eanes, Rachel Eanes, Alicia Hill, Art Kraft, Eva Marstella, Carson Pack, Hudson Pallas, Chase Polly, Kason Polly, Caleb Reed, Zoe Reed, Hampton Turner and Carley York.
Dr. Bobby Stevenson, minister of music, and Shannon Pack sang a duet for "And the Glory." Cindy Carroll's solo was "This Tiny Child," and Mike Ivey sang "The Way He Came."
The presentation closed with a duet, "I Have Seen the Light," by Anthony Langley, pastor of the church, and his wife, Mysty.
Andrew Harry was pianist, and there was an orchestra as well.
Sallie Kight and Frank Powers, pastor emeritus, were narrator. Jessica Stevenson operated the tree lights, while Randy Pope handled sound and Brenda Nall, Mel Nall and Steve Cannon were in charge of video production.
Members of the tree choir were Vicky Adams, James Bassett, Kirstie Bassett, Ron Beacham, Lynn Bradbury, Alisa Caldwell, Katelyn Cannon, Teresa Cannon, Cindy Carroll, Mark Collier Sr., Wendy Colliers, Nancy Curlee, Caroline Davis, Carole Duncan, Lee Duncan, Heather Eanes, Jerry Elliot, Carolyn Evans, June Harris, Pat Harris, Audrey Freeman, Jennifer Freeman, Dennis Gates, Vicki Gates, Mike Ivey, Tondra Ivey, Susie Jonassen, Anthony Langley, Mysty Langley, Vernice Little, Little McElwaney, Ernie Meadows, Jordyn Meadows, Hilda Headows, Sam Meyer, Charles Mitchell, Pat Mitchell, Doug Moore, Shannon Pack, Yvette Partridge, Myrna Pope, Carole Raines, Amanda Reed, Diana Shellabarger, Don Shellabarger, Eleanor Shelnutt, Alan Sibley, Janet Smith, Carol Stewart, Becky Turner, Marvis Waller, Danielle Webb, Betty Wessinger, Shirley Williamson and Rick Wood.
"You've heard the story tonight of Jesus Christ," Anthony Langley said, following the Friday program. "You've heard about the coming of Christ and what he came to do."
Earlier in the program. Bobby Stevenson offered a welcome. "We've been working hard for several months," he said.