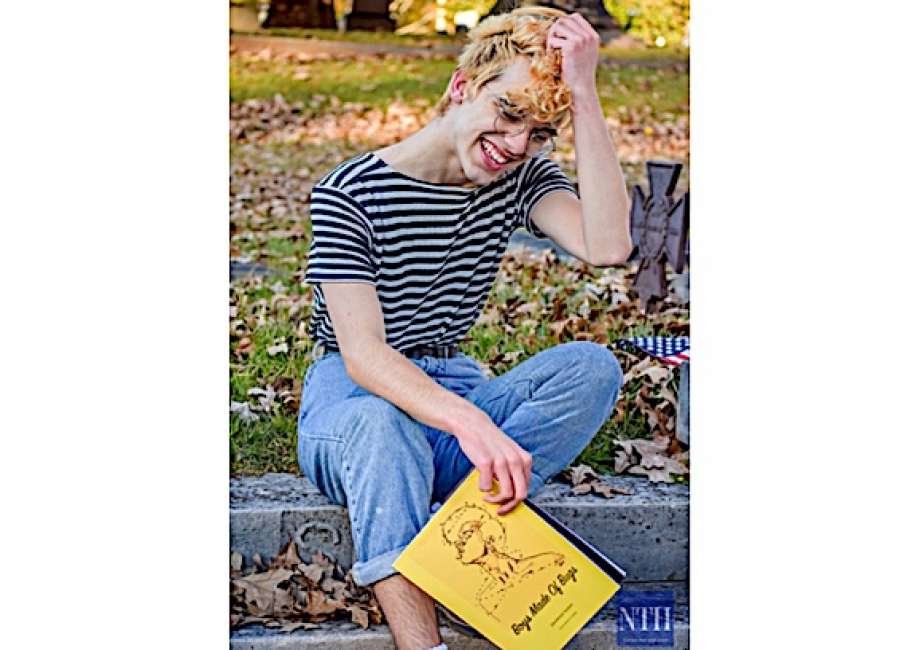 It took JohnPatrick VanSant four years to finish his first book of poetry, "Boys Made of Bugs."

While four years may not seem excessive to some writers, the project spans most of the Newnan 18-year-old's adolescence – and not just his physical maturation, but an emotional awakening of sorts.
"The book is about my personal experiences, particularly about an abusive relationship I was in when I was younger," VanSant said. "I was very young, 14, and I started writing in the first place because I felt like I couldn't tell anybody anything."
Although VanSant began experimenting with poetry at age 12, he said the pieces he wrote while working through his emotions were the first he really liked. Poetry provided a way to tell the people in his life what had happened to him, and for him to understand it himself.
"I was manipulated," he said. "But I put on a happy face, and most people had no idea. I had all the red flags. It was all right there and I was still trying to convince myself it was OK. Art is such a great medium for processing all of that – it puts everything into perspective."
VanSant said he didn't set a goal of publishing a book when he first began writing the pieces in "Boys Made of Bugs." He only started working on the book a year ago, and even then he wasn't certain he would ever see it published.
"When I first started putting it together, a small part of me thought I would chicken out," VanSant said. "My biggest fear is opening up to people and having them judge me. That's the main reason I didn't talk to people about what happened to me. A lot of people who've read the book are people I know, and they had no idea what I was going through even though it was right in their faces."
The poems started out as thoughts typed into his phone or recorded in his journal, he said, and some fit together to form full poems. VanSant, who was homeschooled and counts Charles Bukowski as one of his biggest inspirations, said he felt an urgency to complete others quickly.
"Sometimes a wave of inspiration comes over me and I feel like I have to finish it right now, and it takes me 10 minutes," he said.
"Boys Made of Bugs" is not only a compilation of years of VanSant's writings but of his photography as well –  and a nod to the hometown where his coming-of-age has unfolded. While his poems are largely untitled, he said he wrote the one that begins "my small town's sky is the prettiest" specifically about Newnan.
He reached out to the people around him, and the book features friends and acquaintances who allowed him to photograph them, along with many self-portraits of VanSant. His aunt, Tammie Lou, wrote the book's introduction. His friend McKenna Schmidt created the book's cover design.
"They're all people I know, people I feel comfortable with, who I trust," he said.
Most of the photos weren't purposefully taken for the book, but as another artistic outlet, VanSant said.
"In a lot of my photos, I drew inspiration from the way I visualized songs in my head," he said. "So then I started staging photos that represented my poetry."
It became his way of sharing what he'd learned about himself with people who are important to him, he said.
"Each person represents something to me," he said. "A lot of them are so uncomfortable in their skin because they don't believe they're attractive, and I try to capture them in a way where they can see what I see."
He said it mirrored his own epiphany as he worked through his experiences with photography and poetry.
"I was able to see things like they really were and not like this (abusive) person was trying to make me believe," he said.
One of the people featured in the book's photographs is local author Dale Lyles, who called VanSant "insanely talented."
"His poetry is already mature, with striking imagery and emotional content that seems impossible for someone that young," he said. "I attended his book launch (in September) and was blown away."
Publishing "Boys Made of Bugs" was not an easy undertaking, even after VanSant finished the project. It took time – and dealing with uncooperative printers, broken contracts and lost money – to see his book finally come to life. But he said it was worth it.
"I feel like trying to get the book published frustrated me, like the universe was trying to get me to not put out this message," he said. "But it was such a huge relief to let go of all this baggage I had for years and years. It's out in the world now."
There are things he would change in the book, VanSant said, like expressing himself more eloquently and editing some things.
"But I'm a big fan of writing what I'm feeling right then, and I wouldn't want to change those emotions," he said. "Years after what happened, it's amazing to see me say 'This is what I was going through. Can I have your support?' When I go back and read the book, I feel so pretentious, but back then I was writing it for me. I had no intention of anyone ever reading it."
Even now, VanSant said, he sometimes worries people might think he is exploiting his situation, exaggerating or being melodramatic. But then he reminds himself his emotions are not up for debate.
"It's not up to them," he said. "You have to let people feel what they feel. And I feel like I'm definitely a lot more comfortable in my skin, with a lot better grasp on who I am. I'm always going to be the most important person in my life. I'm always going to be there for me."