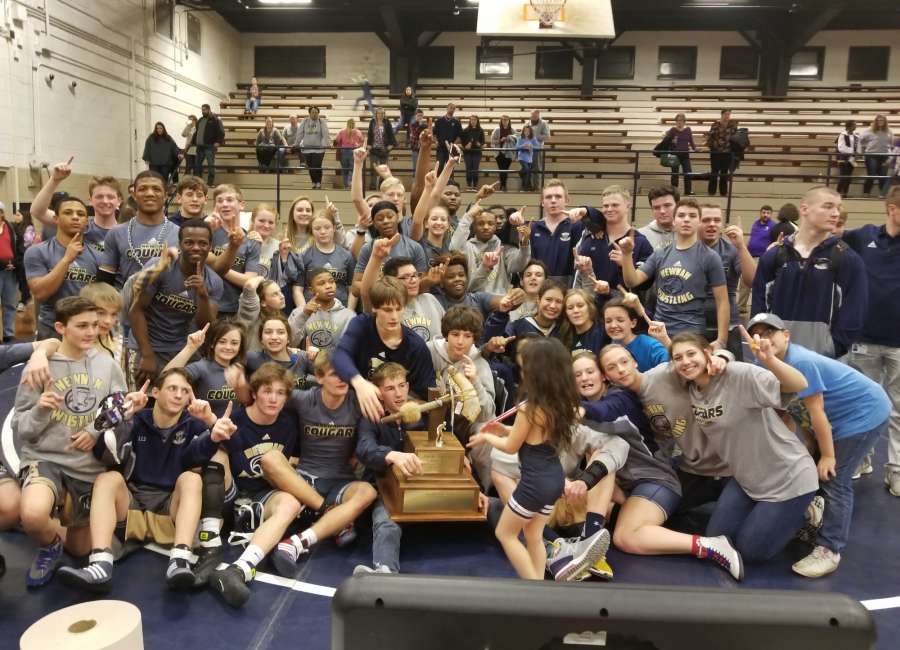 By DOUG GORMAN
(Editor's Note: The Newnan Cougars won this year's Coweta County Wrestling Tournament with victories over Northgate and East Coweta. Full details will appear in Friday's print edition of the Newnan-Times Herald.)
For the second year in a row, the Newnan Cougars climbed to the top of the high school wrestling mountain in Coweta County with victories over East Coweta and Northgate.
A packed house jammed into the old gym at Newnan High School and watched  Newnan beat Northgate 64-18 before East Coweta earned its victory over the Vikings.
In the finale, Newnan pulled away  from a 30-all tie with victories in the final three matches and won 45-30 against EC.
Charles Brewster (132-pounds) and Cale Goss (138) each had pins to seal the team match for Newnan against their rivals.
Max Broach (145) put an exclamation point on the team portion of the match with an 8-3 decision in the last match of the night.
The following wrestlers were named county champions:
East Coweta's Christian Gordon (106), Newnan's Tristan Kendzierski (113), East Coweta's Jake Gabriel (120), Newnan's Marlon Wortham (126), Newnan's Charles Brewster (132), Newnan's Cale Goss (138), Newnan's Max Broach (145), East Coweta's Jake Madison (152), East Coweta's  Zekkhi Selby (160), East Coweta's Dylan Spelios, (170), Newnan;'s Isaac Barrett (182), East Coweta's Alex Derico, (195), Newnan's Austin Garmany (220), and Newnan's Cody Harris,
For the first time ever, there was a separate girls tournament.
The following girls were named county champions:
Newnan's Hannah Currence (106), Newnan's  Emilyn Carden (113), Quoteshia Benson (136), Newnan's Taylor Price (156) and Northgate's Mia Fisher (220).
Long-time Northgate wrestling coach Adrian Anderson was honored for his years of dedication and promotion of the sport in Coweta County.
Anderson stepped down as head coach a few seasons ago, but stayed around the wrestling program. He has also continued to serve as an assistant football coach.
Anderson is retiring at the end of the school year.
The event was sponsored by the Fellowship of Christian Athletes.