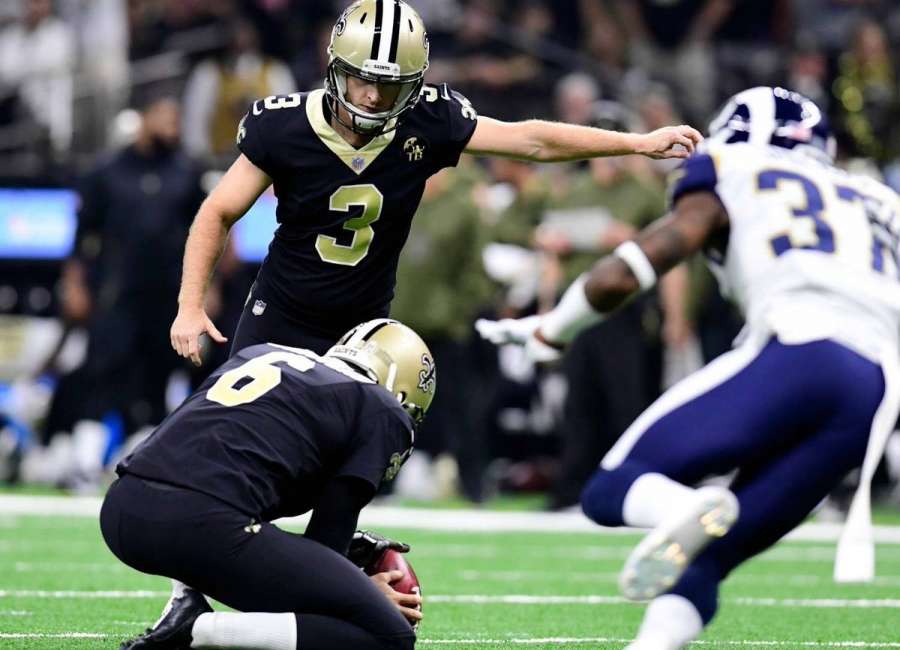 Former Northgate and Georgia State kicker Wil Lutz is having an All-Pro type of year for the NFC South Division leading New Orleans Saints.
Lutz has been a model of consistency this season during his third year in the NFL.
The former Viking has made 23 of 24 field goals and 44 of 45 extra points to help the Saints jump out to a commanding 10-2 lead in the NFC South.
Lutz's longest field goal was from 54 yards. 
Last week Lutz made a field goal from inside the 40 in the team's 10-7 loss against Dallas.
Lutz hasn't missed since the fifth week of the season against Washington.
Lutz and the Saints travel to Tampa Bay for a division matchup with the 5-7 Buccaneers on Sunday.
Alec Ogletree leads Giants with four interceptions: It's been a long year for Alec Ogletree and the New York Giants.
However, the Newnan and University of Georgia graduate has come on strong especially late.
The middle linebacker has four interceptions, including two last week against the Chicago Bears—one returned for a touchdown.
The pick six came on just the second play of the game.
New York went on to beat Chicago 30-27 in overtime.
He also had a interception return for a touchdown against Tampa Bay.
The Giants' middle linebacker has 59 total tackles heading into Sunday's game against at the  Washington Redskins. 
Ogletree had some fun with the local New York media after the game.
"I told coach, if I get five [interceptions], he's got to let me get at least one play on offense at some point during the season," said Ogletree, who now leads the team with four interceptions. "Hopefully I can get one more and we'll see how it goes from there," he told the New York Post.