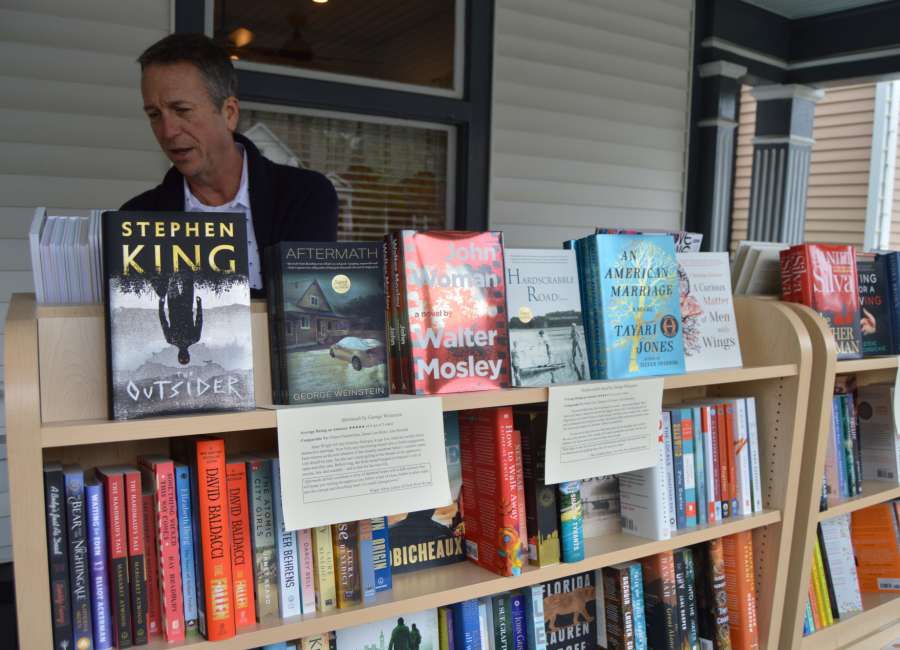 According to Steve McCondichie, his life was planned out for him well before he was born.
His father owned a heavy equipment and bulldozer business near Atlanta called Trax Inc. According to McCondichie, his father made it clear he would one day be heir to the bulldozing throne.
"It was understood from the day I was born, I was going to be in the family business," he said with a smile.
And so it was, when McCondichie was older, he worked side-by-side with his father selling heavy equipment during the early construction boom in and around Atlanta.
But the power of language and the written word always fascinated McCondichie.
He said he loved cracking open a book for the first time and turning the crisp, newly printed pages.
"I always loved books and I loved to read," he remembered. "In grade school, I always looked forward to the book fair. Stories are what connect us together.
"But then I'd get this mental picture in my head and always saw myself sitting in a corner office like my dad," he added.  
Before McCondichie worked with his father, he attended Florida State University. He said he started out as a business major, but later changed to English.
However, after graduating from FSU, McCondichie's passion for writing was placed on the backburner as he fulfilled his family obligation and began selling bulldozers and heavy equipment.
McCondichie said he stayed with his father's business for 15 years before venturing to another company for 10 years.
"The bulldozing equipment business was very good for me," he said. "I've sold equipment in all 50 United States and around the world."
In 1995, McCondichie, a Sandy Springs native, moved with his wife to Newnan.
Just as it looked like McCondichie's passion for writing was about to pass him by, the U.S. economy tanked in 2008.
The family business and McCondichie's sales took a hard hit, he said.
"I liken the 'Great Recession' to Sherman's march to the South. Good, solid businesses that once flourished were gone … disappeared overnight," he remembered. "I had to fire so many people … it affected so many residents."
Things got worse in 2012, when McCondichie realized his father was showing signs of dementia. McCondichie said he left his company to rejoin the family business.
The tumultuous time in McCondichie's life actually led to a spiritual-like awakening, he said.
"That's when I realized I could do whatever I want … and I became interested in writing again. I wanted to go to grad school," McCondichie said.  
In 2013, McCondichie dissolved Trax Inc., but took control over his father's residential real estate business, which he still runs to this day.
He said that same year he enrolled at Queens University in Charlotte, N.C., to obtain his master's degree in English.
While obtaining his master's, McCondichie said another prospective career also caught his eye. He became captivated with the world of publishing.
"That's when it came to me. We were going to start a publishing business and tell new stories about the South," McCondichie said.
McCondichie began formulating a new plan for his future, one that included writing, selling and publishing books at the same time. And not just any stories, he said. McCondichie was focused on the wonderfully told, yet slightly embellished tales of the South – stories that mixed a little bit of fact with a whole lot of fiction. Books that painted a charming, polite Southern backdrop – and some that did not.
McCondichie decided downtown Newnan, just off Jackson Street, was the perfect place to open a "pop up" book shop and run his own publishing company.
"I like the multitude of challenges," he said. "I figure I have one shot. I can swing for the fences or just sit on the fence and watch the world go by. But the latter would be disingenuous to myself, my mother and my father."  
McCondichie officially opened his pop-up bookstore, Southern Fried Books, on Nov. 14.
Every morning at 11 a.m., he and his employees roll metal shelves filled with books onto the front porch of his business at 29 Jackson Street.
While McCondichie's pop-up store focuses on popular Southern writers like Pat Conroy, he also carries other favorite authors like Stephen King.
McCondichie and his wife started their publishing company, Southern Fried Karma, three years ago.
They published eight books this year and have bigger plans for 2019, McCondichie said.
Next year the couple plans on starting a nonfiction imprint called "Blissful Beings."
McCondichie's writing abilities proved successful in 2018 when he published his first book this year called "Lying for a Living."
He said a second novel will follow in 2019.
"I draw inspiration from the community around me and the people," McCondichie said with a smile on his face.
While McCondichie left the world of bulldozing equipment behind, it's never far from his mind. A portion of a wall in his Jackson Street office is filled with pictures of him and his dad during the early years of the family's business.
He said he has the best of both worlds - bulldozers and books - just inches away from his fingertips.