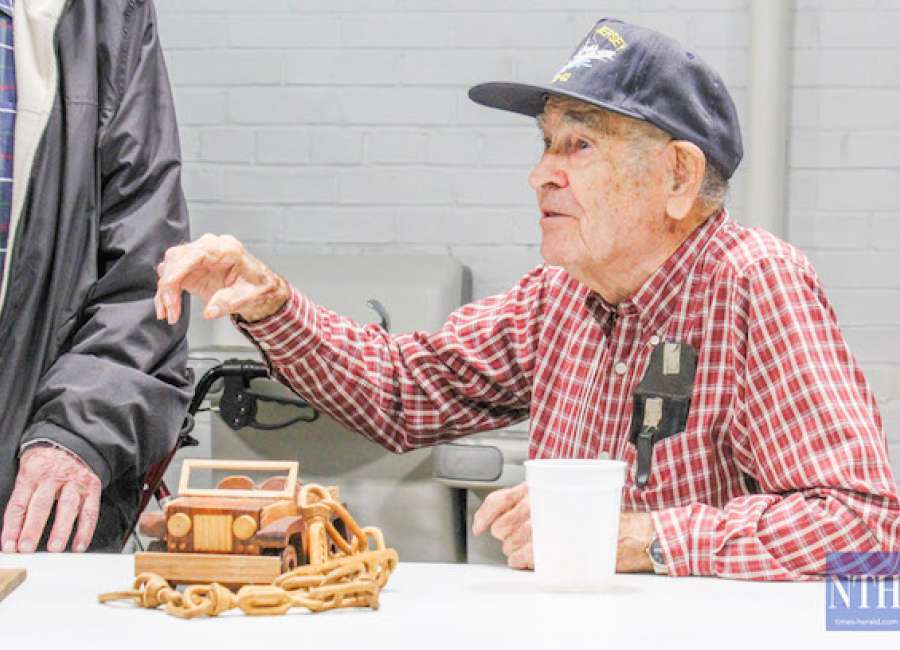 By JEFFREY CULLEN-DEAN, jeffrey@newnan.com

The first time Paul Hyatt flew in a plane, he jumped out the door in a freefall to the earth.
"I'm more nervous flying commercial now 'cause I don't have a parachute," said Hyatt, a former U.S. Army paratrooper.
On what would have been Hyatt's 11th jump, a plane malfunction forced a landing. Hyatt said it was the first time he got off a plane without jumping.
Hyatt told Newnan High School students about his experiences in the military at the school's Student-Vet Connect on Friday.
"These are real people. They've done real things," said Steve Quesinberry, chair of the history and social studies department, which sponsors the event twice a year. "That's why we think it's important. The students can hear from people in history."
Veterans from World War II, the Korean War, the Vietnam War and current military engagements participated, said Frank Henderson, a Newnan High School history teacher.
The SVC was started by Quesinberry in 1995, on the anniversary of D-Day.
"It's a chance to bring the vets in. But it's mostly about bringing in the students to see living history," Henderson said.
According to Quesinberry, about 65 veterans attended to share their stories with the students.
Hyatt showed a student a glass case filled with awards and recognitions he received.
"This one I got for jumping into a combat zone," Hyatt said while pointing to a bronze piece in the case.
Hyatt was present during the Invasion of Panama, an operation to overthrow dictator Manuel Noriega.
In a picture taken during the invasion, Hyatt stands in front of a stone wall with writing condemning Noriega and praising the U.S.
"You don't see 'God Bless America' in a lot of foreign countries," he said.
Hyatt said the first four days were intense. It took a week to find Noriega but once the dictator was found, "we were doing police-type work."
"It's good to know what it's like from a first-person perspective," said Logan Williamson, a NHS student. "It's really great for them, too. From what we hear, they didn't get this love when they came back."
The Vietnam War took more than half a million lives and lasted about 12 years.
From his table of Vietnam War mementos that included two Viet Cong rifles, John Overcash chose a black shoe.
"I bought these for my wife in Saigon but they were too small," he told students.
Overcash, who completed three tours in Vietnam, has attended the Student-Vet Connect for 15 years.
"Today, most schools only teach 30-45 minutes of Vietnam history," Overcash said. "We feel like kids need to know about the war, what we did and why we served."
Grover McMichael, a 95-year-old World War II Navy veteran, agreed.
"I want the young people to understand what was done," he said. "Because if it hadn't been done, they'd be speaking German or Japanese."
McMichael, who was active on both the European and Pacific fronts, was one of three WWII veterans participating in the event.
McMichael had a model of the USS Emmons, the ship on which he served, on display in front of him. He pointed to a large gun on the model and said a kamikaze pilot hit that gun during the attack that sunk the ship.
McMichael said he wasn't present during the attack because he was getting a new sonar system for the destroyer.
"Someone was looking out for me," McMichael said.