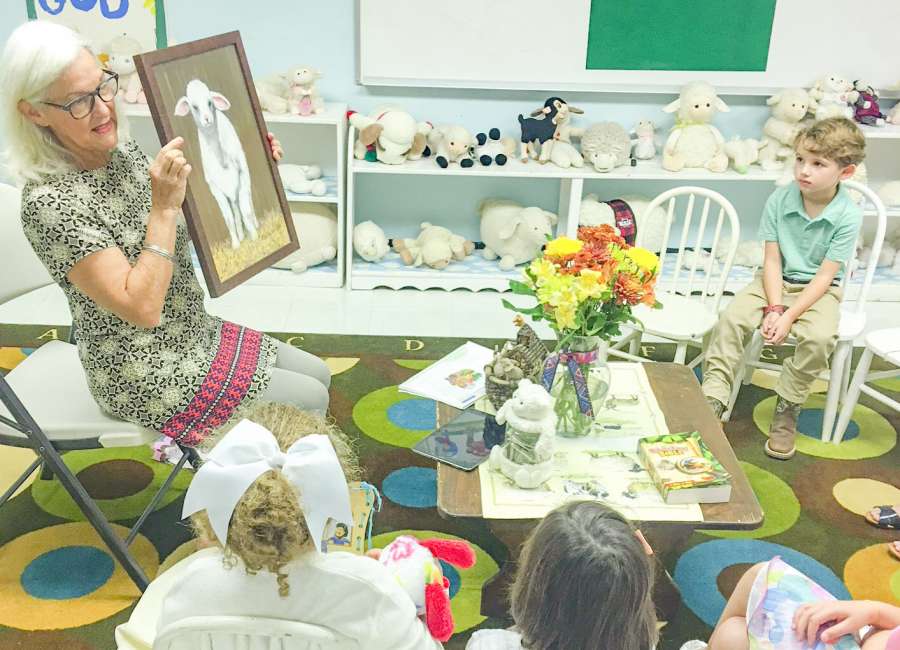 Martha Parrish's painting of a little lamb has a new home in a Newnan church.

Newnan artist Bette Hickman has been teaching The Little Lambs class at Central Baptist Church since 1987. On a recent Sunday, the pupils – who are 4 and 5 years old – "enjoyed a special visitor bringing a very special gift," Hickman said.
Phyllis Graham, who with her husband Kerry runs Let Them Eat Toffee in downtown Newnan, visited the Sunday school class and presented "a very lovely original pastel of a little lamb," Hickman said.
Parrish, who was the Graham's aunt, died recently at 102.
"'Aunt Martha' was a prolific artist – of painting and drawing – all of her very creative life," Hickman said.
 The Little Lambs Class has a large collection of huggable soft lambs found on shelves and cabinets throughout the Sunday school room in the downtown church.
Hickman has a lamb, Charlie Dear, who travels with her throughout the world. The Grahams are among many who follow the wanderings of Charlie Dear as he travels with Hickman.
Phyllis Graham received a fall bouquet as a "thank you" from the Sunday school students. 
"The children were delighted to also receive a treat of chocolate from the Graham's popular toffee shop on the Newnan square," Hickman said.
Now, as the children gather for a Bible lesson each Sunday, Martha Parrish's little lamb looks down on the Little Lambs from a special spot in the Lamb Gallery on the classroom walls.