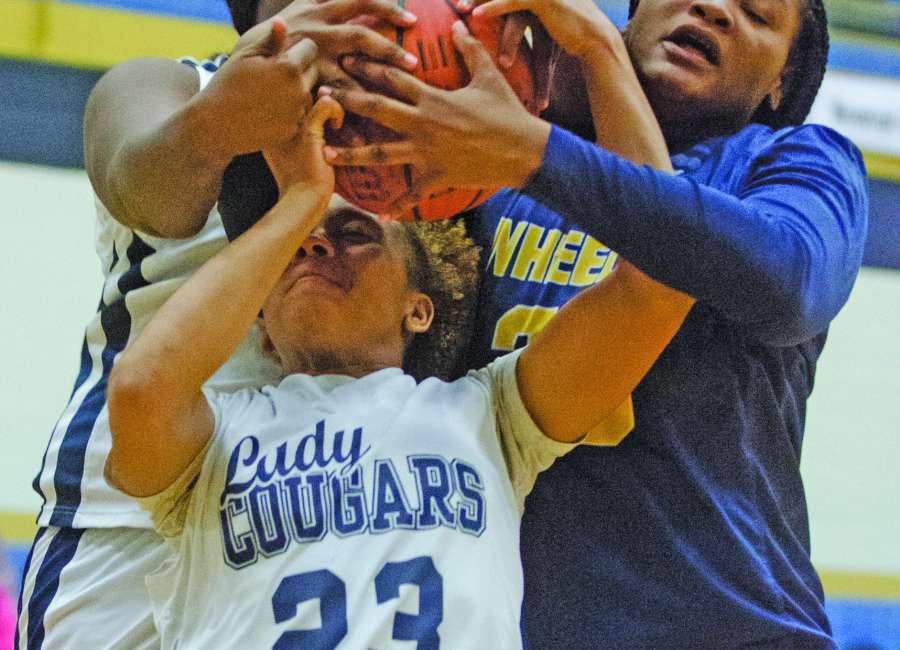 By DOUG GORMAN
The Newnan Lady Cougars exploded out of the gate early and held off a couple of comeback attempts by visiting Wheeler en route to a 53-40 victory in the Region 2-7A contest Tuesday.
"This was a great team victory, " said  Newnan coach Earl Caruthers." The girls have been working hard and I'm glad to see them come out victorious in an important region game."
Newnan improved its record to 3-4 overall and 1-0 in Region 2 7A action.
The loss left Wheeler (0-6, 0-2) searching for its first win.
Newnan caught fire early and jumped out to 21-5 five led at the end of the first quarter only to fight off a determined Wheeler team who cut the lead to 25-23 at the break.
Newnan led 39-34 after three quarters and pulled away after holding the Lady Wildcats to just four points in the final period.
After spotting the Lady Wildcats a 3-0 lead to start the game, Newnan's offense caught fire with a 15-0 run.
Hailey Bloom and Ashria Brown each connected on 3-point shots during the Lady Cougars' explosive quarter. K.K. Madrey also connected on seven points during the quarter to help Newnan grab the momentum.
However, Newnan was unable to put the game away.
Wheeler outscored the Lady Cougars 18-4 in the second quarter to put itself back in the game.
The Lady Wildcats opened the third quarter with a 10-0 run.
Wheeler turned to its outside shooting to whittle away at the Lady Cougars'  second-quarter lead.
Jadah Waite and Hannah Kanyi each connected on 3-pointers for the Lady Wildcats.
Waite also hit both of her free throw attempts in the second quarter.
Madrey and Iyonna Melson hit the only two baskets for Newnan in the second quarter.
The Lady Cougars and the Lady Wildcats took turns exchanging the baskets during the third quarter and by the end of the period, Newnan clung to a 39-34 lead.
Madrey, Aniya Carter and Deja Melson each scored twice in the period.
Wheeler countered Newnan's offense attack getting 3-pointers from Ashanti Smith and Waite.
Clutch free throw shooting down the stretch helped the Lady Cougars pull away in the fourth quarter.
Bloom connected on four free throws in the fourth quarter and Dejya Melson two.
Joy Butts and Madrey had one free throw each in the fourth quarter.
Three players finished in double figures for the Lady Cougars with Madrey leading the way with 20 points. Bloom had 11 and Deyja Melson 10.
Waite led all scores with 21 points, including six 3-point shots.
Bloom  also had eight rebounds and Deyja Melson seven rebounds and five steals.