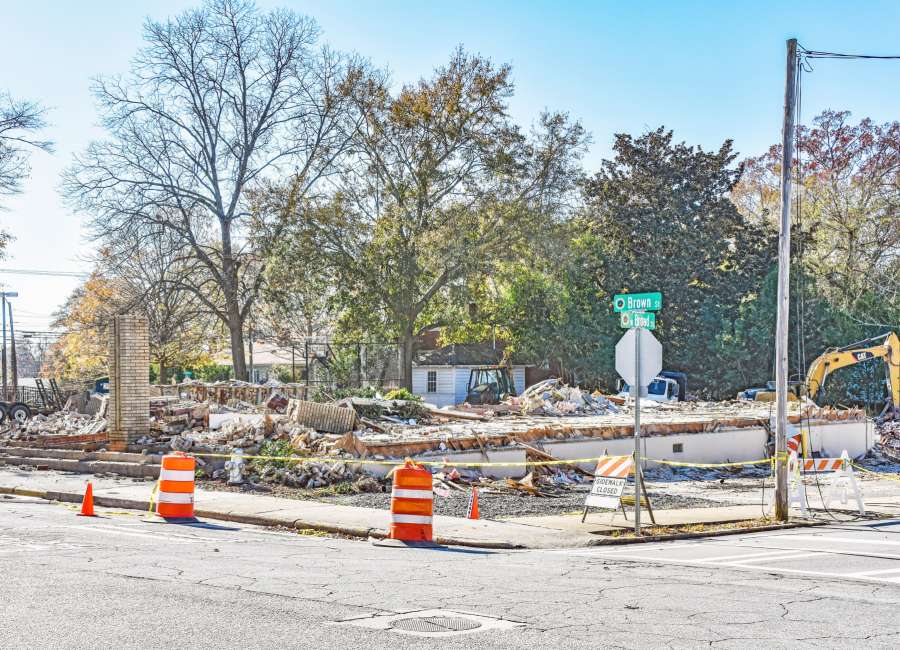 Demolition work at the Glover Building is now nearly complete.

Crews began the process of tearing down the historic building on Monday. The former doctor's office located on the corner of Brown and West Broad Streets had been used by Central Baptist Church as their youth building until several weeks ago.

The building, constructed in 1936, was best known as a doctors office for Dr. Howard Glover and Dr. Nat Glover.
For more than 40 years, Dr. Howard operated the Glover Clinic at 6 Brown Street in partnership with his brother Nat before retiring in 1993. Dr. Boyce Thomas also practiced with them for many years.
The doctors often stopped by the office on Sunday mornings to see a few patients who needed immediate attention before going to church.

Last January, Newnan City Council approved the church's request for the permanent closure of Brown Street between West Broad and Spring Streets for the expansion of their campus for the construction of a new fellowship hall.
In exchange, the church promised to create a 40-space public parking lot, only one block removed from the downtown square. In a 5 to 2 vote, the city council voted in favor of the abandonment. Mayor Pro-Tem Cynthia Jenkins and Councilman Dustin Koritko voted against.
Resident and local historian Georgia Shapiro said she was sad to see the building go and disrupt the original grid of downtown Newnan.
"While our city was voting to abandon Brown Street, the city of Savannah was restoring streets from their original plan," Shapiro said. "I won't be surprised if First Baptist will push to close their section of Brown Street now."
During the demolition project, several bystanders stopped to pick up some of the bricks from the building.
Groundbreaking for the new building is set for late January of 2019, and church officials believe the project will be complete by spring of 2020.