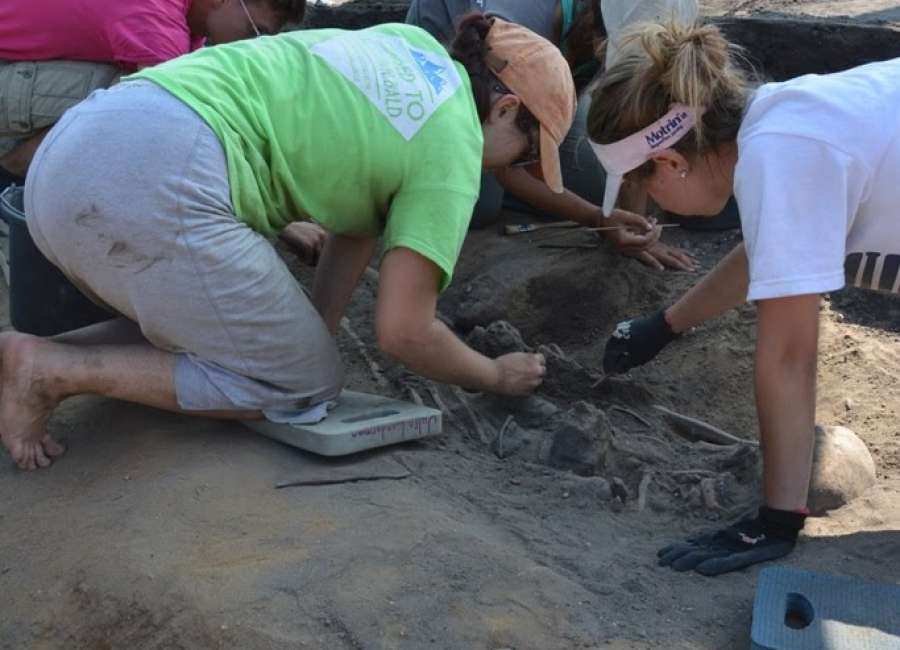 By ERIKAH SWIFT
University of West Georgia
Julia Lenderman didn't have a typical study abroad experience.

Her first time out of the country, she spent part of her trip excavating human remains.
Lenderman, a University of West Georgia student majoring in anthropology, earned the chance to study and adventure abroad in Poznań, Poland, last summer through her involvement with UWG's Honors College.
Lenderman had the opportunity to get hands-on experience in her passion during her trip. She spent one month in a bioarchaeological field school, digging up a medieval cemetery. By the end of the trip, they'd excavated the remains of 17 individuals.
"We got up every morning at 6 a.m., and we had to walk a mile to get there every day," said Lenderman, who graduated from East Coweta High School in 2016. "We worked until 3 p.m. to get as many individuals excavated as methodically as possible."
One day Lenderman spent more than 13 hours in the field. Her duties included mapping every skeleton she excavated. Mapping is an extensive and time-consuming process, taking approximately three hours to map a grown individual.
"For every skeleton you excavate, you have to map it," Lenderman explained. "That way, you know precisely where everything is, so if you need to reference back to it later, you're not estimating any measurements."
Lenderman also had the opportunity to explore the culture in Poznań and other places in Europe. She traveled to Berlin, Germany, one weekend and attended a Viking festival.
"My trip to Poland was my first time going out of the country, and it was amazing," she shared. "It was a really good mix of field experience and cultural experience."
Because she met all the requirements to join the Honors College, Lenderman said enrolling as an honors student was an easy choice to make. Throughout her journey, she said she has appreciated the difference in class sizes and the opportunity to be in a more interactive class setting.
"I like having the smaller classes in which the time in class is more focused on discussions," Lenderman said. "Being able to feel like your opinion is respected and given a platform to be heard is great. It's really a testament to how important it is to have your opinion matter."
Despite the rigorous courses, Lenderman assured students the experience they can gain through the Honors College is worthwhile.
"The classes may be a little more difficult than conventional courses, but it's more that they are just different," Lenderman said. "You're still being taught most of the same material, but you're doing it in a way that feels better and more organic."
Lenderman said she has also benefited from the Honors College's community service opportunities. As a result, she knows she has made positive contributions to different organizations.
"Over the summer, I volunteered at a summer camp for children with disabilities in Peachtree City," she said. "It's not something that I would have been on the lookout for if I didn't need the service hours for the Honors College, but I loved it. It has been great to connect with fellow members of the community and give back as part of my educational experience."
The Honors College has also allowed Lenderman to design and execute her own research projects – from conducting her own preliminary research and documenting proper protocol – to hands-on project design and completion.
Throughout the rest of her time at UWG, Lenderman hopes to complete a research project that will be eligible to be published. Ultimately, she hopes to make a contribution in her field through her research.
"I want to present at conferences, and produce work that other people can cite, reference or just benefit from knowing," Lenderman said. "Essentially, I want to say I did something that mattered."