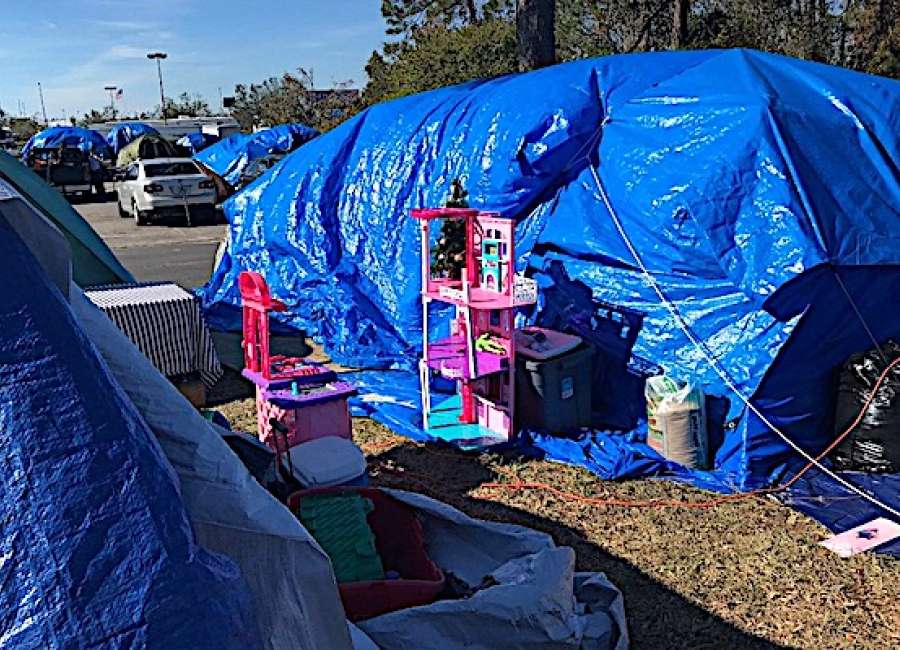 With many of its students still living in tents or homes severely damaged by Hurricane Michael, the Deane Bozeman School needs help – and East Coweta High School aims to provide it.

ECHS currently is collecting donations of school supplies, gift cards and gas cards for the school's students and their families, as well as for displaced teachers, some of whom are now facing a 90-minute commute.
Those items can be dropped off at East Coweta's main office during school hours. In January, ECHS will bring in a truck to be loaded with toiletries, new clothing and shoes, blankets and other items to deliver to Deane Bozeman, a rural school on the outskirts of Panama City, Fla., that serves about 1,400 students in grades PK-12.
East Coweta High has limited storage space for donated items, so Principal Steve Allen is requesting that larger donations – household items, food, personal care items, clothing, etc. – wait to be delivered until they can be directly loaded onto a waiting truck sometime in January.
However, school supplies and gift cards can be stored at the school, so those donations are welcome any time, he said.
"Any school resource for a kid is welcome and appreciated now," Allen said. "And then we'll have a time on a weekend in January to load the remainder of the stuff."
He said he felt collecting for one school community will make more of an impact than a generic donation.
"What drew me to (Deane Bozeman) is that is it a pre-K through 12 school," Allen said. "Just hearing and seeing the pictures of kids sleeping in tents with no running water – hearing how bad it was just got me to the point of wanting to do something. We wanted to target a school that has been devastated like that and affects all areas of elementary, middle and high school."
Pam Rudd, counselor at Deane Bozeman School, said the school building itself is relatively undamaged.
"The structure is is wonderful," she said. "Our school was actually used for a shelter during the storm. We are lucky in that we have a regular school day every day, and teachers and students have a building to go to."
But the community surrounding the school – and other schools and communities in the district – were not so lucky, and recovery takes a lot longer than most people realize, Rudd said.
"We're still in survival mode," she said. "People just think everything goes back to normal so quickly, but you can't. No part of the day is the same, ever, and you don't see that part of it on the news."
Rudd estimates the area has lost about 40 percent of its workforce, which makes cleanup and travel difficult.
"People who used to work here don't live here anymore," she said. "You drive down the road, and there's still stuff everywhere. It's really bad. It takes you one or two hours to get pretty much anywhere, and there aren't enough people to do the work that needs to be done. Everybody's feeling that."
Some families that remain in the area, including many in the Deane Bozeman community, are facing winter in substandard shelters.
"You'd think there would be FEMA trailers and places to live but there just aren't," Rudd said. "We have families that don't have a place to live. We have babies and families living in tents in 30-degree weather and rainstorms."
Families who were struggling before Hurricane Michael often are facing even more dire circumstances, according to Rudd.
"If they were living in a mobile home, they're still able to live but they might have holes in their roof," she said. "Or they may have half livable but the other half might have a tree through it. They were working in places that are no longer open, so they've lost their jobs, too. They needed help before the storm, and then all of this comes and it's just compounded."
The hurricane's damage seems almost random, Rudd said.
"You may have one family whose house wasn't messed up at all, and the one next to it was completely destroyed," she said. "You may talk to one family who's doing perfectly fine and another who's lost everything."
Rudd said one store that has reopened is the local Walmart, so donations of gift cards – and gas cards to help with long commutes and day-to-day transportation – would be particularly helpful for the Deane Bozeman School community.
School supplies such as pencils, notebook paper, pens and spiral notebooks also would be greatly appreciated, she said.
For more information on donating to the East Coweta High School supply drive, contact Allen at 770-254-2850.