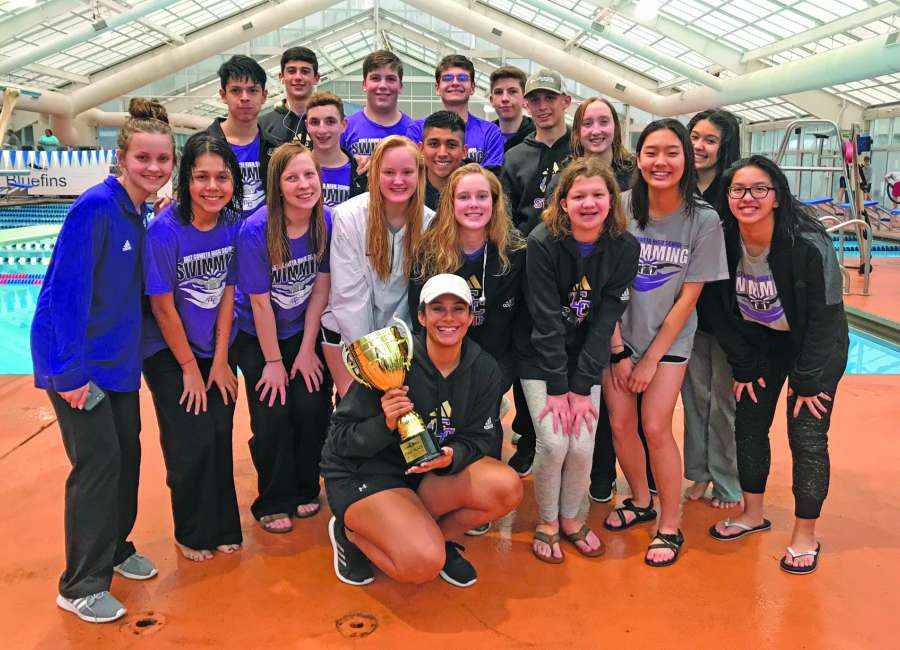 By Chris Goltermann 
Cowetascore
East Coweta's swim team continued its strong start to the season on Saturday by capturing the overall title at Friday's Carrollton Trojan Holiday Invitational.
The program improved on last year's second-place effort and continued a string of top-three finishes to start 2018-19.
The victory was paced by a first-place effort among girls from the Lady Indians and a second-place performance from East Coweta's boys. This year's field included at least 10 schools with Newnan, Northgate and Trinity Christian also competing in the meet.
East Coweta sophomore Summer How led individual efforts while adding a state qualifying time in the 200-yard freestyle. It was her sixth state time among eight possible events.
Swimmers are limited to two individual events and two relays at the GHSA State Championships.
East Coweta has five individual swimmers that have advanced to the state meet in How, Katie Revoir, Erica Lee Linsday Eggen and Christina Cuevas.
How was a perfect 4-for-4 in swims at the meet, helping 200 medley and 400 freestyle relays place first for the Lady Indians.
A foursome of Revoir, Cuevas, How and Lee opened the meet with an overwhelming 11-second win in the medley event in 2:01.39. The same group closed the meet by winning the 400 freestyle relay in 3:56, nearly a full minute faster than second-place finisher Central-Carroll.
Individually, How won the 200 freestyle in 2:05.23 in a 1-2 finish with Lee (2:16.73), as well as the 100 backstroke in 1:02.77, in a similar top-two effort with Revoir (1:04.69).
East Coweta had four scorers in the 100 backstroke with Cuevas taking fourth (1:11.49) and Bella Lea (1:14.76) placing seventh.
Revoir won the 500 freestyle by 63 seconds, touching in 5:43.92.
Cuevas added a second-place mark in the 200 IM in 2:38.26 and Lee took second in the 50 freestyle (27.36) among two scorers with Lea who was fifth (29.45).
East Coweta's girls also placed fourth in the 200 freestyle relay in 2:05.56 among a team of Samantha Cowdell, Bailey Olive, Caroline Zueck and Lea.
Zueck added a strong swim individually in the 100 freestyle, placing ninth and missing a scoring effort by 64-hundredths of a second. She was also 15th in the 100 backstroke.
The Indians had a pair of scoring relays, placing fourth in the 200 and 400 freestyle events. Jacob Neece, Ethan Edgar, Alex Sanabria and Caleb Neece had a time of 1:58.70 in the 200 freestyle. Caleb Neece, Sanabria, Sebastian Menendez Mancilla and Oran Hurst swam the 400 in 4:32.69.
Individually, Hurst led East Coweta's boys with third-place efforts in the 200 freestyle (2:22) and the 500 freestyle (6:28.12). Caleb Neece was fourth in the 200 freestyle (2:24) and sixth in the 100 freestyle (1:02.26).
Jacob Neece (200 IM, 2:48) and Mancilla (50 free, 27.68) had fifth-place efforts. Mancilla was also seventh in the 100 freestyle (1:02.26) while Edgar took sixth in the 50 freestyle (28.11).
Northgate teams also put together impressive efforts led by three swims from T.J. Pittenger that produced first or second place finishes.
Pittenger won the 500 freestyle with a state-qualifying time of 5:03.73 and just missed a state mark by placing second in the 100 backstroke in 58.69.
He also swam the lead leg of a victory by the Vikings in the 200 freestyle relay in 1:48.61, while joined by Matt Heitshusen, Zachary Barineau and Alex Wathen.
All three relay members also scored individually. Barineau was fourth in the 100 freestyle and fifth in the 200. Wathen also had a fourth and fifth-place effort, respectively, during swims in the 200 IM and 100 butterfly.
Heitshusen took fifth in the 100 breaststroke.
The Lady Vikings placed second in the 200 freestyle relay among a team of Jade Takvorian, Abby Collins, Taylor Bratcher and Ashley Bratcher. Northgate's girls relay of Takvorian, Collins, Ashley Bratcher and Christina Reagan placed fourth in the 200 medley.
Takvorian had a pair of top-three efforts individually by placing second in the 100 breaststroke (1:21.31) and third in the 100 butterfly (1:11.45).
Collins also took second for Northgate in the 500 freestyle and was fourth in the 200 freestyle.
Reagan scored twice individually for the Lady Vikings in the 500 freestyle (fourth) and 100 breaststroke (eighth).
Jenna Webb and Caroline Carter placed seventh and eighth, respectively, in the 100 freestyle.
Varsity efforts for Trinity Christian were led by Nathan Moore's pair of top-two swims that included a victory in the 100 breaststroke (1:10.33). He was also second in the 200 IM (2:15.63) with another personal best.
The Lions, who placed seventh overall, also received a pair of scoring efforts from Chase Roosen. Roosen was third in the 50 freestyle and fifth in the 100 freestyle in personal-best efforts.
The Lady Lions were led by Alaina Castellow's fourth-place finish in the 100 butterfly. Trinity's girls were 10th overall with an effort that included two scoring efforts from Reagan Rice (sixth, 100 freestyle; seventh, 50 freestyle).
Newnan's boys had two teams score in the medley relay. A foursome of Jaxson Jessup, Moises Lopez, Yannick Powder and Donnie Moore was seventh. A team of Nathan Hewett, Rex Haynes, Stone Lee and Alex Edward took eighth.
In the 200 freestyle relay, Jessup, Lee, Hewett and Powder combined for a fifth-place effort.
Individually, Powder and Jessup placed sixth and seventh, respectively, in the 100 butterfly. Stone took eighth in the 200 IM and Hewett was eighth in the 200 freestyle.
The Lady Cougars were led by Alex Schlottman's fifth-place swim in the 100 butterfly and Jordyn Young's sixth-place effort in the 200 freestyle.
Middle school teams also performed well locally with Trinity's girls and boys placing third and fourth respectively.
The Lady Lions had third-place relays in the 200 medley (Adeline McCleery, Bella Roosen, Kaitlyn Seymour, Tessa Mitchell) and the 200 freestyle (Mitchell, Abigail Sells, McCleery, Seymour).
Trinity's boys were fifth in the medley relay with a team of Benjamin Carter, Jackson Rice, Bryce Ryan and Ian Hutchinson.
East Coweta and Northgate had middle school swimmers compete individually with impressive efforts.
Madras Middle student Kaylyn Tackett won both the 50 freestyle (27.94) and 100 backstroke (1:12.34) while representing Northgate's girls.
Lee student Kaitlin Williams placed second in the 100 butterfly (1:20.44)and second in the 100 backstroke (1:14.62).
Among boys standouts, East Coweta Middle's Jaxson Smoak won the 50 freestyle (25.94) and was second in the 100 butterfly (1:15.46).