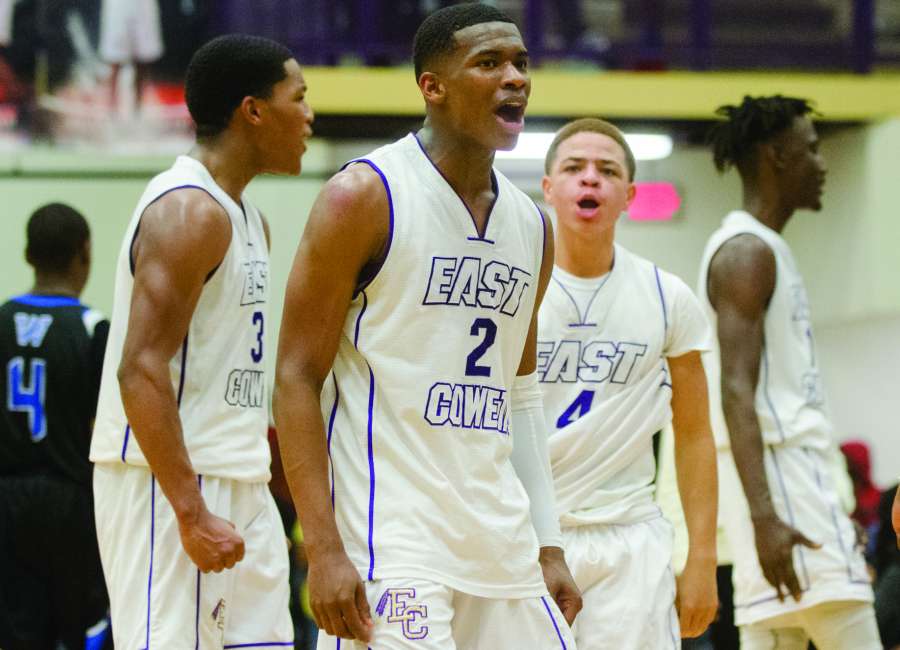 By Chris Golterman
Cowetascore
Heading into the 2018-19 season, East Coweta head coach Royal Maxwell said his team was "shooting for the stars."
He wasn't being facetious.
On Thursday, the Indians continued to reap the rewards of four years of hard work and persistence since Maxwell took over a 1-win program.
The result was arguably its biggest victory since the start of this decade after streaking past No. 7 state-ranked Westlake 88-74 in front of an energetic crowd at John Thrower Gym.
East Coweta left no doubt while defeating the Lions for the first time in its past 17 tries dating back to a four-victory during the 2010-11 season, and also getting a bit of revenge from last year's Region 2-7A tournament loss where Westlake ended the Indians' state playoff hopes with a buzzer-beating shot in a 66-63 victory on the same floor.
Senior point-guard Mandez Jones led four scorers in double figures with 32 points and East Coweta led for all but the opening three points of the game while able to counter Westlake's best efforts to make a potential comeback.
It added to an impressive 8-0 start for the Indians, who won this year's Region 2-7A opener after entering Friday with a list of November victories that already included tough wins over McIntosh, Starr's Mill and four-time Alabama state champion Carver.
East Coweta exploded for 26 points in both the first and third quarters, the latter behind Jones after halftime to turn a slimmer 39-33 advantage into a 15-point lead to begin the final period en route to pulling away.
Junior Chris Youngblood scored 11 of his 20 points in the first quarter to help set the tone following a 40-point performance against Westlake in last year's buzzer-beater.
But with an equally strong first half from junior Brandon Stroud and a persistent effort behind a secondary effort after halftime from newcomer Zac Hill while each chipping in 15 points, East Coweta showed that defenses within the reason will have a tough time zeroing in on just one offensive catalyst.
The Indians finished with seven three-pointers and stayed aggressive on defense while making Westlake earn have to go to the line to get its points. The Lions hit 20 of 31 attempts, sending senior standout Chase Hunter to the stripe 13 times in an 18-point effort.
Senior guard Quincy Olivari led Westlake with 21 points, but 12 came in the fourth with East Coweta pulling away.
Stroud kept the Indians on course with nine points in the second quarter, the only period that had Westlake outscoring East Coweta.
"Much of the teams we play can score. We're an offensive team. We're going to get our points," Maxwell said.
They came in waves among seven scores that contributed over all areas of the court. Youngblood's three 3-pointers, the first of which quickly erased Westlake's only lead of the game was among four long-distance shots from East Coweta in the first quarter as the Indians thrived in transition to get open looks at the basket.
Even when Westlake seemed poised to make its move while scoring six unanswered points in the final 90 seconds of the second period to cut a 12-point deficit in half at the break, the Indians had an answer.
Jones began the third with a three-pointer from the corner and Demetrius Freeman — comprising a new-look three-man rotation up front with starters Rhet Reynolds and Hill in the post — fought to put back his own rebound to keep East Coweta ahead 48-43 midway through the third.
Hill went to halftime scoreless despite doing much of the dirty work Maxwell had predicted prior to the season. But the versatile senior move-in from Fayetteville, N.C., came up big offensively with one of two three-point plays with Jones during a run that pushed the Indians further in front 60-50 in the closing minute of the period.
"I call him 'the glue,'" Maxwell said of Hill, who also had a pair of dunks among his 15 second-half points to feed a frenzied student section behind East Coweta's bench.
Jones exploded for 10 points in the third and nine in the fourth while also finishing 8-for-8 at the line.
From a newly installed scoreboard at Thrower Gym to a switch in bench sites across the floor, Friday's game followed a theme for change.
East Coweta's first win over Westlake in eight tries since Maxwell's hiring in 2015-16 was another step toward respectability, with the Indians carrying its first state-ranking in Class 7A on MaxPreps.com.
The Indians remain unranked in several other state rankings including ScoreAtlanta and SandySpiel.com.
At 8-0, East Coweta is more than halfway to both reaching last year's 13 victories and eclipsing a high of 14 from 2016-17 in Maxwell's tenure.
The Indians, however, will have little time to celebrate while heading to face powerhouse Pebblebrook on Tuesday in Mableton.
The Falcons were ranked No. 10 by ScoreAtlanta this week behind No. 7 Westlake.