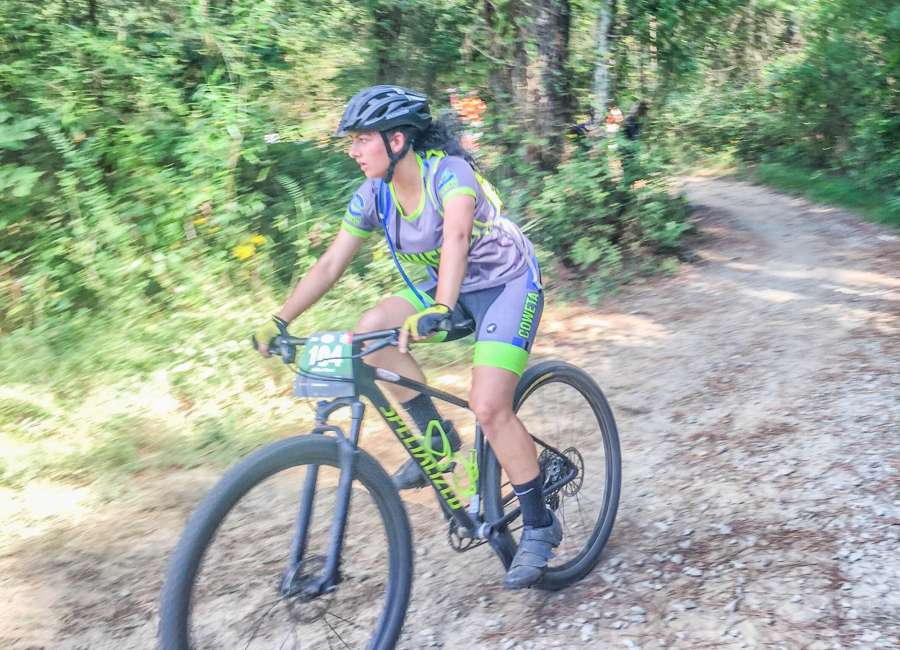 When East Coweta Senior Jaiden Ward moved from Huntsville, Alabama last year, competitive biking was the furthest thing from her mind.

Flash forward one year and Ward is making history on the trails, becoming the first rider on the Coweta Composite team to receive a scholarship from Truett McConnell for mountain biking.
The Coweta Composite Mountain Bike Team is a youth cycling program based in Coweta County, and its sole mission is to get young people in Coweta and the neighboring counties to ride – and race – mountain bikes.
Head Coach Tim Ulinski, along with assistant coaches Dan Miller and Kent McMullen, established Coweta Composite in January 2017, and the volunteers have seen the team grow to the 17 registered youth riders they have today.
This year marks the team's second season competing in the Georgia Interscholastic Cycling League (GICL), and overall, it's a part of the National Interscholastic Cycling Association (NICA).
There's no doubt Ward has come a long way in a short amount of time. The former softball player only began riding mountain bikes this year, but took to it immediately.
"After moving from Huntsville, all my friends were into mountain bikes and they eventually convinced me to try it," Ward said. "Soon, I was competing on the Coweta Composite Mountain Bike Team."
Miller said he was impressed how quickly Ward adapted to the sport.
"With her background in softball, we knew she was competitive and had a natural athletic ability," Miller said. "So she really took to riding and improved quite a bit over the year."
Ward is not only the first female rider for Coweta Composite, but she's also the first senior rider to move on to college and the first to get a scholarship for mountain biking.
Ward said she was very excited to be joining the Truett McConnell team.
Last fall, the university announced it was adding cycling to its athletic program. The Bears' first season is set to begin next fall with a team of 25 riders, which will include Ward.
"Typically, mountain biking is a hard sport to get girls involved in and colleges haven't typically made mountain biking a prevalent sport," Miller said. "But thanks to NICA, it's really starting to take off and we're all super proud of Jaiden."
The group functions year-round as the Coweta Cycling Club, which allows family, friends and the members of the community to be part of the team.
"Our club season starts in January and we have many new families signing up," Ulinski said. "That's the mission of Coweta Cycling Club, to get the whole family involved."
For  information about Coweta Composite or the Coweta Cycling Club,  email cowetacoachtim@gmail.com , cowetacoachdan@gmail.com  or cowetacoachkent@gmail.com