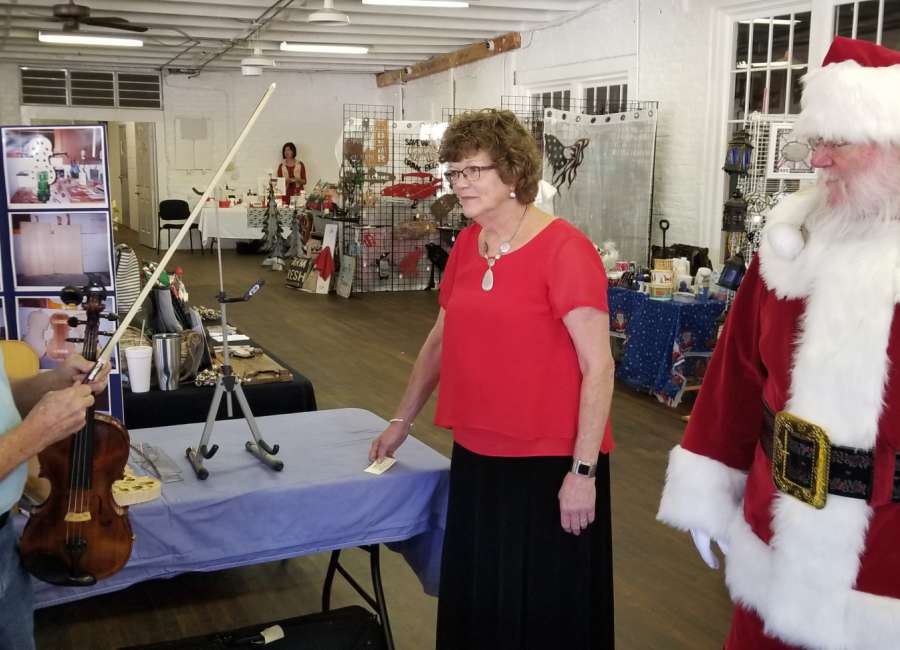 Coweta County's small towns have kicked off their celebration of the Christmas season.

Grantville held its Christmas parade on Friday. Senoia's parade – set for Saturday – was canceled, but Santa Claus stopped by anyway to help with lighting the town's Christmas tree.
The Moreland Hometown Christmas Celebration was a day-long event Sunday centered on the Moreland Mill. There were vendors offering a variety of crafts, gifts and collectibles. Food trucks brought barbecue, Greek delicacies, burgers and hotdogs.
Moreland's event also incorporated John's Run, an annual event that gets toys to children for Christmas. Santa visited in the afternoon, hearing wishes and posing for pictures. He later rode in a fire truck to the town square, led carols and took part in lighting of the tree.
Haralson's annual Christmas tree lighting ceremony will be Sunday, Dec. 9 at 6:30 p.m.
Participants in Grantville's parade lined up at the ballfields on Friday afternoon. T.J. Boyd, pastor of Change Church, was master of ceremonies – standing on the stage at the freight depot and offering descriptions of the floats, vehicles and groups passing through town.
Hugh Nash was the grand marshal for the Grantville parade.
"We're very blessed to have you working in the city, having you as a part of the parade," Boyd said to Nash, adding that everyone had gathered "to celebrate the true reason for the season."
Entries included classic cars, floats and vehicles with signs. Businesses, civic groups, churches and candidates for the sheriff's race – not yet called because Sheriff Mike Yeager has not yet been confirmed as a U.S. marshal – were among those participating. People on many floats tossed candy to bystanders.
Walking groups – including baton twirlers – were also in the parade, as were some people on horseback. After the parade, children sang at the depot and the Christmas tree was lit. Santa headed to the downtown gazebo to hear wishes from youngsters.
"A lot of people say it's a small city, but we believe big things are to come," Boyd said.
The festive gathering in Senoia focused on the lighting of the town's Christmas tree. Santa Claus brought his wife to Senoia, and they posed for pictures with attendees.
The Moreland Cultural Arts Alliance, which operates museums and plans events in Moreland, sponsored the Hometown Christmas celebration. Vendors Vickie Gunnin and Linda Futral, who was one of the organizers of the event, wore lighted Christmas bulb necklaces, and Kaitlyn Smith was one of several vendors sporting reindeer antlers.
Antiques, jewelry, scarves, stained glass, antiques, baked goods and hand-crafted items were displayed. McFarlin chatted with visitors throughout the day at his demonstration on how to make a violin.
Outdoors, Serenity Farms had a petting zoo, and Cub Scout Pack 48 served up boiled peanuts.
In the Hometown Heritage Museum, Santa visited with families in the afternoon. Nearby, local authors talked with visitors and signed copies of their books.