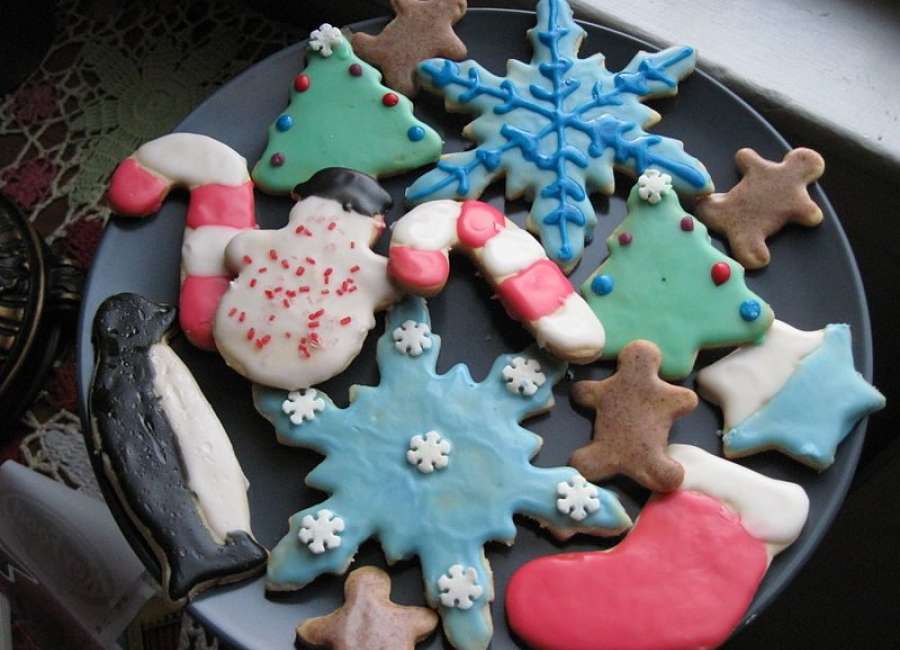 Here are some recipes for cookies and treats to leave out for Santa on Christmas Eve.

Candy Cane Cookies
Ingredients:
1 box sugar cookie mix
1/2 stick butter, melted
1 egg
1/3 cup softened cream cheese
1/2 cup all-purpose flour, plus additional for surface
red food coloring
1 1/2 teaspoons peppermint extract
Recipe:
Preheat oven to 325 F.
In a bowl, combine sugar cookie mix, melted butter, egg, cream cheese and flour; mix together to form dough. Separate dough into two equal portions and place into two different bowls. Add red food coloring gradually to one bowl of dough, kneading together until desired shade of red is created. To second bowl of uncolored dough, add peppermint extract and knead together. On a floured work surface, shape each dough into balls and then roll each ball into 1/4-inch-wide ropes, each about 6 inches long. For each cookie, carefully twist some of the red and white ropes of dough together and shape into a candy cane. Spread candy canes out on cookie sheets and bake on the top shelf of the oven for about 10 to 12 minutes. Transfer to a rack to cool before serving.
(Recipe courtesy: foodnetwork.com)
Sugar Cookies
Ingredients:
3 cups all-purpose flour
3/4 teaspoon baking powder
1/4 teaspoon salt
1 cup unsalted butter, softened
1 cup sugar
1 egg, beaten
1 tablespoon milk
Powdered sugar, for rolling out dough
Recipe:
Sift together flour, baking powder, and salt. Set aside. Place butter and sugar in large bowl of electric stand mixer and beat until light in color. Add egg and milk and beat to combine. Put mixer on low speed, gradually add flour, and beat until mixture pulls away from the side of the bowl. Divide the dough in half, wrap in waxed paper, and refrigerate for two hours.
Preheat oven to 375 F.
Sprinkle surface where you will roll out dough with powdered sugar. Remove one wrapped pack of dough from refrigerator at a time, sprinkle rolling pin with powdered sugar, and roll out dough to 1/4-inch thick. Move the dough around and check underneath frequently to make sure it is not sticking. If dough has warmed during rolling, place cold cookie sheet on top for 10 minutes to chill. Cut into desired shape, place at least one inch apart on greased baking sheet, parchment, or silicone baking mat, and bake for seven to nine minutes or until cookies are just beginning to turn brown around the edges, rotating cookie sheet halfway through baking time. Let sit on baking sheet for 2 minutes after removal from oven and then move to complete cooling on wire rack. Serve as-is or ice as desired. Store in airtight container for up to one week.
(Recipe courtesy: foodnetwork.com)
Fruitcake Cookies
Ingredients:
1/2 pound dried figs
1/4 pound raisins
2 ounces candied cherries, coarsely chopped
2 ounces dried apricots, coarsely chopped
1 tablespoon honey
2 tablespoons dry sherry
1 tablespoon freshly squeezed lemon juice
6 ounces chopped pecans
Kosher salt
1/2 pound (2 sticks) unsalted butter, at room temperature
1/2 teaspoon ground cloves
1/2 cup superfine sugar
1/3 cup light brown sugar, firmly packed
1 extra-large egg
2 2/3 cups all-purpose flour
Recipe:
Snip off the hard stems of the figs with scissors or a small knife and coarsely chop the figs. In a medium bowl, combine the figs, raisins, cherries, apricots, honey, sherry, lemon juice, pecans and a pinch of salt. Cover with plastic wrap and allow to sit overnight at room temperature.
In the bowl of an electric mixer fitted with the paddle attachment, cream the butter, cloves, superfine sugar and brown sugar on medium speed until smooth, about 3 minutes. With the mixer on low speed, add the egg and mix until incorporated. With the mixer still on low, slowly add the flour and 1/4 teaspoon salt just until combined. Don't over mix! Add the fruits and nuts, including any liquid in the bowl.
Divide the dough in half and place each half on the long edge of a 12 by 18-inch piece of parchment or waxed paper. Roll each half into a log, 1 1/2 to 1 3/4-inch thick, making an 18-inch-long roll. Refrigerate the dough for several hours, or until firm.
Preheat the oven to 350 F.
With a small, sharp knife, cut the logs into 1/2-inch-thick slices. Place the slices 1/2-inch apart on ungreased sheet pans and bake for 15 to 20 minutes, until lightly golden.
(Recipe courtesy: foodnetwork.com)
Christmas cake cookies
Ingredients:
Cookie:
3 cups all-purpose flour, plus more for flouring
1/2 teaspoon baking powder
1/2 teaspoon baking soda
1/4 teaspoon kosher salt
1 cup granulated sugar
4 tablespoons (1/2 stick) salted butter, softened
1/4 cup shortening, softened
2 large eggs
1 teaspoon vanilla extract
Seeds from 1/2 vanilla bean
3/4 cup sour cream
Frosting:
8 tablespoons (1 stick) salted butter, softened
1 teaspoon vanilla
2 cups powdered sugar
Pinch of kosher salt
2 to 4 tablespoons heavy cream
18 drops green gel paste
72 cinnamon imperials, for topping
Recipe:
For the cookie: Whisk together the flour, baking powder, baking soda and salt in a bowl.
In the bowl of a stand mixer with the paddle attachment, cream together the granulated sugar, butter and shortening. Add the eggs one at a time, mixing well between additions. Add the vanilla extract and vanilla seeds and mix well. Add the sour cream and mix until just combined. Add the dry ingredients to the wet ingredients and beat on low until just mixed through; the dough will be sticky. Shape into a rectangle and wrap in plastic wrap. Refrigerate for a couple of hours or overnight.
When ready to bake, preheat the oven to 350 F. Line two baking sheets with parchment or silicone baking mats.
Roll out the dough on a floured surface about 1/4 inch thick and cut into 2 1/2-inch rounds. Place the rounds on the prepared baking sheets. Bake until the cookies are puffed and cooked through but have not taken on any color, 13 to 15 minutes. Remove the cookies to a wire rack to cool.
When ready to decorate, make the frosting. In the bowl of a stand mixer with the paddle attachment, cream the butter and vanilla until smooth. Slowly add the powdered sugar and salt and beat on medium until smooth and fluffy. Add the heavy cream 1 tablespoon at a time until the frosting is fairly thick. Add the gel paste and stir to evenly combine.
Use a butter knife to spread the frosting on the cookies, then decorate with three cinnamon imperials in the center of each cookie. Leave overnight to set.
(Recipe courtesy: foodnetwork.com)