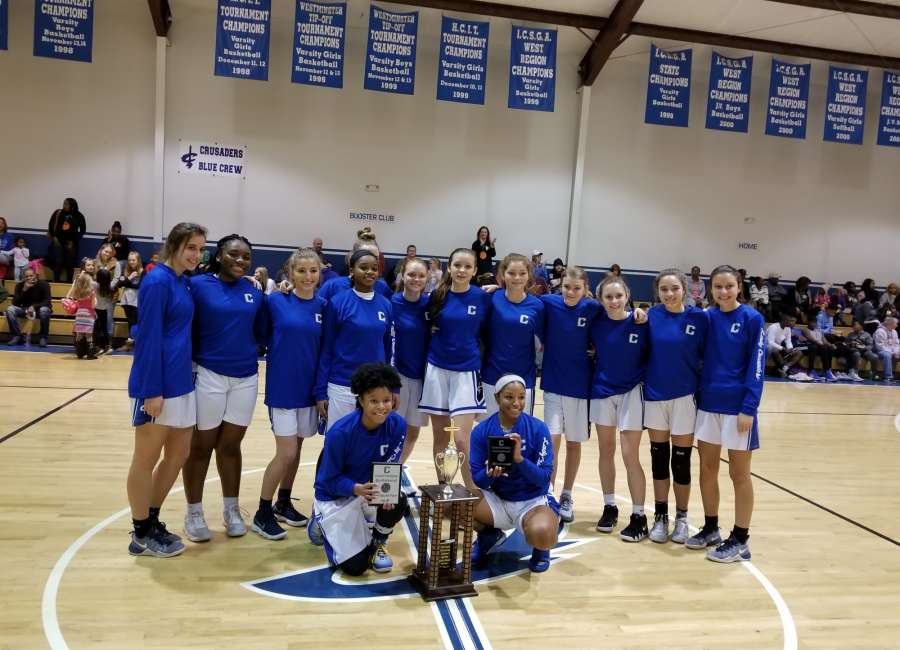 BY DOUG GORMAN
dgorman@newnan.cim
The Central Christian Lady Crusader basketball team is out to prove they can play with anybody.
With a 69-game winning streak, four- straight GICAA state titles and Saturday's victory in their own holiday tournament, they might just be right.
Central hasn't lost a game since the 2015-16 season and extended the winning streak Saturday night with a 42-21 victory over Heritage in the finals of Lady Crusaders' own Christmas Tournament.
"When we play up to our potential, it all has to do with unselfishness," said head coach Justin Stephens. "It's not about who scored the most points."
With the win, the Lady Crusaders extended their season record to 7-0, while Heritage fell to 9-1.
The Lady Crusaders built a 12-9 lead after the first quarter and extended it to 23-11 at the break.
Heritage's Emily Cushing gave the Lady Hawks a 2-1 lead early in the game, but it was the last time they would be out front on the scoreboard.
Anna Carter's basket pushed the Lady Crusaders into a 3-2 lead and they never trailed again.
Carter had the hot hand  for Central during the first eight minutes of the game. Her 3-pointer during the quarter gave the Lady Crusaders a 10-6 lead.
Aaliyah Ferrell added her own 3-pointer for Heritage cutting the lead to 10-9.
Central pulled away in the second quarter with some stingy defense.
The Lady Crusaders held the Lady Hawks to just one basket in the second quarter.
Offensively, five players spread the wealth and scored for Central in the second quarter.
Madison Morge's 3-point shot pushed Central's lead to double digits at 19-9.
The Lady Hawks broke their second-quarter drought with 1:41 left  when Zada Smith scored Heritage's only points in the period.
Central extended the lead to 38-17 in the third quarter.
Morge added her second 3-pointer of the game during the third quarter.
Pistol Brinson scored seven of her game-leading 12 points in the third quarter for the Lady Crusaders
Brinson was named MVP of the tournament.
Carter added 10 points for the Lady Crusaders and also made the All-Tournament team.
Ferrell finished  with seven points for the Lady Hawks and earned a spot on the  All-Tournament team.
"We really wanted to make a statement for the team that we are the best team  in the county," Brinson said.
Brinson said it's all about teamwork and playing
together.
"We just really want it," she said. "We work really hard. It's all about unity and playing together."