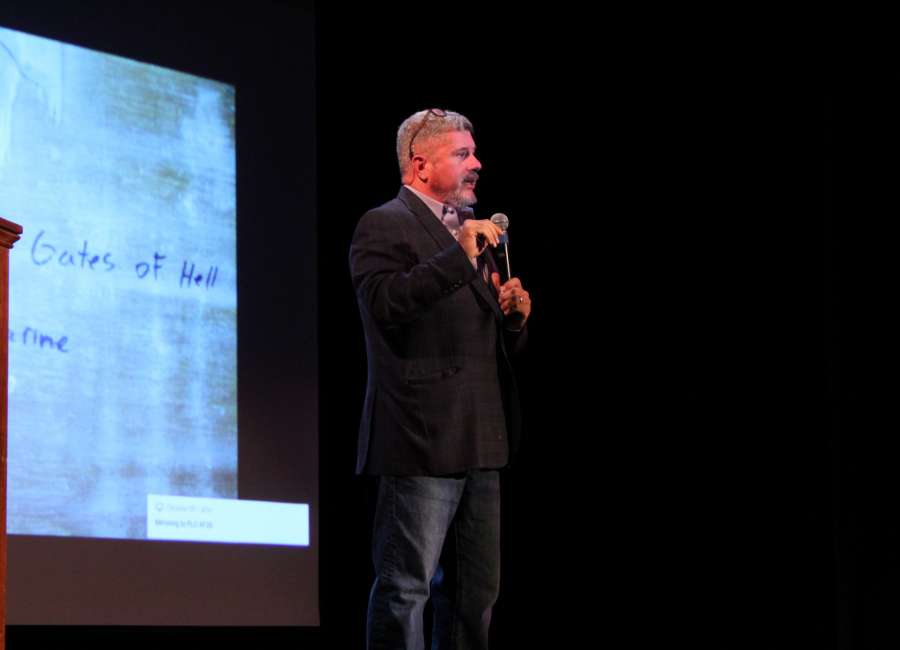 By JEFFREY CULLEN-DEAN
jeffrey@newnan.com
At the age of 38 and five days after the birth of his first child, Dr. Richard Jadick, a U.S. Navy surgeon, was sent to Iraq as a battalion surgeon.
Jadick spoke to an audience of students and local veterans as part of Newnan High School's History Speaker Series. He's now retired from the Navy and works as a urologist at Piedmont Newnan Hospital.
The series hosts a speaker from history in the fall and in the spring. This spring NHS will host Joe Galloway, a reporter known for his coverage of the Vietnam War.
"It is our desperate job not only to teach our students, but to bring as many opportunities from history in front of them," said Frank Henderson, a history teacher.
In 2004 Jadick was shuffling papers for a two-star general. He'd just come off deployment. Jadick said he wasn't doing anything more than making sure physicals were done and "sitting in the office a lot."
He hated the position.
During personal time, Jadick walked past the division surgeon's office.
"He's in his office and looks at me as I walk past. He said, 'Hey Rich, what are you doing?'" Jadick said.
The surgeon invited Jadick into the office where he took a seat. He then asked Jadick what he planned on doing with his life.
Jadick said, "I'm not doing anything right now."
The surgeon explained to Jadick that he couldn't find anyone to go with the First Battalion 8th Marines to Iraq.
Jadick went home and spoke with his wife about a tour in Iraq.
"My wife said, 'There's a reason you're going and you're the right guy,'" Jadick said. "After that, I knew what my job was."
On the flight from the U.S. to Iraq, Jadick read trauma reports to determine what he would do if they got into trouble.
Once in Iraq, Jadick trained corpsmen and other Marines to use tourniquets and other medical procedures on the battlefield. According to Jadick, medical training for Marines isn't common.
"For three months they trained and worked hard," Jadick said.
According to Marine Corps doctrine, Jadick had to stay in the rear of the battle and could only save the people who could get to him.
"The Colonel said, 'Doc, I gotta tell you something. We're going to Fallujah and we're going to the center batallion. How am I going to get my Marines home?'" Jadick said.
Jadick studied how lives were saved in the Vietnam War.
"The key was getting people to medical hospitals," Jadick said. "I started to plan. When we got to Fallujah and briefed our position as the medical unit, I was setting up an aid station at the line of departure. Then I said we're going to have a mobile medical unit."
With Jadick's plan, the medical team would be within five minutes of anyone on the battlefield.
Jadick said he'd never seen anything like the force and violence caused by the artillery that hit the city of Fallujah.
"One kilometer out and you could feel the heat down range," he said.
One block into the city, a sniper was hit in the chest. Jadick and his team were already on their way.
"I'll be honest, I'd had enough war at this point," Jadick said. "To this day I will never get the screaming out of my head."
Jadick put a chest seal on the sniper when they found him. He was conscious when they loaded him into the truck.
"What I did after that was move down into the center of the city. Five minutes from anyone in the battlefield," Jadick said. He and his team were set up in a little prayer room, he said.
Over the next 10 days, Jadick and his team took care of 200 Marine Corps casualties, six Army casualties, and 112 Iraqi civilians.
"It's hard when you watch a guy shoot your friend and you go get that guy and save his life," Jadick said.
On Jadick's last day in Fallujah, Demarcus Brown, a marine, came to him alive on a stretcher.
"He got sick quickly and I did everything medically you could do," Jadick said.
He said he frantically ran around for 45 minutes because Brown was going to die.
"At a point I called it. I walked outside and rubbed the blood off my boots," Jadick said.
Jadick said that a corpsman wasn't helping. Instead, he held Brown's hand. Jadick was seething. The corpsman told Jadick he just wanted to be there for when Brown crossed over.
"As a doctor, when you're arrogant, when you're using all the tools in your bag and all the medicine and all the smarts in knowledge, reach in that bag and pull out your compassion. This is what it was all about for me and the corpsman," Jadick said.
In January of 2006, Jadick was awarded a Bronze Star for heroic valor.
"What I did was nothing more than my job," Jadick said.