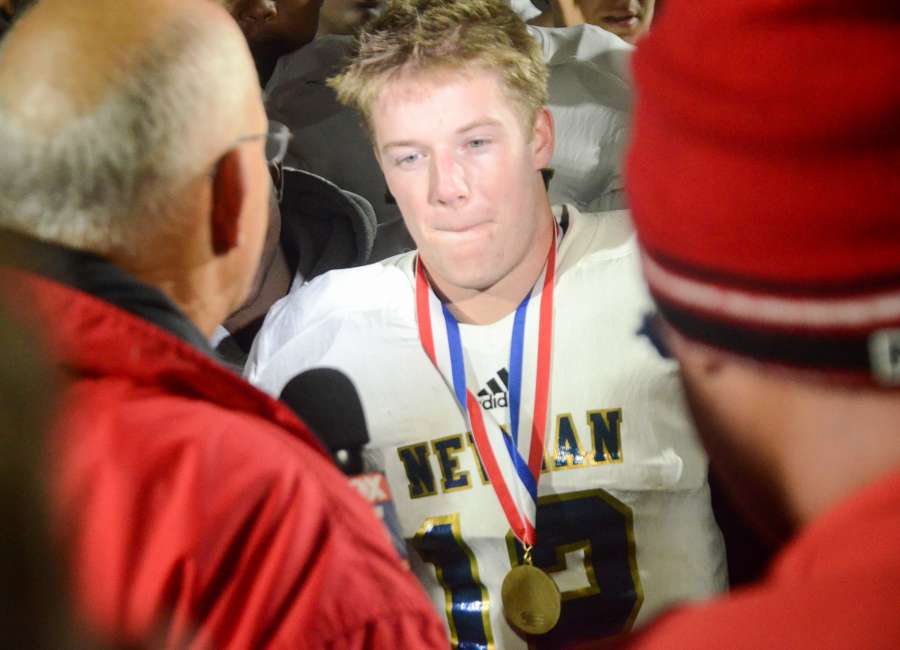 By Chris Goltermann
Cowetascore
The Brantley-Knott Water Jug hadn't been able to take a victory bus ride home for the past four seasons.
But Newnan changed all that on Friday.
The trophy, crafted out of an old metal Igloo Cooler that has continued to grow in stature since its inception in 2012 and named after the longtime head athletic trainers at Newnan and East Coweta high schools, stayed put for the first time in four years.
The Cougars took it back home after using a pair of touchdowns just over four minutes apart in between the third and fourth quarters en route to a 28-16 victory over the host Indians at Garland Shoemake Stadium.
"We've been in this thing two years and it's been two really good football games," Newnan head coach Chip Walker said after both he and East Coweta head coach John Small experienced an indoctrination to the rivalry in respective first seasons in 2017 in a 30-28 final. "It's a really good rivalry, there's no doubt about that. It was a lot of fun.
Newnan (6-4, 4-1, in Region 2-7A) will now host McEachern, the No. 3 seed out of Region 3-7A in the opening round of the GHSA state playoffs after being forced to travel to Tift County a year ago.
East Coweta (3-7, 2-3) will travel to Region 3-7A runner-up Marietta as the No. 3 seed from 2-7A.
"You've got to take steps as a program and a home playoff game is a step in the right direction," Walker said. "That's one of those things, we've talked about it as a team. We want to have a home playoff game every year and the tradition is to be able to get that back."
Both sidelines, however, had to deal with the ebbs and flows that come with a 'good rivalry' in a game that had both teams taking leads in the first quarter.
East Coweta shook off an immediate Newnan touchdown on the opening possession of the game, taking advantage of a short punt and then a punt block by Indians senior Dantarius Chunn to grab a 13-7 lead after the opening period behind two touchdown runs by senior running back Gerald Green.
Much like a previous victory by Newnan a year ago, the lead swung back and forth five times before it stayed in the Cougars possession when sophomore Bryson Moss scored on a fourth-down try from just in front of East Coweta's end zone for a 21-16 lead with 2:38 left in the third quarter.
Newnan set up the scoring drive on the second of three interceptions by Cougars defenders that led to 14 points.
En route to a 200-plus yard passing effort that began immediately on a 70-yard swing pass to fullback Omarion Florence on Newnan's first offensive snap, sophomore Michael Maginnis threw for two scores capped off by a 63-yard catch and run by senior Woody Waters that put the game out of reach.
Open in the slot for a quick strike on a tunnel screen, Waters split between converging defenders and outraced East Coweta's secondary to the near pylon with 6:21 to play.
"We ran the bubble [screen] about 10 times last game. We knew they were going to take that away, so it was kinda of a tunnel screen off the bubble and it was wide open, " said Waters, who earned the MVP award during a stop by the Great American Rivalry series. "We got a be 4-1 in the region, beat Northgate and East Coweta. Not a lot of Newnan teams get to do that."
Newnan all but iced its second straight victory in the annual rivalry game on Malik Hussie's interception two plays later.
"We've been practicing so hard to get this win," Hussie said, sharing the moment with twin Tyriq, a senior running back in the siblings' final Newnan-East Coweta game. "It really meant a lot to us. So we just came and did what we had to do. EC's got a good team, but we just played our butts off and got a win."
Newnan dominated statistically at halftime, outgaining East Coweta 209-53 among total yards and converting five of its first 10 first-down opportunities.
Maginnis ended the first half 7 of 13 passing for 159 yards, with quick strikes to receivers becoming the most effective to catch them in open space. The sophomore even managed to add an 11-yard run on a third-down conversion. While a drive eventually stalled, a punt put field position back to the Cougars advantage.
Pinned deep after two straight losses on runs by Green, who was limited to 51 yards at halftime on 13 carries, East Coweta looked to pass on third down late in the second quarter from its own end zone. An underthrown ball, however, found Newnan cornerback Denzel Boston for the first of his two interceptions, allowing the Cougars to flip the field.
Three plays later, Cougars senior Kyle McDonald added a 22-yard touchdown catch that allowed Newnan to regain a 15-13 edge with 28 seconds left in the first half. Running a slant toward the middle, McDonald hesitated long enough to get a step on a pair of defenders and make it to the end zone with purple jerseys on his heels.
"I saw where they were lined up. I know I was running slant so I knew I had to catch it and secure it because the safety was there toward me. The cornerback broke on it good, but just missed me enough and I said I gotta score," McDonald said after securing his county-leading sixth touchdown catch.  "This game, it never gets old. The adrenaline, you just can't help yourself. It has so many unexpected twists and turns."
Newnan managed to tack on two points when senior backup quarterback Logan Hudson bobbed the PAT snap but got up in time to find an open receiver Josh Harris on a left-handed toss to the left side of the end zone.
The Indians, however, immediately came back to open the third on an extended drive dominated by handoffs to Green, a Division I commit at Georgia Southern.
An 11-play march just inside Newnan's 10-yard line stalled, however, forcing East Coweta to settle for Dylan Lewis' 31-yard field goal with 6;59 left in the third for a slim 16-15 advantage.
After forcing a Newnan punt, East Coweta took over with a chance to add to its lead, only to have Boston step in front of another Indians pass by quarterback Nate Cronic. From their opponent's 41-yard line, the Cougars quickly marched for a go-ahead score from Moss to take a lead for good.
Moss took a pitch from the 4-yard line on fourth-and-1 and followed a seal block from Austin Payan for an open path into the end zone.
East Coweta, however, came up with a defensive stand that ended with a fumble early in the fourth quarter that was forced by linebacker Devin Holmes and recovered by Chunn, giving the Indians some life while trailing 22-16. The Indians, however, picked up one first down before being forced to punt it back to Newnan at its own 11-yard line.
The Cougars picked up a first down on three straight runs by Moss. Three plays later, Waters came through on his tunnel screen with his 64-yard touchdown to close out the win.
It'll keep Newnan away from the bus ride it took a year ago to open the Class 7A playoffs.
"We didn't want to travel like five hours like we did last year," said Hussie, who made a touchdown-saving tackle on Green on East Coweta's third-quarter drive that ended in a field goal. "It feels great."