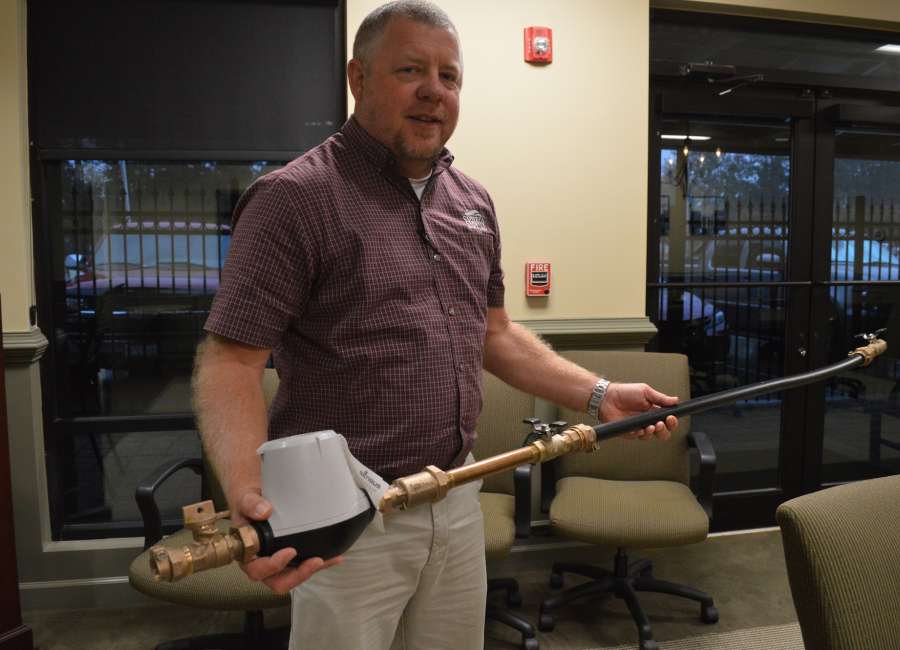 The Coweta Water and Sewerage Authority's switch to water meters that can be read from the authority offices has been beneficial in many ways, but has caused some issues with local contractors.
The high-tech meters, manufactured by Sensus, don't have the traditional brass threads, but instead have threads made of a plastic composite. Builders, plumbers and other subcontractors have damaged some meters while attaching them to water lines or pulling water from them during home construction.
There have been issues with the threads being stripped or the meters being broken, said Authority Chief Operations Officer Rick Jones. Often times on a building site, contractors will pull the meter up out of the ground a bit to hook a hose to the water meter so the water can be used during construction.
"You can't grab this meter and pull it up," Jones said.
The authority staff have held several meetings with builders to come up with a solution. They've also spoken at one of Coweta County's quarterly informational meetings with builders.
And through that process, the authority has come up with a solution – adding a 5-foot piece of flexible polyethylene pipe to the end of each new meter. The end of the pipe will come out of the ground near the meter box, and it can be used to attach a hose. The service line for the home can also be attached to the polyethylene, or the added pipe can be removed.
"It takes the liability off the plumbers and the contractors and the builder," Jones said.
Any damage that is done to a meter is the responsibility of the customer, not the authority. Jones said he expects the new solution to reduce problems by 99 percent.
Everybody put their heads together to come up with the solution, Jones said.
He presented the idea to the authority's board at its Wednesday morning meeting, and it was approved unanimously.
"It will save a lot of time and a lot of back and forth on our part," Jones told the board.
"Thanks for being willing to work with builders and come up with a workable solution," said Assistant Chairman Tim Higgins.