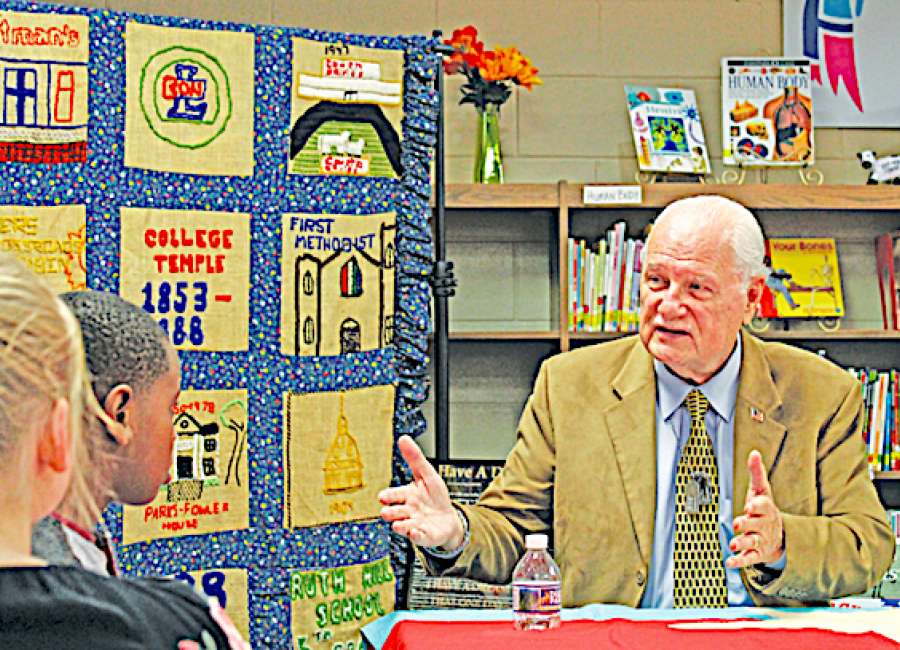 By JEFFREY CULLEN-DEAN, jeffrey@newnan.com
By age 7, Vis Kimenis had watched bombs fall on Berlin.
"We were bombed by the Americans during the day and the British during the night," Kimenis said.
Ruth Hill Elementary School hosted a Vet Connect for students to meet veterans and learn about their experiences. Colonel Joe Loadholtes, Colonel Willie H. Boyd, Lieutenant Colonel Jim Leathers-Arms, Chief Warrant Officer Alan Walsh, and Kimenis – who eventually became a lieutenant colonel in the U.S. Army – attended the event to talk with the students. All of them served in Vietnam.
Kimenis was born in Latvia. In 1944, his grandmother decided the family would flee the country to escape communism. The Soviets had occupied Latvia since 1940.
"She was a refugee from World War I," Kimenis said. "She knew what oppressive governments are. I'm thankful for my grandmother for an escape into an unknown future."
Kimenis and his family moved to the southwestern German town Pforzheim – the location of the war's largest, and one of the most devastating, area bombardments.
"It was an eerie sight. A night raid. Horizon to horizon you could see the whole city burning," Kimenis said.
A reported 1,575 tons of explosives were dropped on Pforzheim by the British Royal Air Force. 
"You're looking at the guy who never went to fifth grade," Kimenis said to the Ruth Hill students.
Kimenis said he survived in West Germany through care packages flown in from the Americans.
In 1948, President Harry Truman signed the Displaced Persons Act, which allowed 200,000 displaced Europeans to immigrate to the United States. Through the DPA, Kimenis arrived in Boston by boat in 1950.
Kimenis said when he arrived in the United States he had on short pants, "'cause that's what boys wear in Europe. I needed to immediately assimilate into American culture."
Kimenis was commissioned into the U.S. Army in 1963 as a logistician to supply sustenance and services to the troops. His father was an officer in the Latvian army, and Kimenis said he wanted to follow in his footsteps. Kimenis left a wife and daughter in the United States to serve two tours in Vietnam, from 1966-67 and 1972-73.
"When you're exercising on the airfield and see bullets hitting the ground in front of you, that's a significantly emotional experience," said Kimenis.
According to Kimenis, the official supply chain in Vietnam was broken. A request for supplies could be submitted, and six months later it would not be filled. Items went in and out of warehouses resulting in limited accountability, said Kimenis. The demand for foreign weapons, combined with hampered supply chains, resulted in bartering being a common occurrence.
"I was a scrounge," said Kimenis as he laid a Viet Cong flag on a table.
He said he traded a case of steaks to some troops for the flag. 
"Officially you can't get it. So you get it unofficially," he said.
Kimenis said while he was in Vietnam, he sent tape-recorded messages home to his wife and daughters, and they would send back recorded responses.
When a student asked what Kimenis missed while he was in Vietnam, he said, "I missed the American way. I missed America."
While in Vietnam, Kimenis and other soldiers were initiated into the Rade Tribe in the Quang-Duc province of the Vietnamese highlands. He said the initiation consisted of sharing a strong communal rice wine. Kimenis then pulled up the sleeve on his shirt, revealing a golden band around his wrist that allowed him safe travel through the highlands.
After serving in Vietnam, Kimenis continued his military career as a foreign area officer – "an American officer who can fit in a foreign environment," he explained.
He was stationed at the American Embassy in Nigeria as a diplomat, and later returned to Germany in the same position.
Kimenis retired from the military in 1988 after 25 years of service. He said he travelled to four continents and 44 countries.
"I am fortunate to have selected a military career," he said. "I have vivid, good memories of my life."
In the second Iraq War, Kimenis said he participated as a contractor working in a survey group that "provided information to courts that hung Saddam Hussein."
Kimenis said he has returned to Latvia since fleeing the country as a child. After visiting the country, he said he had no desire to re-immigrate.
"I'm a fully assimilated American," he said.