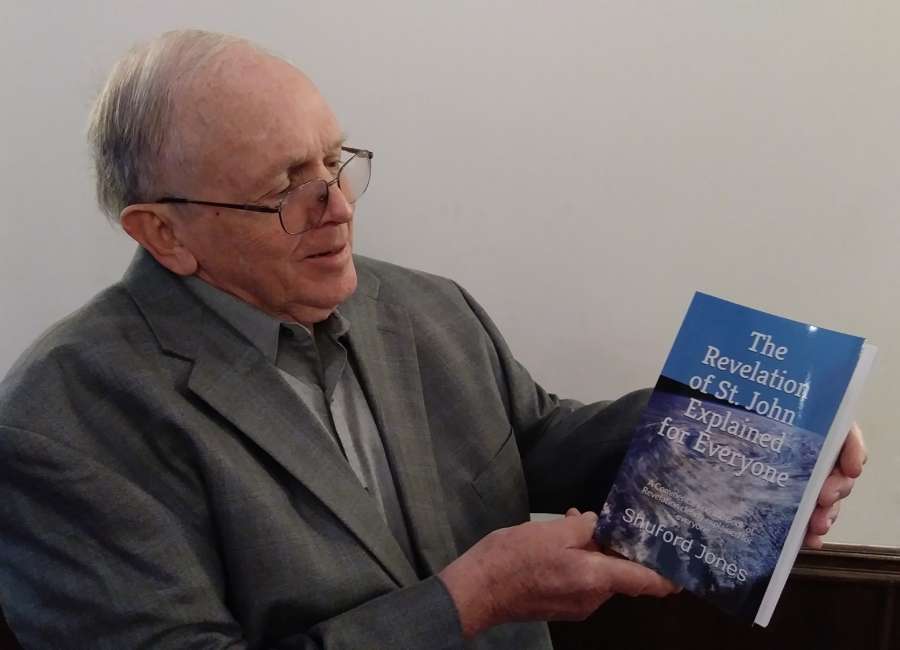 Shuford Jones loves telling stories that make biblical truths come alive.

At 79, he has been an ordained minister for 61 years and has preached in more than 250 churches. For several years, he was pastor at Sargent Baptist Church – and there also was a pastorate in neighboring Heard County at First Baptist in Franklin.
Jones officially retired four years ago, but then served as an interim pastor for 18 months.
Serious health issues then had him in surgery. Jones spent a month in the hospital and then five months in a nursing home. "During that time, I found great encouragement in the Psalms, and I had a sense of knowing God wanted me to write a book on Psalms," said Jones, who now lives in Winder.
His first book was on the life of David and on Psalms 1-72. Jones then put together a second volume on Psalms 73-150. The books are titled ""Psalms: Fresh Hope for Today," volumes 1-2.
Jones then turned his attention to the last book in the Bible, Revelation, a book that is often confusing to people in the pew and which has been subject to myriad theological interpretations over the centuries.
Jones began work on his newest book in 2017 and finished it early this year. The result is "The Revelation of St. John Explained for Everyone."
The Revelation book fits into a bigger project Jones has – "my own update of the King James Version called Easy KJV."
He has converted the book of Revelation into the Easy KJV format, and it is included in Jones' Revelation book.
"God meant for ordinary people in the pew to understand the book," Jones said. "It was never His intention that theologians should be the only ones to understand it – along with countless variations and opinion."
In his 351-page commentary, Jones offers an explanation for all 404 verses and 22 chapters. His goal was to explain the passages in clear, readable language.
Jones' book "is obviously the product of fervent prayer, extensive study, excellent scholarship and the prompting of the Holy Spirit," said Dr. Gerald Harris, editor of The Christian Index, which is published by the Georgia Baptist Convention.
"The author has delved into the some of the most challenging passages in this New Testament book of prophecy with great care and explained his position with clarity and biblical support from other Scriptural references. From his incredible description of the exalted Christ in chapter one to his magnificent interpretation of the celestial city – heaven – in the last chapter of the book you will find that Shuford Jones has a remarkable way of communicating God's Word and bringing eternal truth to light," Harris said.
Jones studied Revelation under skilled theologians and has personally translated the book from its original Greek into English.
Jones has been an Old Testament instructor in the Atlanta branch of New Orleans Baptist Theological Seminary and served as director of the church planting ministry of the
Georgia Baptist Convention.
Jones wrote a weekly column for The Newnan Times-Herald while he was pastoring in the area. He also played a role in the organization of the Coweta County Fire Department, serving as the department's first assistant chief and later served as chief.