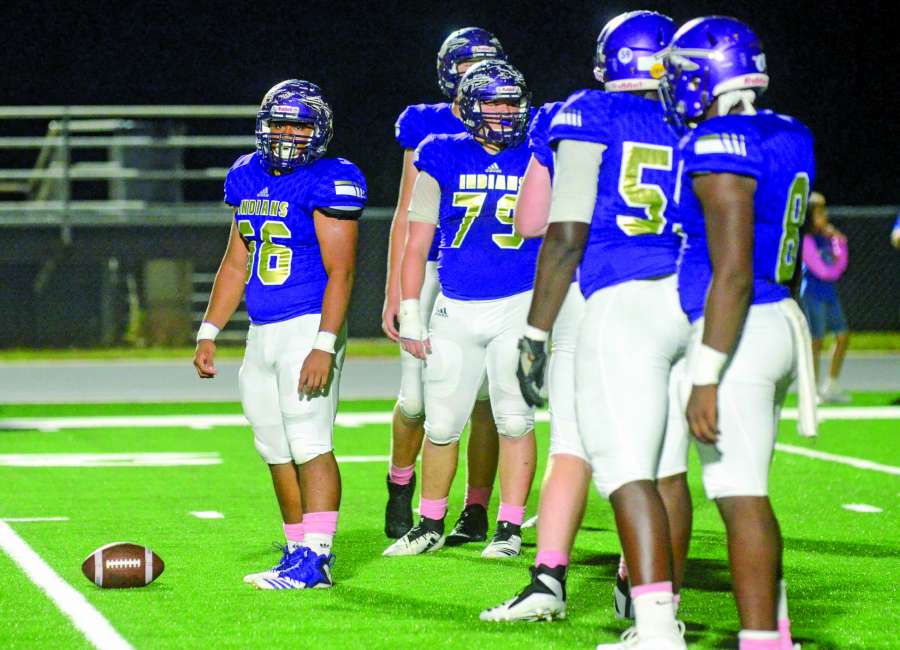 By Chris Goltermann
East Coweta has endured its share of mudslinging this season, so dealing with  field conditions at Marietta's Northcutt Stadium that would have put a hog in pig heaven may have been the least of the Indians' worries in 2018.
A 3-8 lineup came home from a 28-26 upset win over the Blue Devils with enough muck on their jerseys to serve it up on a platter for some of the naysayers this season.
But there are more important issues at hand this Friday at Garland Shoemake Stadium for East Coweta, such as hosting a second-round state playoff game for just the second time in school history.
The third-seeded Indians got some additional help from Tift County out of mighty Region 1-7A in south Georgia last week. Its rout of Region 4 champion Roswell set up a rare home game in week 12, something that hasn't happened since 2000 despite a string of 21 consecutive postseason appearances.
It was as much a reward, however, for a resilient East Coweta team that has been forced to overcome adversity since Day 1.
Of its 11 opponents so far, 10 have winning records. And of the five non-region teams the Indians faced to begin the season, four are also still alive in the second round of the GHSA state playoffs.
"Really I think with our kids, I don't think there's a sense of relief. I think it's a sense of validation with those guys. There's a pride factor for what they've accomplished and they're not done yet," Indians head coach John Small said. "They've had a great week of practice and they know every week it gets tougher. But the cool thing was is when we told them it was Tift, they were like, coach we've played people before like them. So I'm very happy for them."
Facing another set of Blue Devils in the second round following Friday's muddy victory at Marietta where East Coweta led from start to finish.
Senior Gerald Green's 270 yards rushing and four touchdowns were as much an example of a gritty effort up front.
"Our offensive line played about the best they've played all year and in those conditions," Small said. "With the other team knowing we're going to run the football our kids just put their hand in the ground and said let's go. We've got great senior leadership with R.J. Pettaway, Riley Jewett and Titus Aun, but we've also got two sophomores in Watson and Gage Pitchford that played like veterans. And Gerald will give them all the credit."
As important as peaking at the right time is, success during the state playoffs also relies on catching some breaks. After a year where football gods seemed to take a lashing to the Indians' hopes, East Coweta has now had some go its way.
Marietta limped into the state playoffs minus its star quarterback, and Friday's mud still wouldn't have provided an atmosphere conducive to throwing the ball. Even advantages on paper might not matter, however, when it comes to the postseason.
"We just told the kids in playoff football you can throw out everything else.  It's a four-quarter game and there are not many games that are not, especially in 7A football," Small said. "It's a dogfight from beginning to end."
This week, an Indians team that had to be the most patient of three county schools through the construction of a new turf field as the last to be completed, has reaped the benefits while able to practice through four consecutive days of constant rain.
"Thank goodness the fields from our county, it allows us to be out there," Small said, tipping his cap to the Coweta County School System's decision to include turf fields with its most recent SPLOST vote. "It can rain all day long, if it gives us a break we can practice. We can be out there and practice. It hasn't affected us at all."
Not much has bothered the Indians, even while facing another tough opponent. East Coweta has overcome lopsided losses to Region 1-7A runner-up Lowndes (37-12) and a McEachern team that proved resilient enough to hold off Newnan.
The Indians equally had to shake off their loss to the rival Cougars a week earlier in order to keep their season alive.
"It's been one of the most rewarding years I've been a part of to see the kids get where they got. For these seniors to leave a legacy, from where they came from, it's just phenomenal," Small said. "They've been a great example for some of our fans. Some of them haven't stayed the course, but our kids have never wavered. What a great lesson for a lot of adults to learn from these kids. When you stay positive, keep grinding, put your head down and go to work, good things happen. The majority of our people here have been outstanding."
Tift provides another hurdle, even at 7-4 while playing in one of the most high-profile regions in the state in south Georgia led by No. 1 state-ranked Colquitt County.
All four schools in 1-7A won seven or more games, with Tift still needing the at-large bid awarded by the GHSA to advance despite outscoring opponents by a 339-198 margin following last Friday's playoff opener.
Tift provides balance offensively between senior quarterback Patrick Felton (1,305 yards passing, 13 TDs, 4 INT) and a running game led by senior Mike Jones (1,005 yards rushing, 4 TDs).
In addition to a pair of top senior receivers in Tyler Aijero (42 rec., 760 yds) and Jameson Turner (31 rec., 357 yds), Tift boasts a massive front four for a defense that has posted 31 sacks in 11 games. Its secondary has been just as stout with nine interceptions, led by three from senior Deontae Overstreet.
"They're just what you expect to see in the second round," Small said. "Defensively, they're sound in what they do. They're a big play team and they make a lot of big plays in the passing game. They're very similar to us in the style of offense they run. They've connected on some deep passes and they've come back in games. They've battled so you're going to play a solid football team."
Such has been the routine for an East Coweta lineup that has only faced one opponent under .500 all season. Even with home-field advantage, the Indians will likely be playing the role of underdogs while looking to advance to the state quarterfinals for the first time since a run to the Class AAAAA semifinals in 2002.
"I've been real pleased with our kids approach this week. They're not too high. They're ready to go back to work and to have this opportunity," said Small. "We're playing with house money. That's what I told them. So let's go have fun, because a relaxed team is usually the best team. So we've got no pressure on us."