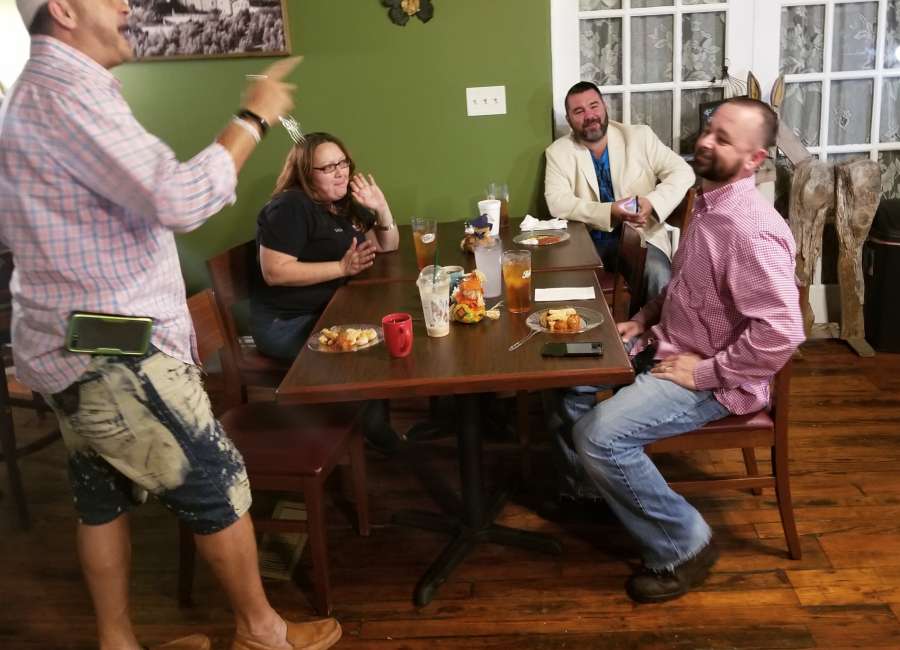 Does one person's vote count?

Just ask folks in Grantville. The numbers posted on the Georgia Secretary of State's site on Wednesday showed Jim Sells got 261 votes to Willie Kee's 260 for Grantville City Council Post 1.
Election night is over, but the results of many races in Georgia are still uncertain. Democratic gubernatorial candidate Stacey Abrams had not conceded to Republican Brian Kemp at 5:30 p.m. Wednesday.
At that time, the Georgia Secretary of State website showed Kemp with 50.33 percent of the vote and Abrams with 48.72. Libertarian Ted Metz had .95 percent.
To avoid a runoff, Kemp must have 50 percent of the vote, plus one. With absentee ballots still not counted, there is a possibility that his lead – which has narrowed as votes have been tabulated since Tuesday night – could drop below that threshold.
Abrams' campaign estimated early Wednesday morning that there are at least 97,000 ballots to be counted and she would need a net gain of 24,379 votes to trigger a runoff, according to The Associated Press.
Other state races could also be impacted by late vote tallies. Several of the state races are close, especially those that have a Libertarian candidate. Georgia law requires candidates receive more than 50 percent of the vote to avoid a runoff.
Current numbers on the Secretary of State's office indicated there will likely be at least two statewide runoffs on Dec. 4 – between John Barrow and Brad Raffensperger for Secretary of State and between Chuck Eaton and Lindy Miller for the District 3 post on the Georgia Public Service Commission.
On Wednesday afternoon, Candice Broce, spokeswoman for the Georgia Secretary of State's office, issued a press release indicating fewer than 3,000 non-provisional votes remained to be counted statewide. "Clarke, Fulton, Hall, and Gwinnett counties completed tabulation of their remaining absentee ballots" on Wednesday, according to Broce.
County officials have reported fewer than 22,000 provisional ballots cast statewide. Counties have until Friday to verify provisional ballots and until Tuesday, Nov. 13 at 5 p.m. to certify their results.
The Secretary of State's office will certify the final results after county certification – no later than Wednesday, Nov. 14, according to Broce.
David Stover and Bob Trammell held onto their Georgia House seats on Tuesday night. Stover, a Republican, represents District 71, and Trammell, a Democrat, represents District 132 and is the House Minority Leader.
Stover's district is entirely in Coweta, while Trammell's includes precincts in Coweta, Meriwether and Troup.
Both said they are glad to have been returned to office. Stover said he felt the 71st District result "shows how strong Coweta came out to vote," adding that there is an "an energized voting base" in Coweta.
Broce, Stover and Trammell all commented on the large number of voters – particularly in a race when the president is not on the ballot.
"I'm very happy with the outcome of the race. I was surprised by the number of votes that were cast. We came really close to a presidential year," Stover said.
"It's an honor and a privilege to serve as the representative for the 132nd District. I'm grateful to the voters for the opportunity to go back and work on issues like health care and expanding Medicaid in Georgia," Trammell said.
Stover said the Republicans sustained "some tough losses" in the Georgia House – losses which he largely attributed the the Abrams' campaign's successful effort to get absentee ballots into people's hands.
Trammell said Democrats gained 11 House seats and two Senate seats on Tuesday night.
Stover said Pres. Donald Trump's focus on immigration, rather than economic issues probably played a role in the outcome of the election. 
"Even though I'm a Trump supporter, I think his messaging the last couple of weeks has not been on point," he said.
Stover noted Democrat John Barrow's having the most votes in the secretary of state's race. 
"He's well-liked in south Georgia," Stover said, adding that Barrow is more moderate that some of the newer Democratic candidates in Georgia.
Barrow served in Congress for 10 years, starting in 2005.
"One thing that stands out was the tremendously strong turnout locally and across the state, which I think is an expression of the tremendous interest in all the races that were on the ballot," Trammell said.
"One of the big takeaways is that Georgia is becoming an increasingly competitive state, which is why you're seeing a lot of really close contests, which are still being sorted at this moment," he said Wednesday afternoon.
Trammell said Georgia's demographic makeup is changing, which is one factor in Tuesday's close election results. He also noted that some $100 million has been spent by campaigns and outside organizations on the Kemp-Abrams race.
"That's a record in Georgia. It's a reflection of how competitive the state is, and it is also in part a driver of the extraordinary turnout," Trammell said.
Paul Guillaume, who defeated Walter Krauth for the open Newnan City Council seat, attributed his victory to old-fashioned, door-to-door campaigning.
He said he and his wife personally visited with more than 1,000 people. With the help of a team of supporters, they contacted more than 4,600 people personally.
"We met a lot of great people," Guillaume said.
He was busy picking up his campaign signs Wednesday. 
"I'm on sign duty today," he said. "Win or lose, that was my on agenda for today."
Guillaume did some campaigning via mail and Facebook, but he said face-to-face encounters with constituents were invaluable. 
"It gives you a heartbeat of what's really important to them," he said. 
He said he found that people are concerned about quality of life, safety and preservation of downtown character.
"It was just a really great experience," Guillaume said. "I wouldn't trade it for anything."