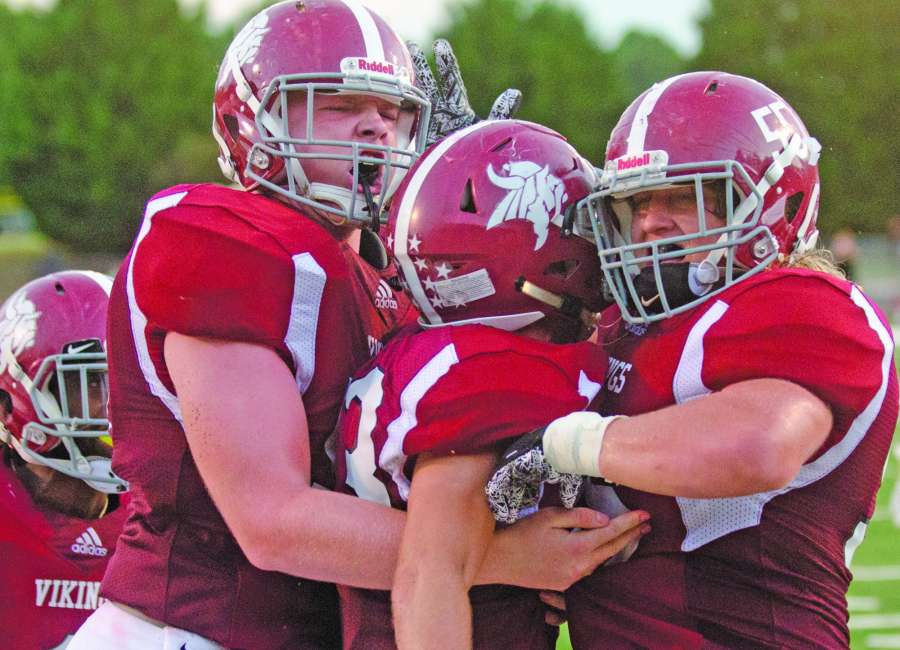 By DOUG GORMAN
dgorman@newnan.com
The Northgate Vikings might have lost a heartbreaking 30-29 decision to Mays Friday night to close out the regular season, but there's still plenty to play for as the squad heads into the first round of the Class 6A playoffs at Dacula.
Northgate had its chances to knock off Mays, but after getting stopped on a two-point conversion, the game ended with the one-point loss.
The Vikings final touchdown came on fourth down and from there the Northgate coach didn't hesitate to try to win the game by converting the 2-point conversion.
"I told myself we were going to be very aggressive. We went for a lot of fourth downs," Northgate head coach Mike McDonald said.  "We called a great play and we had it open, but unfortunately, it just didn't work."
At times, Northgate's season was a little bit of a roller coaster.
The Vikings finished the year with a 6-4 overall record and 5-3 mark in Region 5 6A to earn the No. 4 seed.
Until dropping Friday's regular-season finale, Northgate was riding a four-game winning streak, beating Alexander (24-20), New Manchester (23-12), Tri-Cities (44-28), and Langston Hughes (10-7).
It was all a part of a process for the Northgate Vikings.
"We got a lot better from week to week, and we are playing some pretty good football right now," McDonald said.
The Vikings are also blessed to have one of the best high school running backs in the state in Cameron Cruver.
Cruver leads Class 6A in rushing after closing out the regular season with 1,369 yards and 17 touchdowns.
Despite the loss, Northgate stayed in the game against Mays with some ball control offense and rushing for more than 300 yards of total offense.
Northgate missed out on the playoffs last year, but made it into the second round in 2016 and to the Final Four in 2015.
McDonald knows his team has to put last week's loss behind it.
"The kids played their tails off last Friday night and I really hurt for them, but one play didn't win or lose that game," McDonald said.
He also knows that the 6-4 record is a little bit deceiving because a break here or there could mean the Vikings have a better record and better seeding.
"These kids are really resilient. They are excited to still be playing. We know that we are just a couple of plays away from being a three seed, or maybe even a two," McDonald said.
The Vikings face a Dacula team that is ranked ninth in the final regular-season Class 6A Georgia Sports Writers football poll.
The Falcons (8-2) rolled through their region schedule with a perfect 5-0 record to earn the No. 1 seed out of Region 8 6A standings.
Dacula lost two of its first three games losing to Class 7A opponents Mill Creek (49-21) and Mountain View (21-14) before  rolling off seven victories in a row.
The Falcons have put together some dominating performances, outscoring opponents 312-142.
Dacula's average margin of victory is just over 25 points.
The Falcons are heading to the playoffs for the fifth time in the last six years.
Dacula is 15-0 in region games over the past three years
"We are excited to go up there," McDonald said. "Dacula has a fine football team. They are a typical Gwinnett County team. They are big and strong, and they have some high-end athletes."