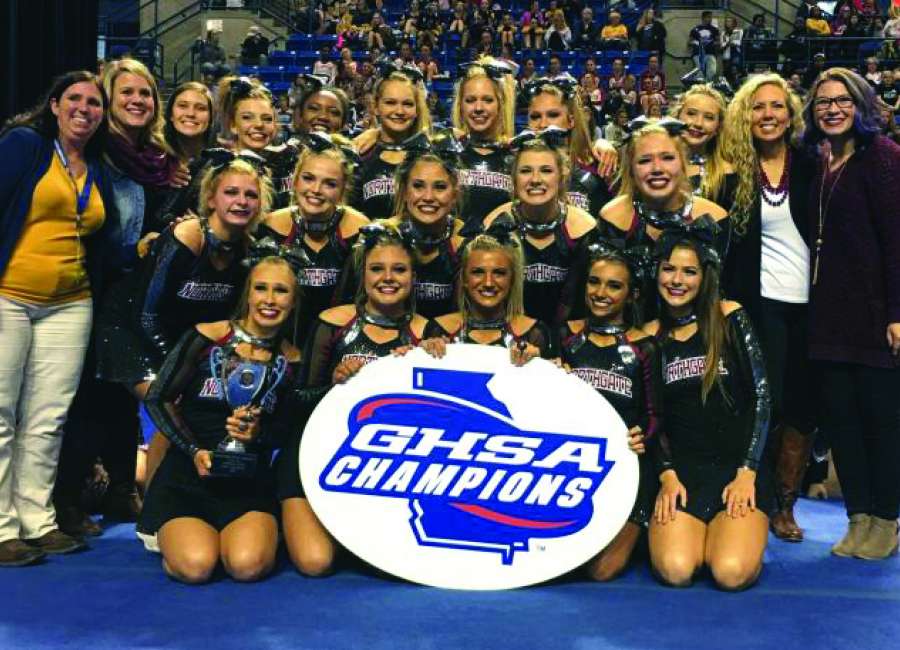 By CHRIS GOLTERMANN
CowetaScore.com
Like routine, every autumn the leaves fall, the days get shorter ….  and Northgate High's cheerleading program adds another GHSA State Championship.
The first two are natural happenings, but the third has become a tradition through human nature and the hard work of a Northgate program led by head coach Sarah Frazier that continues to up the ante by trying to add yet one more ring to a set of fingers that is about to run out of room heading into 2019.
Even without a Region 5-6A title this season, Northgate's 2018 squad saved its best for last at this weekend at the Columbus Civic Center.
They initially dominated Friday's sectionals to finish first among eight schools that did not receive automatic bids to Saturday's Class 6A finals and then raised the bar again to leave little doubt en route to a fourth consecutive first-place trophy and their third straight in 6A.
East Coweta and Newnan were also represented this weekend after qualifying for the annual GHSA State Championships in respective Coed and Class 7A divisions.
East Coweta remained steady in Friday's finale, placing third behind state champion Mill Creek. The two teams finished in similar positions at the state sectionals a week earlier.
Northgate's impressive ninth cheerleading title in school history, which ties Commerce for most among GHSA schools included a score of 108.5 that was bettered by only one other finalist on Saturday, Class 7A champion Lambert.
A final three-minute routine wowed Class 6A judges, who placed Northgate ahead of Creekview (106.5), Houston County (106.17) and Cambridge (105).
The squad's second-place effort at region became a mere hiccup. During the regular season, this year's team won 6A divisions at South Forsyth on Oct. 20 and at Carrollton on Oct. 13, finishing ahead of Alexander.
Northgate began the season by dominating the September schedule in Class 6A with first-place efforts at Dawson County (Sep. 8), Whitewater (Sep. 22) and Starr's Mill  (Sep. 29).
Competition includes three panels judging categories of A) Jumps/Cheer/Dance; B) Standing/Running Tumbling and C) Partner Stunts/Pyramids for a final score.
Cheerleaders are required to be a member of a high school spirit team to be eligible to compete.