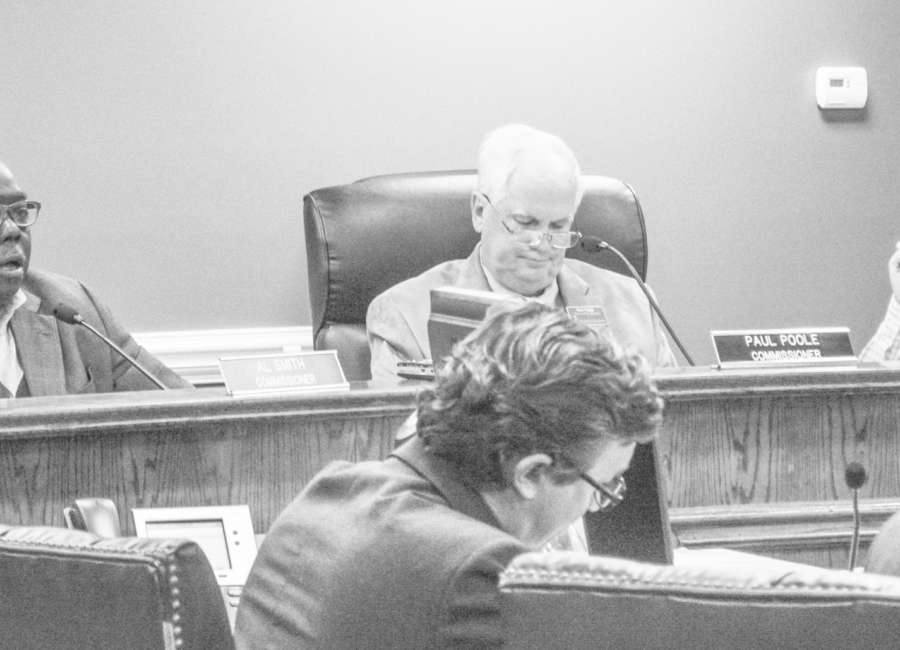 Coweta's legislative delegation has officially been asked to take the next step to increase senior citizen tax exemptions from local school property taxes.
The Coweta County Board of Commissioners executed a resolution Tuesday asking the legislators who represent Coweta County to introduce "local legislation" in the 2019 Georgia General Assembly session that would allow Coweta voters to decide whether or not to increase existing school property tax breaks for those 65 and older.
Though the increased exemption proposal was approved by the Coweta Board of Education, under state law the county commissioners must pass the resolution requesting local legislation.
If local legislation is approved, the next step will be putting the question on the ballot.
But whether or not the legislative delegation will take action is uncertain.
Historically, the delegation has required a unanimous vote by a governing body before it will move forward with local legislation. And the school board vote was 6-to-1, with school board member Linda Menk opposed.
That lack of a unanimous vote from the school board was discussed by the commissioners Tuesday night.
"Essentially, since this was not unanimous, then the local legislators are not going to consider it?" asked Chairman Al Smith.
"I can't answer that," said Assistant County Attorney Nathan Lee, who also serves as school board attorney.
"It is not a law or a written policy. But that has been traditionally the practice of our delegation," Lee said. "I can't speak for what they're going to do. It doesn't have to be unanimous by law, but that is the way they have operated for years."
Last year's plan to increase local hotel/motel taxes in Coweta and the city of Newnan didn't go forward because there was not a unanimous vote by the Newnan City Council.
The revenue from the increased taxes would have gone to "tourism product development," which can include parks, convention centers, hunting preserves, museums and the like, and marketing.
The commissioners also asked when the matter would come before voters.
Commissioner Rodney Brooks said he wouldn't want the vote to be held in a special election, all on its own. "I wouldn't want to cost taxpayers extra money just to have this one vote out there," he said.
When it is held will depend on a few factors, including whether the local legislation is approved in the 2019 session, and what elections are already planned for 2019, Lee said.
The commissioners have already given tentative approval to holding a referendum on a Transportation Special Purpose Local Option Sales Tax in November of 2019.
"My understanding is the board of education would not be asking for a special election," Lee said.
The school board's proposal is to raise exemptions from $40,000 to $60,000 for ages 65-70; from $60,000 to $85,000 for ages 71-74; and from $80,000 to $115,000 for ages 75 and older.
That exemption, as well as various other exemptions available to Coweta tax payers, are are applied to the "assessed value" of a property, which is set at 40 percent of the fair market value.
For example, if a home were valued at $200,000, the assessed value would be 40 percent of that, or $80,000.
Under the new proposal, for a 65-year-old homeowner who applies for the exemption, the $60,000 exemption would be subtracted from the $80,000 assessed value, leaving $20,000 of taxable value, assuming no other exemptions.
On a practical basis, the proposed increase would mean that the first $150,000 of a home's fair market value would be exempt from school property taxes for those 65 to 70, the first $212,500 of a home's value for those ages 71-74, and the first $287,500 for those ages 75 and older.
Exemptions are based on the homeowner's age on Jan. 1 of each year, and only apply to "homestead" property that is the owner's primarily residence. Rental property and land that doesn't have a home on it are not eligible.
Exemptions are not automatic and must be applied for. Numerous other exemptions are available for disabled and elderly Cowetans who are considered low-income, as well as spouses of those killed in the line of duty.
You can view the list of exemptions at https://www.coweta.ga.us/government/tax-assessors-office/exemptions or call 770-254-2680.