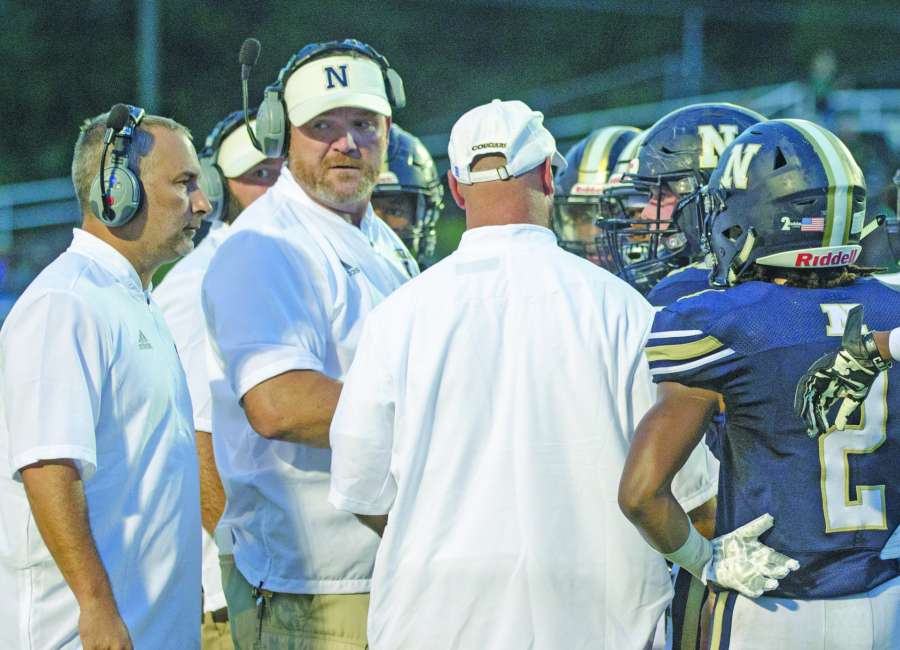 By Chris Goltermann
Cowetascore
A year ago, Newnan head football coach Chip Walker might have felt his team peaked following a victory over rival East Coweta.
That doesn't seem to be the case heading into Friday's playoff opener.
"I've seen a huge difference from this playoff week of practice to last year's," Walker said. "One of the things I told them this week was I thought we might have been just satisfied last year with getting to the playoffs and beating East Coweta. I don't think this football team has that mentality."
From the site of this year's GHSA Class 7A first-round game — Drake Stadium — to the Cougars' improved record of 6-4, there's a definite argument toward Newnan not quite being satisfied with its more recent win over the Indians last Friday at Garland Shoemake Stadium.
"It's a chance for us to take another step in the right direction with our program. To have a home playoff game, to beat East Coweta for the second year in a row, those are all positive steps for us," Walker said. "Now it's time for us to take the next step, which is to win a playoff game, so that's big for us."
A sizeable McEachern lineup that scored 53 points during an earlier trip to East Coweta in mid September returns as the No. 3 seed out of Region 3 looking to open the postseason with a victory at the county's other Class 7A school.
The Indians (7-3) averaged 37 points-per-game during the regular season while creating a balance between passing efforts led by sophomore quarterback Carlos Del Rio and a large front line that paved the way for a 100-yard game from Jordan Simmons in last week's 34-27 victory over North Paulding with both teams battling for third place in the region behind undefeated Hillgrove (10-0) and Marietta (5-5).
"They've got a huge line of scrimmage and have playmakers everywhere," Walker said of McEachern. "We've just got to control the things we can control and get after it. That's the biggest thing we can do."
Newnan accomplished goals on both sides of the ball while facing last week band of Indians across town at East Coweta in a 28-16 win where it outgained its opponent by a 404-172 margin in total yards.
The Cougars averaged 28.5 yards on sophomore quarterback Michael Maginnis' eight completions, including a pair of touchdown passes to seniors Kyle McDonald and Woody Waters.
Defensively, Newnan equally limited East Coweta senior running back Gerald Green to 93 yards on 24 attempts including a 36-yard score on his first offensive carry of the game.
"I thought we executed pretty good. I thought we controlled the ball, hit them with big plays when we had an opportunity, so that was important. When we made a mistake we took advantage," Walker said. "We hit on a bunch of offensive and defensive goals. I thought our defense played one of our better games of the year. We just need to carry that over to this week."
McEachern's offense will be an even bigger challenge for a Newnan defense that was led by senior safety Malik Hussie last week.
Hussie's touchdown-saving tackle on Green during East Coweta's opening march of the third quarter kept Newnan within range, down 16-15 after the Indians had to settle for a 31-yard field goal from Dylan Lewis.
"He was everywhere," Walker said of Hussie. "The big thing he did in one-on-one situation with Gerald he got him on the ground and that's no easy task. Malik does a great job with that. I thought that was big. Obviously, [Green's] a really good football player. It was important to us to take him out of the game the best we could."
The Cougars turned one of its three interceptions — two by Denzel Boston and another by Hussie — into a final go-ahead score on the latter of two touchdowns by sophomore running back Bryson Moss before putting the game away on Woody Waters' 67-yard reception.
Newnan's senior class was as much a factor in making contributions to a 4-1 record through Region 2-7A, enabling the Cougars to stay home to open the playoffs. A year ago, the team faced a long ride to Tift County for an eventual 59-13 loss to the Blue Devils, who went on to reach the Class 7A state quarterfinals.
"We knew it was a change if we could get this win because it'd be the first time in a long time that we'd play home [in the playoffs]," Hussie said after last week's game. "It really meant a lot to us so we came out and did what we had to do. East Coweta's got a good team. We just felt that we could stop them."
Newnan will need to keep its confidence level up against a McEachern program that hasn't been held to under 21 points since a season-opening loss to undefeated Colquitt County in this year's Corky Kell Classic at Mercedes Benz Stadium.
East Coweta battled McEachern through most of the first half of a non-region game earlier this season, staying within a 19-10 deficit for a six-minute span of the second quarter. A blocked field-goal attempt was returned by McEachern just before halftime.
Del Rio, who sat out the first half, engineered two scoring drives in the third quarter all but put a 53-10 victory out of reach.
Junior defensive lineman Jamil Burroughs, at 6-3, 275-pounds, leads a massive line of scrimmage for McEachern against a Newnan rushing attack that only averaged 3.2 yards in 50 attempts in the win over East Coweta.
The Cougars' goals toward a playoff victory equally fall in line with last week's challenges.
"We can't turn the ball over and we can't give them big plays. If we do those things we have a chance to be in the football game. You never know," said Walker, whose team is likely playing the role of underdog despite home-field advantage from outlooks around the state. "Playoff football is a whole lot different. It's a win or go home mentality and that's something we got to embrace and I think we have this week."