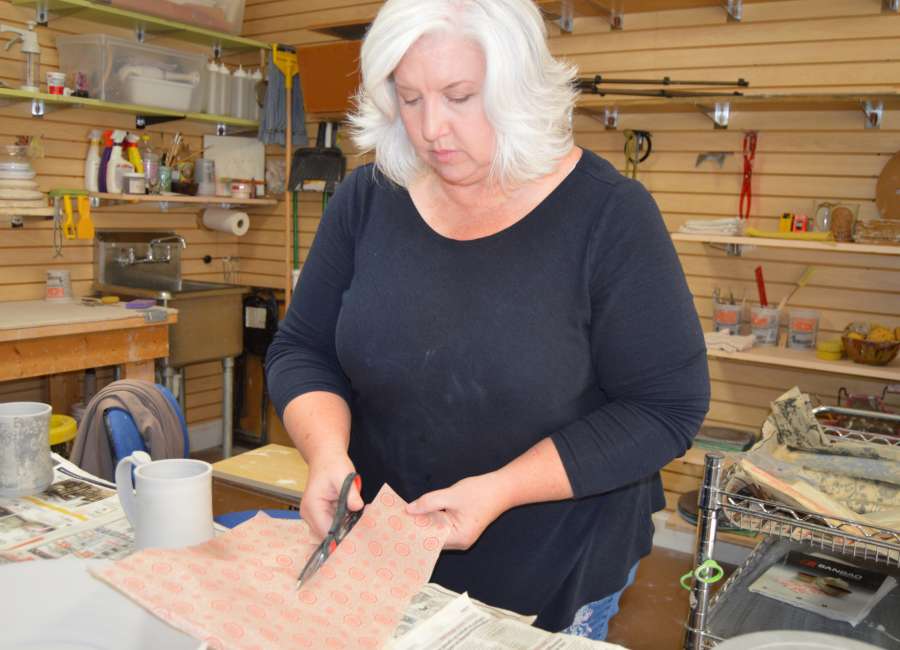 Thirty-eight local artists will show off their talents beginning Friday, Nov. 9, during the sixth annual Southern Hands Artists Studio Tour, known as SHAST.
The tour allows residents and visitors to observe local artists inside their studios in Coweta and Fayette counties.
Suzanne Kleese-Stamps' Sharpsburg pottery studio is one of 16 stops on the tour through Coweta County.
"Last year I was throwing on the wheel and doing demonstrations," she said. "There were a lot of kids who didn't mind getting their hands dirty so I let them throw on the wheel and showed them how the mud feels."
This year will be Stamps' second year on the SHAST tour and the second year Coweta County artists have been invited to participate in the event, which originated in Fayette County, she said.
Stamps has a new plan for this year's event.
"I'm going to show people how I use decal paper to transfer a design onto my pottery pieces before I coat them in glaze and fire them in the kiln again," she explained. "I'll also show people another technique where I can print images onto special decal paper and transfer them onto the pottery piece. Then I'll place it in the kiln so the sticker will adhere to the pottery."
Guests of Stamps' studio can also observe her finished pieces of art, which include vibrant and muted colored vases, cups, mugs, plates and even jewelry.
She said she'll serve light refreshments, as well.
While Stamps will showcase her pottery skills, there will be a variety of art studios for guests to visit. Art mediums include weavers, glassblowers, potters, painters, woodturners, metalsmiths, photographers and jewelry makers.  
There will also be two plein air painting events, one in each county, where visitors can watch artists paint outdoors.
This year, organizers with the Southern Hands Artists Studio Tour created a new stop in Ashley Park. Two Coweta County artists will be stationed there, Stamps said.
She said she hopes visitors will be inspired and become more knowledgeable about what they hear and see during the three-day event.
"I hope they are inspired to be creative and learn more about the process of creating art," Stamps explained. "I want to educate them on what is considered 'good quality' art. But I also like talking to people and hearing feedback on my own art pieces to see if they tell a story or if they conjure a specific image in someone's mind."
According to Stamps, almost 200 people visited various artists' studios during last year's tour. The group hopes close to 250 guests, if not more, will explore the Coweta and Fayette Counties art communities.
Artists will be selling some of their work on-site. Guests can also sign up for private lessons.
The sixth annual Southern Hands Artist Studio Tour will be held Nov. 9 – 11.
The event is free and open to the public.
Guests may begin the tour wherever they choose and can pick up maps and guidebooks at each artists' studio.