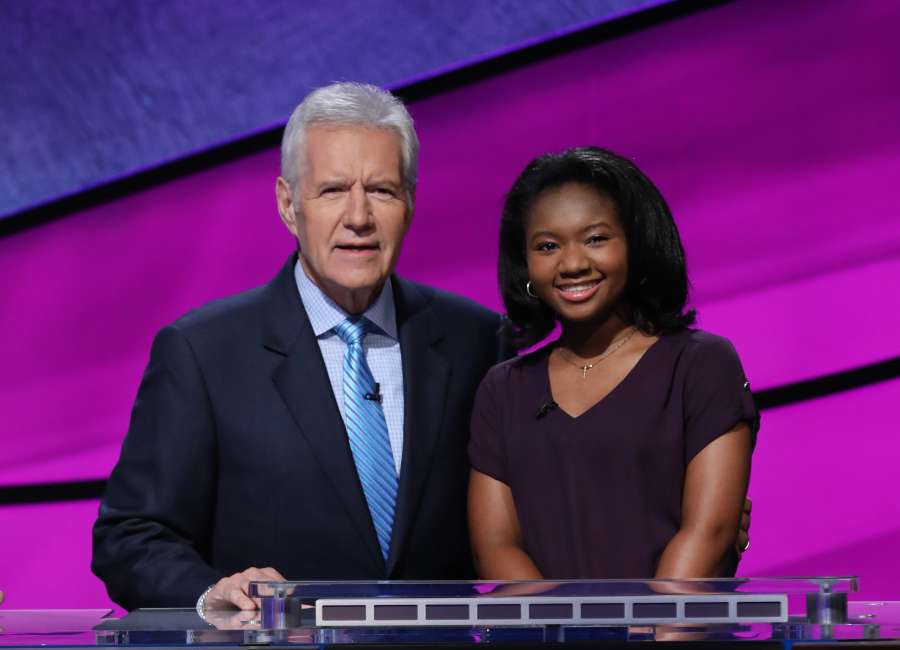 East Coweta High School senior Maya Wright has watched "Jeopardy" since she was 5 years old, and she's always wanted to be a contestant on the show.
This year, that dream came true when Wright competed in the Jeopardy Teen Tournament.
"It was a great experience," Wright said Friday. "Everyone I met was so great. We're best friends now. We stay in touch. It was, overall, an amazing experience."
Wright made it to the finals of the tournament, and her next episode will air Monday night at 7:30 on NBC. The two-night finals run Monday and Tuesday.
Wright and her family already know the results – but they can't tell anyone. The family travelled to Hollywood at the end of August to film the entire tournament.
"I had to be really quiet about all of the results," she said. The 15-contestant tournament began airing Nov. 7.
"It's such a relief when the different episodes air so I can finally talk about them," Wright said.
Wright saw an announcement one night while watching "Jeopardy" for teen tournament auditions, so she registered for the online test. After submitting the online test, she was informed she had done well enough to go for a live audition. The closest one was in New Orleans, so in June the Wright family packed up and headed to Louisiana for the tryout.
All the contestants took a written test, and then had a short tryout with buzzers, answering questions just like on the show. The top 15 teens from all of the live auditions were chosen to go to Hollywood.
Wright was asked what was the best part of the experience. "I don't know if I can just choose one," she said. The trip to Hollywood was awesome in itself, she said.
But the best part was standing on the Jeopardy set that she had watched for so many years on television. "I was standing on the stage before we started… looking around, thinking to myself – wow, this is really happening," she said. "Wow, Alex Trebek is standing in front of me, and this is really happening on the 'Jeopardy' set."
She was thrilled when a question about "Finding Nemo" came up.
"It's probably one of my favorite movies of all time. It was great to see one of my favorite movies up there," she said.
"A lot of people kept talking about how happy I was about the 'Finding Nemo' question in my quarter final game,"Wright said.
She was also excited about winning a "Final Jeopardy" question about Betsy Ross. The question was about a woman who had taken over her husband's upholstery business. She wasn't sure her answer was right, but, "I thought, this makes the most sense." And she was a little surprised when Trebek told her it was the correct answer.
Wright has competed on academic bowl teams since she was in fifth grade, and is currently the captain of the ECHS varsity team. Wright and her family live in Peachtree City, but her mother is a teacher in the Coweta County School System, and she has attended Coweta schools.
In academic bowl, Wright plays on a team. "On 'Jeopardy,' it is basically every man for himself. We're all playing as individuals. That was definitely a new experience," she said.
In academic bowl competitions, players can buzz in as soon as they know the answer. In "Jeopardy," they have to wait until the question is read completely. Wright said she was able to make that switch pretty quickly.
Wright said her friends and family have been amazed and proud of her.
"I'm so grateful that my friends my family and our community have been so supportive through all of this," she said.
She said it's hard to describe how she feels about the experience. "It was kind of a life-long dream of mine. I know my life isn't over yet, but I've wanted to do this for a really long time. It's amazing to have actually accomplished it. It's one of those things where I know that it happened, but it's just so surreal that I can't really put it into words."
Wright will be heading to college and though she hasn't quite figured out her career goals, she thinks she wants to do something in medicine or health care. And she knows wants to do a lot of traveling.
Wright was asked what she would tell other people about their lifelong dreams.
"I would definitely tell them to think big and to dream big. Don't ever discredit your dreams. Because you never know what you're able to accomplish until you actually attempt it," Wright said.
"Just go for it."