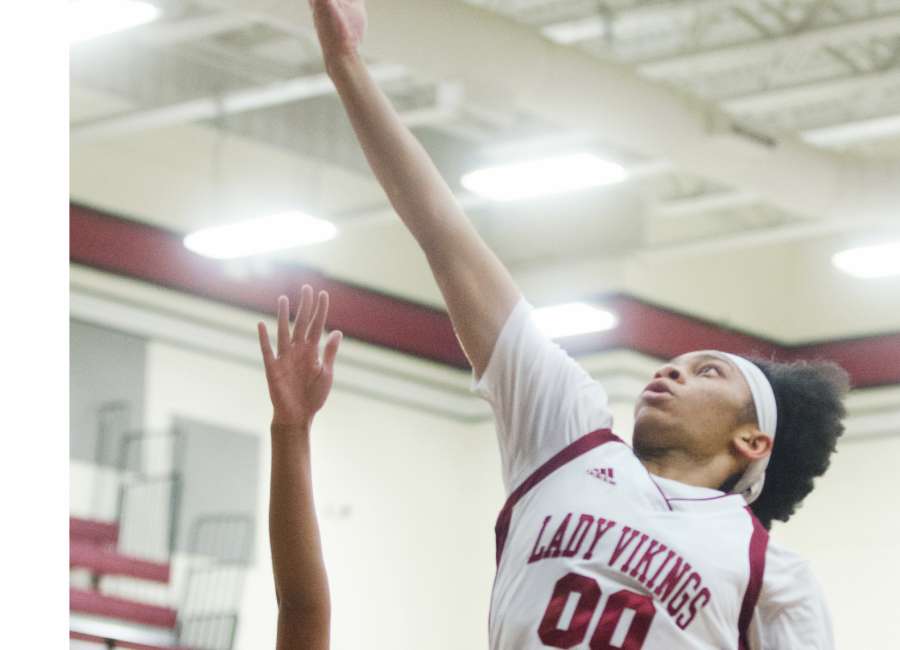 By Chris Goltermann
Late November isn't the time for a high school basketball team to be playing at its most capable. Save that for February.
But while the quality of play still left some room for improvement on Tuesday, Northgate's girls basketball team showed visions of their full potential in an solid 53-38 victory over South Paulding at home in Region 5-6A play.
It was the first time in six tries that the Lady Vikings had been able to get the better of South Paulding, which graduated a whopping 10 seniors from last year's 19-11 lineup and was left still in search of its first victory of the 2018-19 season.
Yet a dominant performance by Northgate was as much a testament to a new-look lineup that has the potential for making further noise inside a competitive 5-6A schedule.
The Lady Vikings led the rest of the way after taking a 13-11 lead after one quarter. After pushing its lead to 25-18 at halftime, Northgate began to pull away in the third on seven field goals spread among four different players.
"We're a work in progress. But I told the girls we want to be playing our best near the end of the season," Lady Vikings head coach Marcellous Johnson said. "It's the first time we've beaten that bunch."
The Vikings had a tougher time solving a deep South Paulding lineup with eight seniors and nine juniors.
The Spartans jumped out early en route to a 75-31 victory to close out a doubleheader split between 5-6A schools in the first of two meetings this season.
Northgate girls continued to be a team working out some of the kinks of new faces to the lineup and the staff, which now has former Newnan head girls coach Lavarett Pearson working alongside Johnson.
A 3-1 start, however, coupled with moving to 1-1 early in region play, should only boost Northgate's confidence heading into Friday's rematch with Mays at home.
The Lady Raiders dominated a 63-21 victory with its athleticism in a trip to Atlanta on Nov. 19, but Johnson is anxious to see how his lineup can improve on that effort.
On the floor, the influx of Gwenyth Cook in her return from an injury that had her out all of last season, continued to pay dividends in Tuesday's win over South Paulding en route to a game-high 23-point effort.
Cook had multiple baskets in each of the opening three-quarters of play capped off by an eight-point surge coming out of halftime that allowed Northgate to take full command of a 41-28 lead.
Cook connected on the latter of two three-pointers to push a 32-22 lead with under five minutes left in the third quarter. She also hit 5 of 8 free-throw attempts.
Even with Johnson going deep to his bench, the Lady Vikings limited South Paulding to one field goal over the final eight minutes.
Collectively, Northgate's ability to constantly squeeze the Lady Spartans with its defensive pressure and equally push an up-tempo game offensively paid dividends while slowly building a sizeable lead.
South Paulding was also held to two field goals in the second quarter with driving lanes bottled up in the paint by starters Jordyn Patterson and Amelia Smith early.
Smith began the third quarter with an inside dish to Patterson to jumpstart Northgate's effort coming out of the break.
Leading 39-28, the Lady Vikings used a 10-4 run to seal the victory.
Patterson added 10 points, four of which came in a steady third quarter. Talented freshman Sara Page also continued to showcase her potential with eight points including a pair of baskets in the final period before fouling out.
Northgate's nucleus included a solid effort from starter Alissa Bolinger.
BOYS
SOUTH PAULDING 75, NORTHGATE 31: The Spartans half-court trap smothered Northgate at home, limiting the Vikings to three baskets in the first half while trailing 44-12 at the break.
Coming off a loss to Class 6A top-ranked Tri-Cities, South Paulding was led by Cam Armstrong's 16 points along with 10 from Shane Gibson.
At least a dozen players had field goals in the victory, with Armstong scoring 11 of his 16 in the opening quarter to lead the Spartans to an early 20-7 advantage.
Northgate didn't let up at the finish, scoring 12 points in a six-minute fourth quarter.