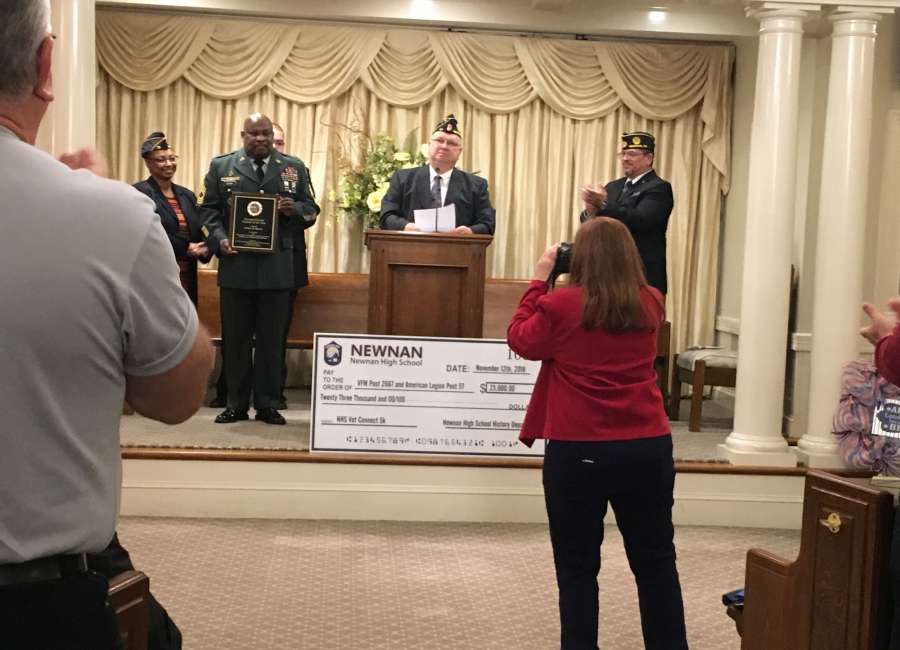 The celebration of the 100th anniversary of the end of World War I added to a busy, long weekend of Veterans Day activities in Coweta County.

The annual Veterans Day parade and the Vet-Connect race fundraiser were held on Saturday, and many churches ran their bells 21 times as part of the Bells of Peace program, a national event honoring the 100th anniversary of the Armistice that ended World War I.
Armistice Day was celebrated on Nov. 11 in the years following that war. The name was changed to Veterans Day in 1954.
The annual Veterans Day ceremony, sponsored by American Legion Post 57, was held Monday morning. The event was moved from Veterans Memorial Plaza to McKoon Funeral Home because of rainy weather.
Jordan W. Brown Jr. was named Veteran of the Year during the program at McKoon's.
There also was a Veterans Day program at the antebellum freight depot in Grantville on Monday morning. In addition, a youth bowling organization presented plaques to veterans.
A Coweta native, Brown grew up in Coweta and joined the U.S. Army in October 1980. He underwent Basic training/Advanced Individual training at Ft. Sill, Okla. to become
a field artillery gunner.
A master sergeant, Brown served as a tank platoon sergeant, section seader, squad leader, tank commander and tank gunner. He served in Operation Desert Shield, Operation Desert
Storm, Operation Iraqi Freedom, Operation Enduring Freedom and Joint Operation Enduring in Afghanistan.
As a task force warrior, Brown trained Free Iraqi Forces in support of Operation Free Iraq.
Brown has been assigned to the following units: Battalion Intelligence Sergeant 2nd
Battalion, 15th Field Artillery, Ft. Drum, N.Y.: First Sergeant, 1st Battalion 28th Field Artillery, Camp Stanley, Korea; Observer/Controller, 2nd Battalion, 305th Regiment, 3rd Brigade, Camp Shelby, Miss.; Platoon Sergeant, 1st Battalion, 9th Field Artillery Instructor, 1st Battalion, 78th Field Artillery, Ft. Stewart; Senior Artillery Instructor, 1st Battalion, 78th Field Artillery, Ft. Sill; Drill Sergeant, 1st Battalion 22nd Field Artillery, Ft. Sill; Section Chief, 5th Battalion, 17th Field Artillery, Nuremberg, Germany; Section Chief, 5th Battalion, 17th Field Artillery, Ft. Carson, Colo; Gunner, 1st Battalion, 31st Field Artillery, Ft. Stewart; 7th Battalion, 8th Field Artillery, Schofield Barracks, Hawaii.
Brown's military and civilian education includes the U.S. Army Air Assault School, Equal
Opportunity Representative Course, the Basic Noncommissioned Officers Course, Primary
Leadership Development Course, Small Group Instructor Course, Instructor Training Course, Tank Crew Evaluator Course, Drill Sergeant Instructor Operator Course and the Army Combat Lifesavers Course.
He has completed 33 credit hours with North Central Texas College and is pursuing a degree in teen intervention.
Brown was selected as the Installation Soldier of the Year for the U.S. Army Garrison at
Ft. Drum in 2005. He was twice tapped as NCO of the Month and once as NCO of the Quarter, while assigned to 15th field Artillery. He also was named Instructor of the Quarter and Cycle while a Primary Leadership Development Course instructor and the runner up in the Korea NCO of the Year competition in 2003.
Brown is a member of the Excellence in Armor Program and has been awarded
the Draper Armor Leadership Award and Army Audie Murphy club member.
Awards and decorations presented to Brown include the Air Assault Badge, Valorous Unit Award, Meritorious Unit Award, the Order of St. Barbara, Army Commendation Medal – six Bronze Oak Leaf Cluster, Army Achievement Medal with Cluster, Good Conduct Medal, Bronze Star, , Noncommissioned Officer Professional Development Ribbon – 8th award, National Defense Service Medal, NATO – 3 cluster Iraq, NATO – Afghanistan, Meritorious Service Medal, Army Service Ribbon, South-West Asia Service Medal, Kuwait Liberation Medal, Drill Sergeant Identification Badge, Driver and Mechanic Badge-wheeled Vehicle, and Driver mechanic track vehicle.
During the program at McKoon's, Frank Henderson of Newnan High School presented a $23,000 check from the Newnan High School Student-Vet Connect 5K Veterans Run, which was held Saturday. 
The money will be split between Veterans of Foreign Wars Post 2667 and American Legion Post 57. Both posts will use the funds for relief, helping veterans in need and their families.
A complimentary meal was served at Coweta Veterans Club on Highway 29 north of Newnan after the program. Among those attending was 95-year-old veteran Grover McMichael.