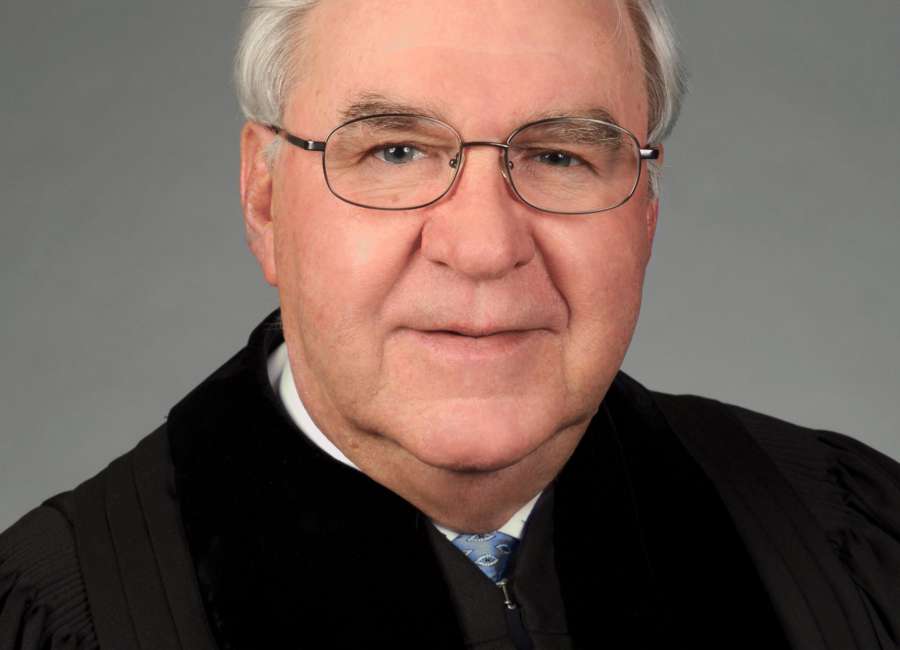 Recently retired Chief Justice of the Georgia Supreme Court Harris Hines was no stranger to Coweta County – or the people who live here.

Hines seemed to make friends wherever he'd go, which included making almost weekly trips from his Cobb County home to Newnan High School football games where his son Hap worked for the athletic department.
Besides his family, no one seemed to know Hines' true personality better than his tight-knit circle of friends and colleagues, including Newnan lawyer Mike Sumner, Superior Court Justice Emory Palmer and Coweta County Sheriff Mike Yeager.
According to Yeager, his son Weston played under Hap at NHS. He would often run into Justice Hines at the ball games as both cheered on their respective sons from the stands.
"When you met him, it's like you've been friends for years," Yeager fondly remembered. "He was always so gracious, friendly, easy to engage in conversation and just a down-to-earth individual. I can still hear him. His greeting to me was always, 'Hello, Mr. Sheriff. How are you, Mr. Sheriff?' He was just a dear man."
Yeager considered Justice Hines and his wife Helen honorary Cowetans.
"When he was here in Coweta, it was like he was here for his whole life," Yeager said. "He has so many friends and connections here, he's made such a positive mark on this community and they're certainly one of us."
He was a man with a larger-than-life presence and friendly demeanor Yeager and many other will find hard to say goodbye to Tuesday.  
Hines, 75, passed away Nov. 4 after a car accident on Interstate 85.
His death was just over two months after he retired as a justice in the Georgia Supreme Court.  
The news of his death shocked the legal and law community.
"I heard about the accident after my wife called to tell me. It just broke our hearts," Yeager said.
"Harris Hines was a giant of the legal profession, a role model for lawyers and judges and a friend and mentor that I will miss. With his passing, all the citizens of Georgia have lost one of our great public servants," Coweta County Superior Court Judge Emory Palmer recently wrote in The Newnan Times-Herald letter to the editor.
Hines was appointed to the Georgia Supreme Court in 1995 by then-Gov. Zell Miller. He also served as a Superior Court Judge in Cobb County.
"When you sit as a trial court judge, the whole world will come in front of you eventually," Hines told the Marietta Daily Journal shortly before he retired. "You see the good, bad and the ugly. But it's a place you have the opportunity to learn an awful lot."
Friends and colleagues remember Hines passing on that knowledge to them both in and out of the courtroom.
"He was almost a like second father to me, treating my wife Leah and our boys like family," said Sumner. "He gave advice and encouragement to me. I loved picking his brain on legal issues, politics and football - three things he loved dearly."
"I was honored when the Georgia Supreme Court, at Justice Hines' suggestion, asked me to serve temporarily for another justice who had a conflict in a case," Palmer said. "While serving on the court I saw firsthand how Justice Hines focused on a fair result in every case. He worked hard to follow the law but also had a common sense understanding of how the court's decisions would affect the judges and lawyers in the state who rely on the Supreme Court's opinions to guide their decisions and to advise their clients."
State Bar of Georgia President Kenneth Hodges said Hines, "embraced and worked to strengthen the important relationship between the Supreme Court and the State Bar. Georgia's legal community had no better friend than Justice Harris Hines, who will be missed by all who knew him."
Yeager remembered how supportive Hines was of law enforcement and was a regular attendee for the annual Salute to Sheriff's event in Jones County.
"Regardless of race, what you did for a living, or where you came from, he greeted everyone the same way. He treated everyone with respect and dignity," Yeager said. "He just handled himself so well."  
Yeager said he attended Justice Hines' retirement ceremony in August.  
The invitation included an older photo of Hines.
"I told him, 'I want your autograph,'" Yeager remembered. "I still have it."
Yeager said he's going to miss seeing Hines every Friday night under the stadium lights.
"He gave so much to our state. Even though he wasn't born and raised in Coweta, he took part in his son's life. He always had a smile on his face and a kind word," Yeager said. "I'm going to miss walking up to him and hear his first words, 'Hi, Mr. Sheriff.'"
Justice Hines is survived by his beloved wife Helen, their two children, Hap and Mary Margaret and four grandchildren.
Visitation will be held Monday, Nov. 12, from 2-4 p.m. and 5-7 p.m. at First Presbyterian Church of Marietta at 189 Church St. Marietta, GA 30060.
A memorial service for Justice Hines will be Tuesday, Nov. 13, at 2 p.m. at First Presbyterian Church of Marietta.