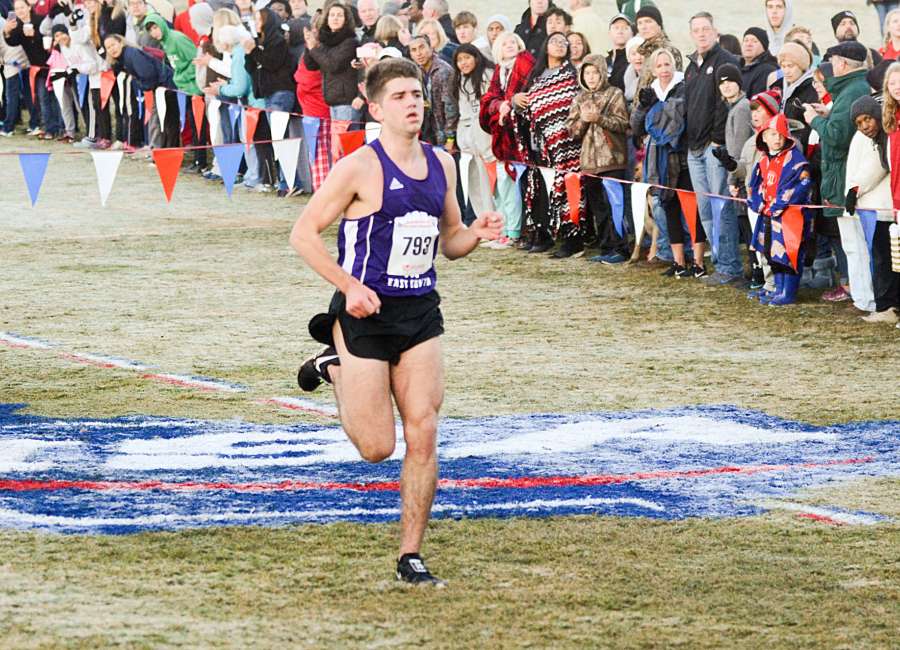 By CHRIS GOLTERMANN
Cowetascore
Kyle Harkabus' feet might not have stopped if the course at the Georgia High School Association's State Cross-Country Championships didn't have an area that corralled runners after they reached the finish line at the end of a final 5K run that officially closed its 2018 schedule.
There's still an imaginary finish line is well in the future for the talented East Coweta High junior, who was only getting started among achieving another of a long list of goals during his varsity career after capturing his first state cross-country title.
Since the early summer, Harkabus has tacked on extra time and miles at the end of East Coweta's practices while not only preparing to challenge for a state title, but major events beyond the GHSA schedule.
"I've still got more to go," he said. "It's just an everyday thing. If you do that, you'll be successful."
While having success during track season with late kicks in efforts that included 800 and 1,600 meter individual titles, Harkabus captured his first crown in cross-country by jumping ahead during the latter of two starts following a false release for the Class 7A boys race, and never looked back.
He crossed the finish in 16:08, eight seconds ahead of the state runner-up, Forsyth Central senior Calan Gizelbach. The bigger pack at the finish began with Peachtree Ridge senior Chase Condra in 16:29, that had five more runners crossing within a 10-second span.  
"I just wanted to get out there quick and just gap everyone," Harkabus said. "That was the goal for today."
Outside of a second-place finish to Class 6A runner-up Jack Filan of Cambridge at this year's Alexander/Asics Invitational, Harkabus remained out front for the entire 2018 GHSA schedule, dominating en route to his third Coweta Cup title as well as another in Region 2-7A.
A bigger push may come during the late fall and early winter, starting with competition at the third annual USTFA Georgia Meet of Champions, set for Saturday at the course at Heritage Christian Church in Fayetteville.
The top 18-20 boys teams in the state will be invited to participate as well as the top two individual winners that are not among the previous list. It is a non-GHSA event, but follows its rules for postseason competition.
Harkabus will then move on to a field at the annual Foot Locker Nationals starting on Nov. 24 with the South regionals in Charlotte. The national meet is Dec. 8.
"It's go the Meet of Champions, then go to Foot Locker and qualify for nationals and then do well there," he said.
The GHSA championships have blossomed into a two-day event that split Coweta's qualifiers into separate runs on Friday and Saturday.
The weekend began with Northgate's boys placing eighth overall in Friday morning's Class 6A championship meet as this year's Region 5 champions. With an average time of 18:10, the Vikings again held off region rival Alexander for eighth, with a team score of 276 compared to the Cougars' 327.
Cobb rivals Pope and Harrison, fresh off last weekend's Class 6A softball state finals, went head-to-head in a boys race won by Pope's boys in a 51-77 margin of victory.
Northgate was led by sophomore William Stephens' time of 17:49 in 33rd place among five scorers that were separated by only 37 seconds. A seven-man roster that was otherwise monopolized by seniors had Davis McIntire next to cross for the Vikings in 18:01.
Sam Wessells placed 62nd in 18:13, with Michael Nelson (72nd, 18:22) and Ahmed Thomas (78th, 18:26) quickly following to close out the scoring.
Billy Guilot (116th, 19:01) and Abdul Tabbaa (122nd, 19:08) also close out respective varsity careers at Friday's state meet.
Newnan's successful first season under coaches Austin and Emily Enriquez had four juniors leading the way for a Cougars lineup that will almost entirely remain intact heading toward 2019.
Leading a 13th-place team effort for Newnan's boys, juniors Bo Palmer and Beck James crossed side-by-side respectively in 46th and 47th place in 17:29, as the next local Class 7A boys finishers behind Harkabus.
Junior Jace Jessup placed 86th in 17:57, followed by senior Will Thomas in 97th position at 18:06. Juniors Bryson Houston (112th, 18:17) and Gray Frederick (122nd, 18:26) gave the Cougars seven runners that crossed within a minute apart.
East Coweta's boys placed 19th, with sophomore Logan Ray placing 67th in 17:43, followed by older brother Braden in 84th at 17:55.
Junior Jacob Smith (104th, 18:11) and sophomore Colby Butts (118th, 18:19) also scored for the Indians while competing with brothers Kade Johnson (129th, 18:32) and Konner Johnson (142nd, 18:55).
Newnan and East Coweta girls teams placed 17th and 19th, respectively.
Lady Indians sophomore Shannon Ferry was the top local girls finisher in Class 7A, placing 89th in 22:15 among four county standouts that crossed just 15 seconds apart.
Newnan seniors Alyssa Brauchler (92nd, 22:24) and Sydney Hall (94th, 22:30) were the first Lady Cougars runners to cross, with Hall joining East Coweta senior Holly Hind (95th, 22:30) at the finish.
The Lady Cougars had four runners packed together at the finish just 12 seconds apart. They included sophomore Natalie Brauchler (111th, 22:56), senior Rachel Woods (114th, 22:57) and junior Annie Johnston (115th, 22:58), along with junior Grace Smith (119th, 23:08).
Also scoring for East Coweta's girls were freshmen Megan Carr (123rd, 23:16) and Jordan Dunn (130th, 23:30) along with junior Sophia Steadman (138th, 24:02).
Girls finishers in the Class 7A race also included Madysen Ben (148th, 24:23) and Morgan Carr (151st, 24:46) of East Coweta and Newnan sophomore Ila Clare Whitlock (155th, 24:56).
In Friday's Class 6A meet, Northgate's girls were led by sophomore Mia Griswold (80th, 22:39) and junior Sarah Brummett (90th, 22:57). The Lady Vikings placed 21st among 31 schools among a roster that includes one senior, Dalia Gibson (150th, 25:04), who was Northgate's fourth scorer behind sophomore Claire Wathen (113th, 23:48) and ahead of sophomore Hanna Wessells (162nd, 25:18)
Junior Meagan Ryan (166th, 25:23) and sophomore Abby Collins (168th, 25:25) also joined the Lady Vikings in Friday's effort.
Trinity Christian sophomore Michael Freeman also competed in Friday's Class A-Private Boys Championship after qualifying individually in Area 3 with a fifth-place finish.
Freeman placed 70th overall with a time of 20:09 on the state course.