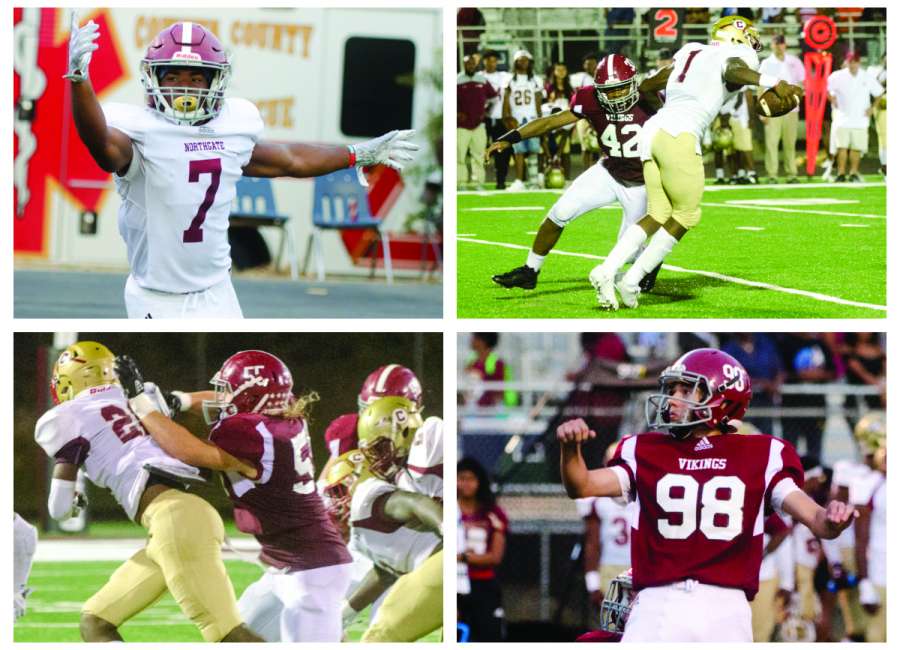 By Chris Goltermann
Cowetascore
Northgate seniors Cameron Cruver, Nichal Johnson and Will Sachs joined junior Kade Loggins among players honored with selections to the All-Region 5-6A Football Team by representatives of its nine schools this week.
Cruver, who rushed for over 1,300-yards, joined Johnson, a starting defensive lineman who led the Vikings in sacks, as All-Region First Team honorees.
Sachs, a senior offensive lineman, earned a second-team selection.
Northgate, which finished 6-5 and advanced to the state playoffs for the third time in the last four seasons, also had 11 players that received honorable mention at respective positions.
Cruver was one of Class 6A's top running backs among total yards during the regular season. In his lone season at Northgate, the senior broke the 100-yard mark in eight of the Vikings' 10 games.
He also finished this season with 17 rushing touchdowns.
Cruver was among three running backs on the All-Region First Team while joined by Creekside junior Tyler Malone and Alexander senior Quinton Brown.
Johnson, meanwhile, closed the regular season with nine sacks and eight tackles for loss despite missing at least one game with an injury.
Johnson had 34 tackles through 10 games and was among four defensive linemen on the All-Region First Team.
Sachs equally closed out a standout career on Northgate's offensive line after earning All-County accolades as a junior. The starting guard joined Loggins on this year's All-Region Second Team.
Loggins connected on 30 of 32 extra-point attempts while also going 6-for-10 among field goal tries. His successful kicks, however, included several beyond 35 yards including a long of 42.
Along with six seniors that were listed as honorable mentions, the future looks equally bright for Northgate heading into 2019 in its second year under head coach Mike McDonald.
Along with Loggins, four juniors and a sophomore were among the honorable mention list.
Athletes included as honorable mentions included three offensive linemen in seniors Bryan Bordeaux and Mason Smith along with sophomore Luke Vega.
Junior running back Tanner Hughes and senior tight-end Max Morlan also were named honorable mentions on offense.
Defensively, Northgate's list included juniors Connor Marshall and Emanuel Nolan at linebacker and junior Dillon Wade at cornerback.
Defensive lineman Jefferson Page, cornerback Chandler Cao and free safety Josh Lee received honorable mention status following their senior season.
Region champion Creekside, which went from an 0-10 finish in 2017 to winning eight games this fall, received Coach of the Year honors for Maurice Dixon as well as Offensive Player of the Year accolades for senior quarterback Lazarus Anderson.
Northgate was the only team in 5-6A to defeat Creekside this season.
Douglas County senior defensive lineman Mataio Soil, who had 22 ½ sacks and 89 tackles, was named Region Player of the Year and Langston Hughes senior lineman Antonio Watkins received the distinction of Defensive Player of the Year.
Creekside had nine first-team selections and Douglas County, which finished as 5-6A runner-up, had six.