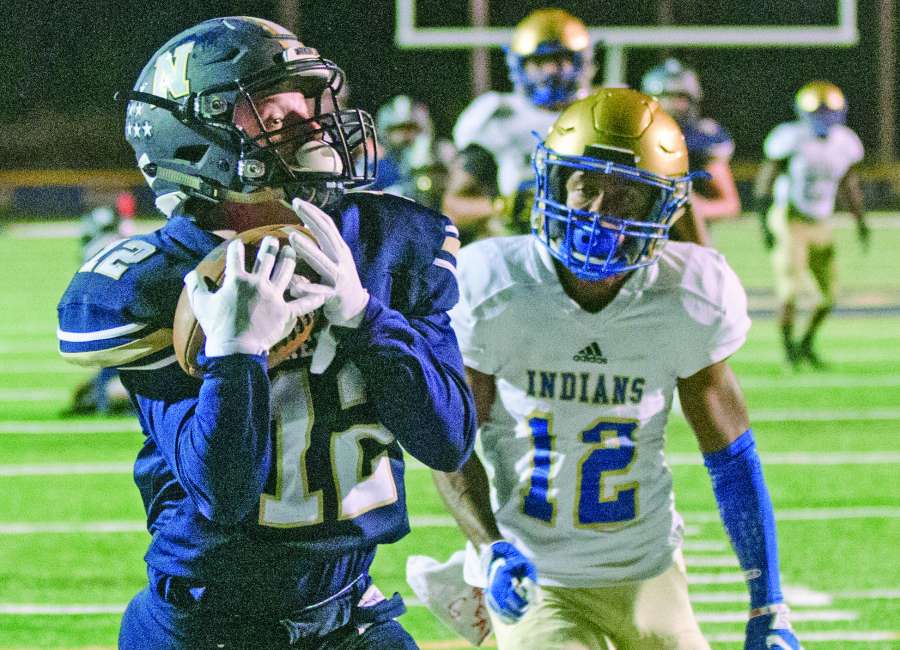 By Chris Goltermann 
Cowetascore
In too many instances, the career of a high school football senior ends abruptly when it comes to the state playoffs.
Such was the case for Newnan in a 48-21 loss to McEachern on Friday at Drake Stadium where the Cougars experienced both the intense highs and heartbreaking lows of postseason football.
Newnan went from scoring 14 points over a span of two minutes to begin the third quarter, producing a 21-14 lead, to watching 8-3 McEachern storm back with the same gusto it did earlier during the regular season on a previous trip to East Coweta.
An Indians' offense averaging 37 points over its first 10 games eclipsed it with 34 unanswered over five straight possessions in the second half to end the Cougars' year at 6-5 overall after they made strides of their own in head coach Chip Walker's second season at Newnan.
McEachern (8-3) moves on to play unbeaten Colquitt County (11-0) in a rematch from this year's Corky Kell Classic opener at Mercedes Benz Stadium.
Newnan, meanwhile, will have to wait a little longer after entering this week with hopes of earning its first playoff win in three seasons.  
Even in a losing effort, there were signs that it might not take much longer. Sophomore quarterback Michael Maginnis closed his varsity debut with 174 yards on 14 of 22 passing while finishing with a touchdown and an interception — his first in six games.
Maginnis finished with 1,674 yards passing and 15 touchdowns in his first varsity season.
Trailing by a slim 14-7 margin at halftime, Junior linebacker Jacob Thomas brought the home crowd to its feet with a 41-yard interception return that tied the game in the opening minute of the third quarter.
The momentum carried further when Newnan senior Tyriq Hussie recovered a fumble on the ensuing kickoff when it was pooched to the visiting sidelines.
Taking over on McEachern's 31-yard line, Cougars sophomore running back Bryson Moss connected with freshman Quinard Arnold on a halfback option that created an even larger crescendo after Newnan suddenly gained a lead for the first time with 10:30 left in the third quarter.  
For as many positives as the Cougars' underclassmen provided in the finale, it was difficult for Walker to equally have to say goodbye to seniors that helped pave the way to the postseason in 2017 and then built on it in a year that included a 4-1 record in region play in addition to victories over both Northgate and East Coweta among local bragging rights.
"We've got a lot of good things to build on," Walker said. "As coaches, you get only so many games with each group. And that's what's so heart-wrenching for the seniors. That group of kids. But when they look back when this thing really starts rolling they're going to be the ones that helped start this thing."
Senior receiver Woody Waters finished with nine catches for 106 yards. A 24-yard touchdown catch in stride on a perfectly thrown third-down pass from Maginnis tied the score at 7-7 with 6:20 left in the first quarter.
Waters closed out his varsity career with a final year that included 45 catches for 691 yards and five touchdowns.
A senior class that made major contributions to Newnan's second-place finish this fall in Region 2-7A wasn't ready to see it end, battling McEachern through two-plus quarters before the Indians' line of scrimmage took full control.
The Cougars lost starting senior defenders Malik Hussie and Tristan Escoe to injuries before halftime while trying to limit McEachern offensively.
"Our kids played hard. We lost about three guys [to injury]," Walker said. "At the end, we were so banged up we couldn't stop 'em."
Newnan turned the ball over on downs to open the fourth quarter at the McEachern 29 and from there, the Indians padded the lead on three scores just over five minutes on consecutive touchdown drives.
Newnan made a goal-line stand early on an Indians' drive that stalled at the 2-yard line. Yet the Cougars were guilty of two turnovers of their own, one of which on the first snap of the game that led to McEachern taking an immediate 7-0 lead.
Turnovers kept the scoring much lighter before halftime, with the Indians taking a slim 14-7 edge into the break after the Indians quickly countered Maginnis' touchdown throw with a four-play drive that took less than a minute.
Quarterback Carlos Del Rio-Wilson connected with at least eight receivers in the victory, consistently finding them in open space while chewing up yardage in the middle of the field.
Del Rio-Wilson finished 13 of 19 for 184 yards and three touchdowns while overcoming both Thomas' return for a score along with an interception by Newnan senior Tre Bridges after teams swapped picks in the second quarter.
The Cougars twice drove inside McEachern's 20-yard line in the first half and came away empty-handed down 14-7. Maginnis made a rare mistake that was gifted to McEachern senior cornerback Ja'leak Perry without a Cougar near him in the end zone while looking to connect with senior receiver Kyle McDonald.
On a return trip following Coggins' interception at the McEachern 34-yard line, Newnan drove all the way to the Indian 3, before being pushed back on three consecutive plays capped off with a sack of the Newnan sophomore quarterback.
The frustration continued when Rad Wyrick's 27-yard field-goal attempt clanged off an upright, allowing McEachern's 14-7 lead to hold through halftime.
"They've got good athletes," Walker said, "and you can't give them things."
Coming off a 100-yard rushing effort that helped McEachern avoid the No. 4 seed out of Region 3-7A with a win over North Paulding, running back Jordon Simmons led a balanced offensive effort with 190 yards and two touchdowns including the one that regained a lead at halftime.
McEachern immediately clamped down after Newnan's 14-point outburst in the third, needing under two minutes to knot the score. Newnan's following possession ended with a blocked punt and another quick march from near midfield to produce a go-ahead score on Paris Brown's 4-yard run en route to 90 yards on the ground.