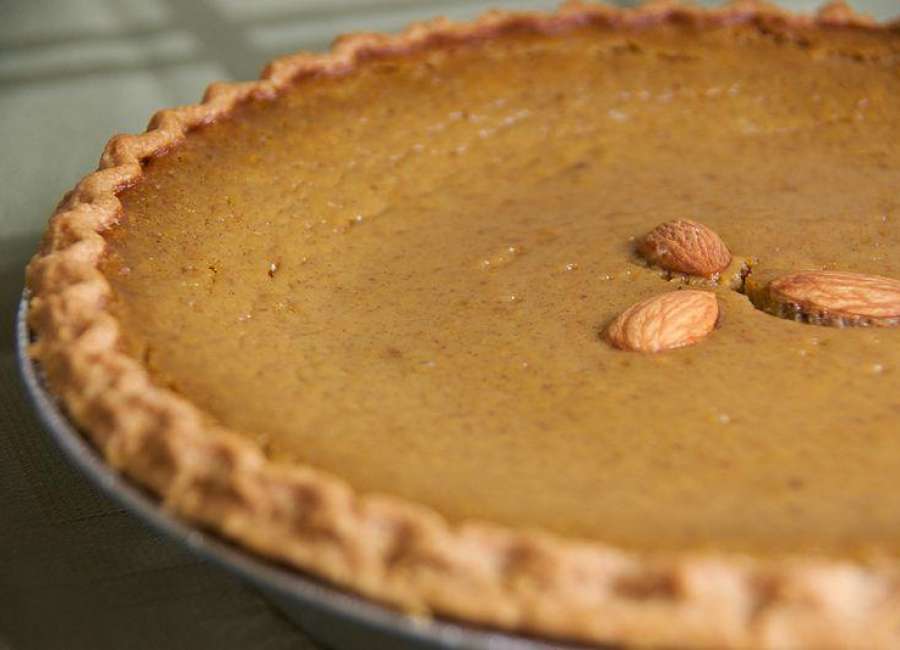 Here are two recipes to use for the holidays. A pumpkin pie that's good for Thanksgiving and Christmas. And potato gratin to share with the family.

Pumpkin Pie
Ingredients:
For the dough:
11/4 cups all-purpose flour, plus more for dusting
2 tablespoons granulated sugar
1/2 teaspoon salt
2 tablespoons vegetable shortening
4 tablespoons cold unsalted butter, cut into 1/2-inch pieces
2 tablespoons beaten egg (about 1/2 large egg)
For the filling:
1 15-ounce can pure pumpkin
3/4 cup packed dark brown sugar
3 large eggs
1 cup half-and-half
1 teaspoon ground ginger
1 teaspoon ground cinnamon
1/4 teaspoon ground allspice
1/8 teaspoon ground cloves
Whipped cream, for serving
Recipe:
Make the dough: Pulse the flour, granulated sugar and salt in a food processor. Add the shortening; pulse until it disappears, about 30 seconds. Add the butter and pulse until the mixture looks like coarse meal with pea-size bits of butter. Beat 2 tablespoons ice water and the egg in a bowl, then add to the processor and pulse once or twice. (Stop before the dough gathers into a ball.) Turn out onto a sheet of plastic wrap and pat into a disk. Wrap tightly and refrigerate until firm, at least 1 hour.
Preheat the oven to 350 degrees F. Roll the dough into a 13-inch round on a lightly floured surface (or between 2 pieces of floured parchment paper). Ease into a 9 1/2-inch deep-dish glass pie plate. Fold the overhanging dough under itself and crimp the edges with your fingers. Pierce the bottom all over with a fork and chill until firm, about 30 minutes.
Line the crust with foil, then fill with pie weights or dried beans. Bake until the edges are golden, about 20 minutes. Remove the foil and weights and continue baking until the crust is golden all over, 10 to 15 more minutes. Transfer to a rack to cool completely.
Make the filling: Whisk the pumpkin, brown sugar, eggs, half-and-half, ginger, cinnamon, allspice and cloves in a bowl. Pour into the crust; bake until the edges are set but the center quivers, 1 hour to 1 hour, 15 minutes. (Cover the edges of the crust with foil if they brown too quickly.) Cool completely on a rack. Serve with whipped cream
(Recipe courtesy: foodnetwork.com)
The Ultimate Potato Gratin
Ingredients:
1 head savoy cabbage, cored, cleaned, and shredded
1 (2-inch) piece slab bacon, thinly sliced
2 tablespoons unsalted butter, plus more for greasing the gratin dish
4 garlic cloves, finely chopped
1/2 bunch fresh chives, finely chopped to 1/4 cup
Sea salt and freshly ground black pepper
2 pounds baking potatoes, unpeeled and thinly sliced (about 1/8-inch) *See step 7
2 1/2 cups heavy cream
2 cups grated Parmesan
Recipe:
Preheat the oven to 375 degrees F.
Finely shred the cabbage. Cut the bacon into 1/2-inch chunks. Place a small skillet over medium-low heat and fry the bacon, until crisp. Remove from pan with a slotted spoon and drain on paper towels. Set aside.
Add 1 tablespoon butter to bacon fat in frying pan. When it has melted add 1/2 the garlic and give it a quick stir with a wooden spoon to soften. Add the cabbage and coat it with the butter. Slowly let it wilt. Add the bacon. Season with salt and freshly ground black pepper. Remove from heat and add most of the chives, reserving a little for the garnish.
Generously butter the bottom and sides of an ovenproof casserole dish.
In a large bowl, combine the potatoes, 1 1/2 cups of cream, 1 cup of Parmesan, and the remaining garlic, Season with salt and freshly ground black pepper. Using your hands, place a layer of potatoes in the casserole dish. Sprinkle with Parmesan and repeat with 2 more layers. Spoon the cabbage mixture on top and spread it out evenly over the potatoes. Top it off with 2 more layers of potato and Parmesan. Pour the remaining 1 cup cream over the dish. Sprinkle with the remaining Parmesan.
Cover dish with aluminum foil. Bake for 1 hour. Remove foil and bake for 30 minutes until golden brown. Leave for 10 minutes before serving. Garnish with fresh chives.
*Cook's Note: Slice the potatoes immediately before using so they don't turn brown.
(Recipe courtesy: foodnetwork.com)