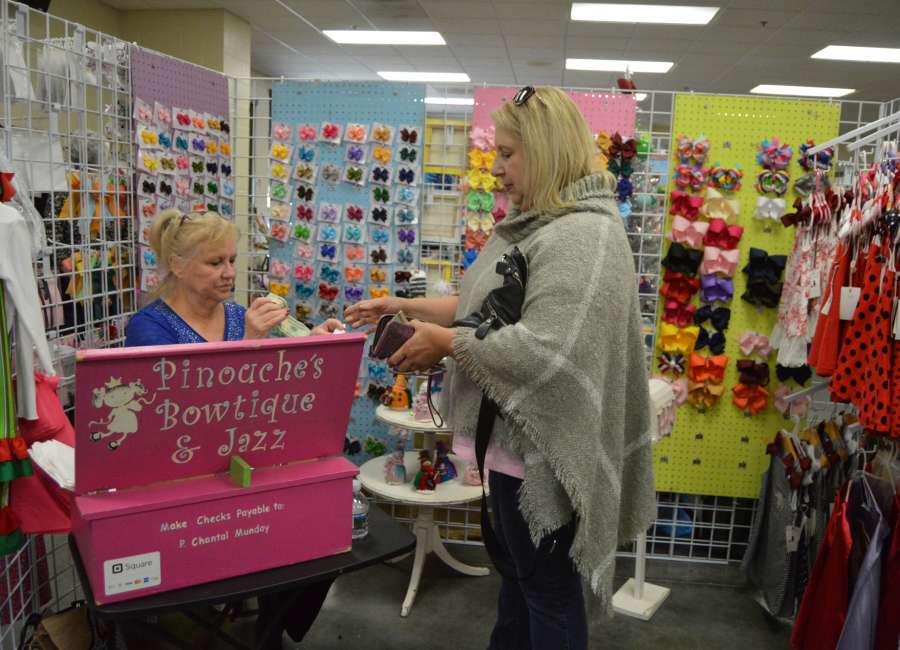 Christmas came early to shoppers and vendors this weekend during the Newnan-Coweta Art Association's 50th annual Christmas Arts and Crafts Market at the Coweta County fairgrounds.
It was also a grand celebration for NCAA as they celebrated their 50th anniversary. They dubbed this year's event as "A Golden Christmas."
Sixty artists showcased their skills and crafts throughout the exhibition hall. According to NCAA officials, as of Saturday, this was the biggest Christmas Arts and Crafts Market in the history of the organization.
"It's been awesome. We've had a fantastic turnout," said Margo Merrifield, vice president of the NCAA. "We've had twice as many vendors as last year, plus events for children. Everyone seems really pleased and enjoying the festival."
Merrifield was also a vendor and displayed pet portraits, many that were commissioned by various owners.
Shoppers had plenty of items to choose from, including handmade pottery, paintings, wood, paper, glass and metal crafts, jewelry, hair and clothing accessories, home decor and photography.
This year's NCAA Christmas Arts and Crafts Market offered visitors more than shopping. The organization added an art education classroom where artists could demonstrate their skills and speak with guests in person.
NCAA also created a "Kids Corner" for children to write letters to Santa Claus plus make beaded items and Christmas ornaments.
The group raffled off several items as well.
According to NCAA officials, a portion of the proceeds will go towards the organization's scholarship fund.
The Christmas Arts and Crafts Market ended Sunday afternoon.