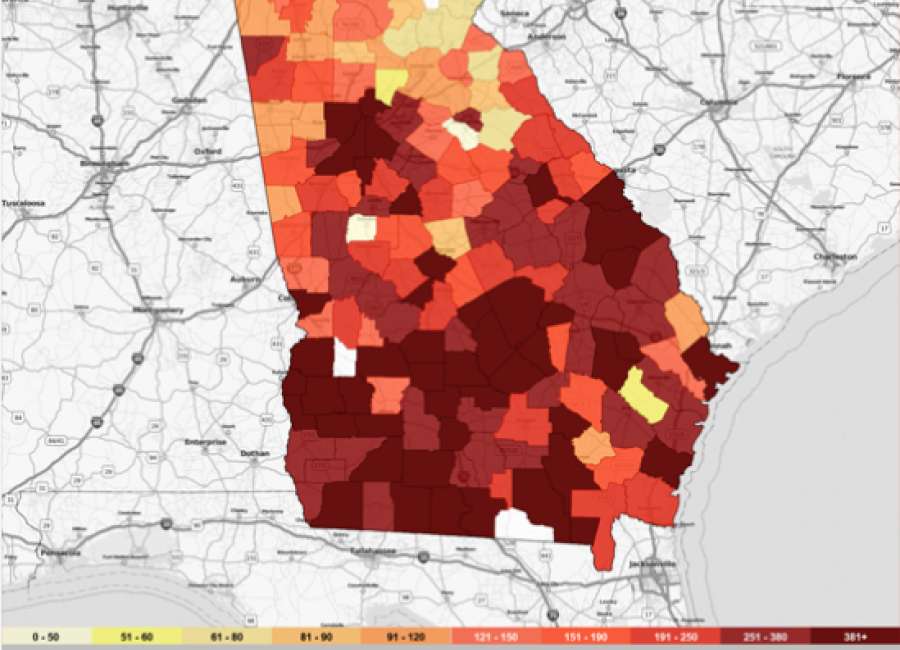 By ANDY MILLER
Georgia Health News
The HIV epidemic remains centered in the South, and the region must overcome several factors before the rate of new infection will decrease, according to officials with the Centers for Disease Control and Prevention.
More than half of the new HIV diagnoses in 2016 – about 20,000 cases – were in the South, CDC officials said.
Of those cases, two-thirds were from male-to-male sexual contact, said Dr. Eugene McCray, director of the CDC Division of HIV/AIDS Prevention.
One in five new diagnoses was among women.
Urban areas are not the only places affected by the HIV rates, McCray said. Twenty-three percent of the new cases came from suburban and rural areas.
The region also has the highest death rate from HIV infection/AIDS, McCray added.
AIDS is the full-scale disease that can develop from HIV.
"We in the South have these horrific numbers,'' said Dr. David Malebranche of the Morehouse School of Medicine. "The HIV epidemic is squarely based in the South.''
Georgia currently has more than 58,000 people living with HIV, trailing only Florida and Texas in the South, CDC statistics showed.
McCray said income inequality, discrimination and poorer health outcomes are more widespread in the region.
Other factors leading to high HIV numbers in the South include the social stigma surrounding the disease, poverty, lack of insurance and access to care and no Medicaid expansion in most Southern states, Malebranche said.
While Georgia has among the highest rates of new HIV diagnoses in the nation, the use here of a drug known as PrEP (pre-exposure prophylaxis) lags behind the U.S. average. People at high risk of getting HIV can take the drug daily to lower their chances of being infected.
Dr. Wendy Armstrong is the medical director of the Infectious Disease Program at Grady Health System. She said she sees the demand for services increasing and funding remaining flat at Grady's Ponce de Leon Center, which provides treatment for HIV patients.
However, the CDC increased funding for HIV prevention in the South, McCray said.
According to Armstrong, another common obstacle for infected people – especially in rural areas – is a lack of transportation. The shortfall makes it hard for patients to arrange regular medical appointments, she added.
Armstrong said many medical providers are unaware of PrEP or are uncomfortable prescribing it, and there appears to be a large shortage of HIV-trained medical personnel on the horizon.
"We have to have the political will and leaders step up and tackle this,'' she said. "The judgment and stigma have to go out of this. It's going to be a tough nut to crack.''