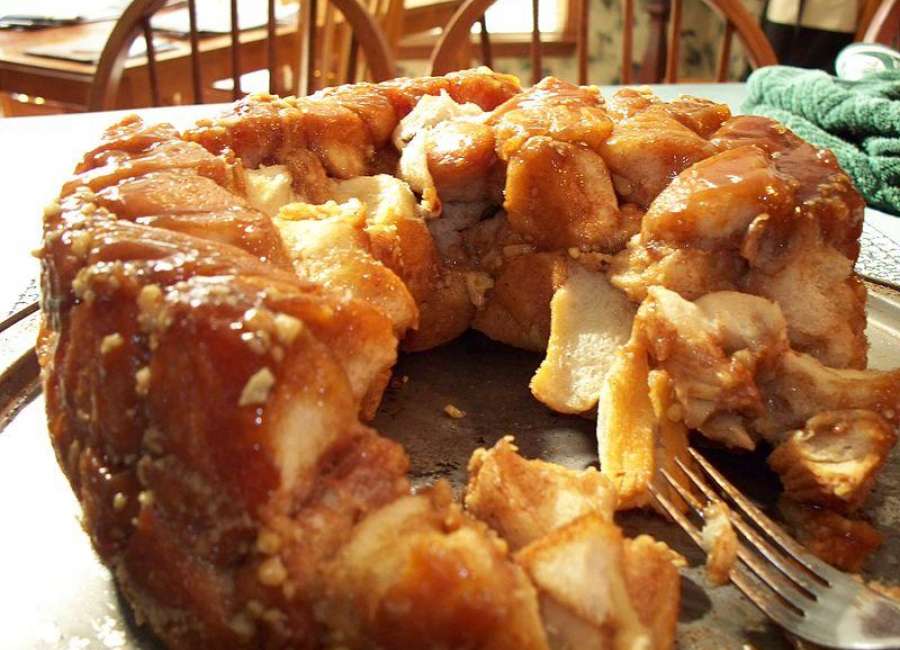 By JEFFREY CULLEN-DEAN
jeffrey@newnan.com
Here are a few recipes to try out on Cook Something Bold Day.
Black and Blue Sangria
Ingredients:
1 cup sugar
One 750-milliliter bottle cabernet sauvignon or other bold red wine
1 cup black raspberry liqueur, such as Chambord
1 cup mixed-berry vodka
1 cup soda water
1/2 cup fresh lemon juice (from about 3 lemons)
Two 6-ounce containers blackberries
Two 6-ounce containers blueberries
Recipe:
Bring the sugar and 1/2 cup water to a boil in a small saucepan, stirring occasionally until the sugar has dissolved, about 5 minutes. Boil the syrup for 1 minute longer, then remove the saucepan from the heat. Let cool, then transfer the syrup to a 3-quart pitcher
Add the wine, liqueur, vodka, soda water and lemon juice to the pitcher, and stir to combine. Add the blackberries and blueberries, and cover the pitcher with plastic wrap. Refrigerate the sangria to chill, at least 4 hours up to overnight.
To serve, pick out 8 blueberries and 8 blackberries and cut a slit halfway through each. Garnish the rim of 8 glasses with 1 blueberry and 1 blackberry each then fill the glasses halfway with ice. Pour the sangria and remaining berries into each glass.
(Recipe courtesy: foodnetwork.com)
Pecan Pie Monkey Bread
Ingredients:
Dough
1 package (1/4 ounce) active dry yeast
1/4 cup water (110 degrees F to 115 degrees F)
5 cups all-purpose flour, plus more for dusting
1 to 1/4 cups warm 2-percent milk (110 degrees F to 115 degrees F)
1/3 cup unsalted butter, melted, plus more for greasing
1/4 cup sugar
1 teaspoon salt
2 eggs
Caramel
6 tablespoons unsalted butter, cubed, plus more for greasing
1 cup packed brown sugar
6 tablespoons heavy whipping cream
6 tablespoons chopped pecans
Assembly
1 cup sugar
1 teaspoon ground cinnamon
1/2 cup unsalted butter, melted
6 tablespoons chopped pecans
Recipe:
For the dough: Dissolve the yeast in the water in the bowl of a stand mixer. Add 3 cups of the flour, the milk, butter, sugar, salt and eggs. Beat on medium speed for 3 minutes. Stir in enough of the remaining flour to form a firm dough. Turn out onto a floured surface and knead until smooth and elastic, 6 to 8 minutes. Place in a greased bowl, turning once to grease the top. Cover and refrigerate overnight
For the caramel: Generously butter a 10-inch bundt pan. Bring the brown sugar, butter and cream to a boil in a small saucepan. Cook and stir for 3 minutes. Pour half into the greased bundt pan and sprinkle with the pecans.
For assembly: Punch the risen dough down and shape into 40 balls (1 to 1 1/4 inches in diameter). Mix together the sugar and cinnamon in a shallow bowl.
Pour the melted butter into another bowl. Roll the balls in the butter and then roll in the cinnamon-sugar mixture. Place 20 balls in the bundt pan and top with remaining caramel and the pecans. Lastly, place the final 20 balls of dough into the pan. Cover the bundt pan and let rise until doubled, about 45 minutes.
Preheat the oven to 350 degrees F.
Bake until the top is a deep golden brown, 45 to 50 minutes. Cool for 10 minutes before inverting onto a serving plate. Serve warm.
(Recipe courtesy of foodnetwork.com)
Bolder Burger
Ingredients:
9 ounces herb and garlic-flavored tuna
1 cup bread crumbs, divided
1 cup (4 oz.) shredded Cheddar cheese
1/2 cup non-fat ranch salad dressing
1/4 cup sliced green onion
1 egg, lightly beaten
1 Tbsp. olive oil
Recipe:
Combine tuna, 1/2 cup bread crumbs, cheese, salad dressing, green onion and egg in medium bowl; mix well
Form into four patties; Place remaining 1/2 cup bread crumbs on a plate. Coat each side of tuna patties with bread crumbs.
Heat oil in nonstick skillet over medium heat. Cook patties 3 to 5 minutes on each side until golden brown.
(Recipe courtesy of foodnetwork.com)