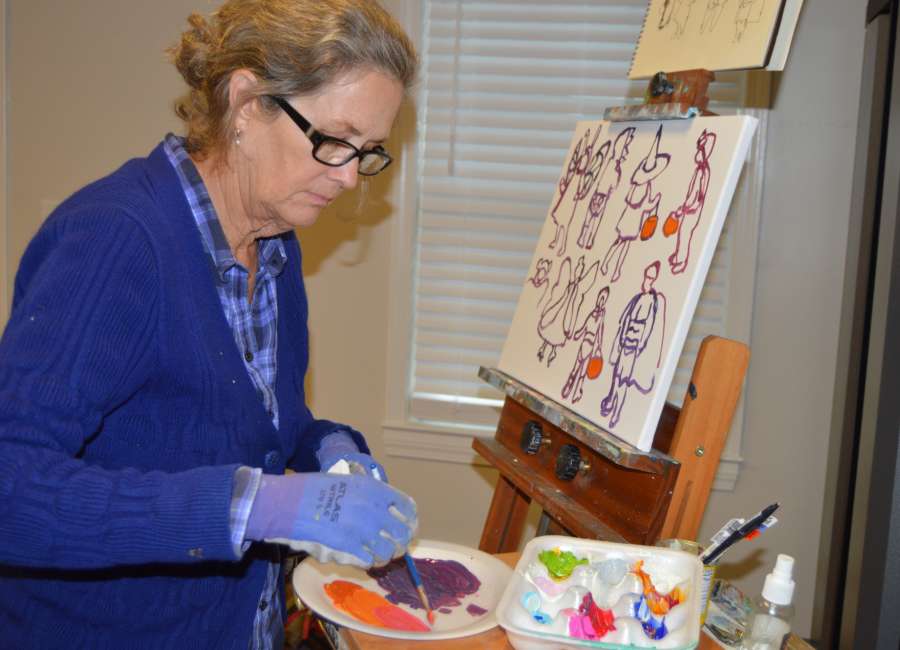 Peggi Kroll Roberts' creativity and masterful skills are coming to life as she captures the beauty and charm of downtown Newnan and the surrounding community.
Roberts is a painter and the newest guest of the Newnan Artist-in-Residence program, also known as the ArtRez program.
The program offers artists a three-week retreat where they can pursue visual, literary and musical projects away from everyday work and pressures.
The California resident flew across the country and is staying in the historic Gray Cottage, located in downtown Newnan.  
In addition to being the newest guest of the Gray Cottage, Roberts received the inaugural Blackwell Prize from the Newnan ArtRez program, according to board member Bette Hickman.  
The award was established to recognize artists of high achievement in plein air/observational painting, drawing or related two-dimensional medium.
Roberts received $10,000 along with a three-week residency, according to an ArtRez news release.
She remembered finding out she won the coveted award during a phone call from ArtRez board member Millie Gosch.
"I really couldn't wrap my head around it," she said. "It was a wonderful, fabulous gift from the universe. I'm still floored."
Painting full time was not initially a part of her plans, she said. She studied art in college with the goal of becoming an illustrator.
Upon graduation, she worked in various advertising agencies and graphics design companies for 17 years. At one point, she was a fashion illustrator for Dillard's.
She said she also taught private painting lessons on the side.
She eventually married her husband Ray and had three children.
Ray was also an illustrator, and had no plans of leaving the industry.
She said those plans suddenly changed when the couple learned about a painting class at a school in Scottsdale, Ariz., where they lived at the time.
"We became very curious about it. The school had drop-in sessions open to the public every Thursday night, so Ray and I went to one and we just loved it," she said.
She said they discovered a whole new passion for art and decided to pursue their individual painting talents – leaving the world of illustration and design in their rearview mirror.
"We decided to move to Northern California. It was scary because we had a house, a mortgage and three little kids. But my husband said, 'This is what we want to do, so we're going to do it.' And we did," she explained.
She admitted the transition into the art world was initially tumultuous, but 30 years later she described the change as one of the best decisions the couple ever made.   
Roberts arrived in Newnan almost two weeks ago.  
"The South seems passionate about art. They really appreciate it, which makes it fun for me," she said.
She said she has explored the beauty and tranquility of Newnan's many parks and downtown neighborhoods. She also drove out to the Newnan-Coweta County Airport to sketch small planes sitting on the tarmac.
However, one specific Newnan tradition seemed to captivate her attention and creative talents.
"I really got into watching the Munchkin Masquerade downtown," she said with a smile. "I did so many drawings of the children. Now I'm inspired to create paintings from all the costumes I saw. I had a blast."
She said a lot of her artwork focuses on capturing childrens' movements and expressions, but she likes to encapsulate people's activities and architecture into her artwork, too.
"I love wandering through town and seeing all the churches," she said.
She uses a variety of paints, such as oil and acrylic, and techniques to bring her artwork to life.
She said she likes to portray the way light falls across her subjects so art lovers feel like they're in the moment inside her painting as well.
However, she refuses to "categorize" her artwork and said it encompasses all genres and types of techniques.
"I refuse to be confined," she said. "I like abstract expressionism. I love post-impressionism. I love modernism. I love it all."
While she worked on refining her technique and branching out into other creative areas during her stay in Newnan, she also taught classes at the University of West Georgia and held a painting demonstration for the public at the Carnegie Library.
"I hope I can share that art can be pursued by anyone … It's all about passion," she said. "I like to use the word 'aptitude' instead of 'talent.' One can nurture their artistic skills. It doesn't take divine intervention to become an artist."
Roberts will remain in Newnan for another week.
Residents can meet the artist and view her work during a special reception at The Nixon Centre for the Arts on Thursday, Nov. 8 from 5-8 p.m.