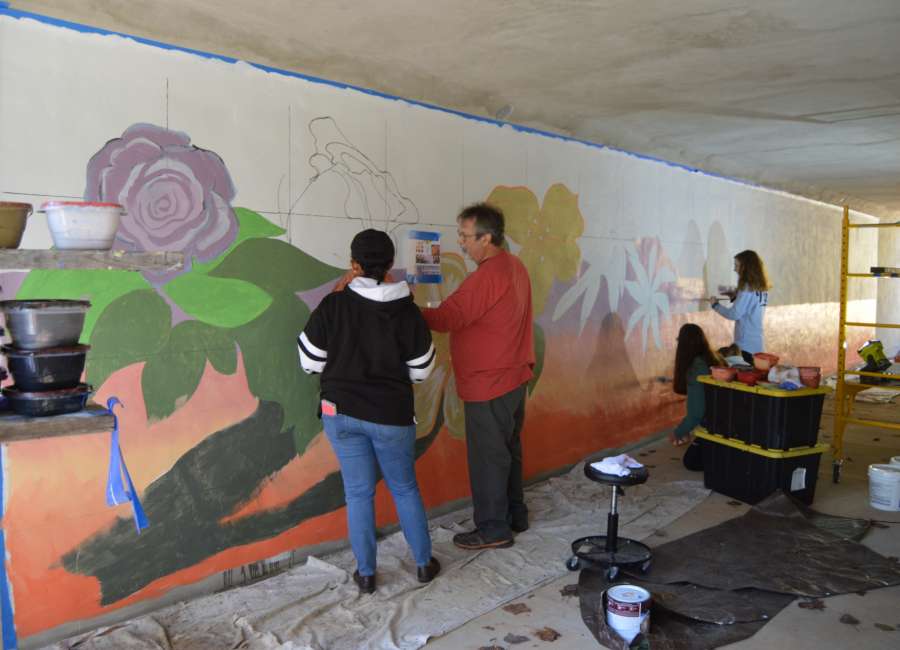 Artist John Christian was commissioned by the city of Newnan to paint the bold mural along the walls of the LINC tunnel, but gave most of the credit to students from Newnan High School.

The students designed the concept for each mural - one for each side of the tunnel's wall.
Christian, along with NHS students Kirsten Hall, Carson Greene, Elizabeth Stinson and Kaitlyn Eason, began painting the first mural Saturday in the LINC tunnel underneath Lower Fayetteville Road.
"The first side will be all the flowers a person might see along the LINC trail, with the words 'Love the LINC' along the bottom of the mural," Christian explained.
The second wall will represent historic Newnan with different colored dogwood trees and antebellum homes, he added.
"The murals will show people the history of the area. Every city has its own unique past," Christian explained.
Christian said the murals will be painted as three-dimensional art. Not only will the art bring the painting to life, but visitors will see something different as they move through the tunnel.
"Seeing it go from paper onto the wall is a really cool experience," Hall said. "I think it's going to turn out really well."
"It's really interesting to see the design on such a large scale," added Eason. "We're bringing something colorful and creative into the tunnel."
Eason, Hall, Greene and Stinson teamed up to create one of the winning designs.
According to Christian, two more tunnels will be built along the LINC trail system. He and Newnan city officials will partner up with other schools in the county to create more murals.
"I think it's cool to come together as a community and make something beautiful that can be shared with everybody," Stinson said.
Christian said, weather permitting, he hopes the first mural will be finished by the weekend.
The Lower Fayetteville Road tunnel is part of the proposed 25-mile multi-use LINC trail system connecting the east and west sides of Newnan and the downtown business district to each other.
Construction continues on the first section of the LINC. The 1.9-mile connection will link Newnan Crossing Boulevard to the Nixon Centre, Newnan Crossing Elementary School, and the residential neighborhoods along Highwoods Parkway and Shenandoah Boulevard.
Once it's completed, the next phase includes a proposed path bridge over Interstate 85, which will place the LINC trail just south of the Cancer Treatment Centers of America.