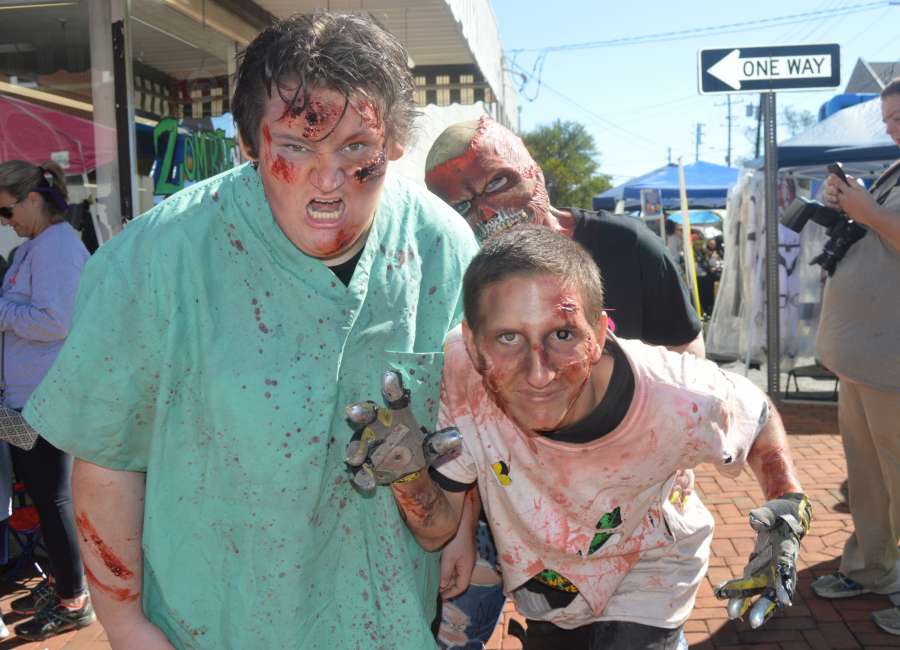 Zombies and a variety of superheroes invaded the intersection of Madison and Jefferson Streets Saturday for a little smack talk and a whole lot of fun.

The group combined forces during the sixth annual Zombie and Superhero Day, which was presented by Full Circle Toys.
Zombies walked the street for a little frightful fun.
"If we scare them in the daytime, it's not as bad and we won't get arrested," said zombie Brayden Bartholf.
"I just like to have fun with it and show people what we like to do," said zombie Riley Miller.  
But the zombies met their match when Supergirl, Batman, Spiderman, stormtroopers and a whole host of other characters showed up to show off their superhero strengths.
Young children dressed as their favorite characters and took pictures with them.
Eight-year-old Briley Matthews said she enjoyed meeting the stormtroopers. "I love Star Wars and superheroes," she said.
Her cousin, Brock Olmstead, 5, made sure to keep his balloon-created light saber handy as he posed for a photo with a stormtrooper.
There were plenty of activities for kids to enjoy, such as a bouncy castle, inflatable slide, paintball arena, dunking booth, ice cream vendor and a meet and greet with a cast of characters.
"Every year we bring in some different characters and the kids believe they are real. They scream, 'There's Superman! Or There's Darth Vader – and they really believe it's them walking down the street," said Kelli Mix, co-owner of Full Circle Toys.
Children who dressed up competed in a costume contest and won various prizes.
"It's an early Halloween for them," Mix added.
She admitted Full Circle Toys also had a bigger mission in mind when planning the annual event.
"It brings people to the downtown Newnan area. For us, it's also like a customer appreciation day because everything is free," Mix explained. "It's going great and growing in size. This year we extended it one extra hour due to popular demand."
The Newnan Police Department and the Newnan Fire Department were on hand with various vehicles, giving kids tours and handing out lifesaving information.