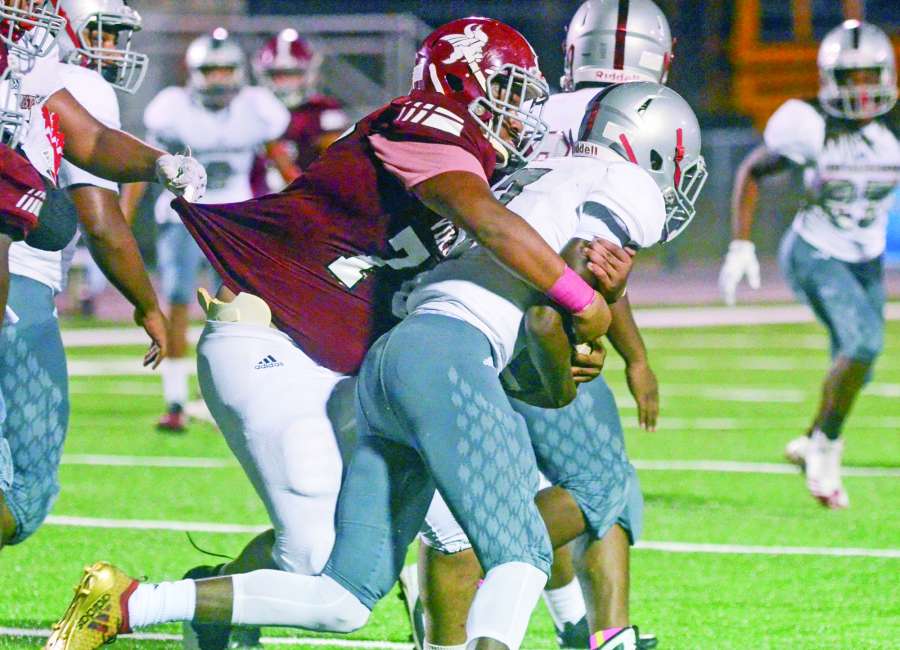 BY Chris Goltermann
Cowetascore
Victories are not at the root of a football coach's happiness. Ask Nick Saban.
And Northgate's Mike McDonald might as well have been at a podium with a Coca-Cola bottle after watching another team wearing Alabama's colors put together their first win streak of the 2018 season.
The Vikings never reached panic mode in a 23-12 victory while keeping New Manchester winless in Region 5-6A and keeping their state playoff destiny firmly in their own hands heading into a bye week.
But after playing well enough to jump ahead 23-0 after three quarters, McDonald continued to have some concerns about his team not being able to put its foot on the throttle for a full four quarters — something that's plagued a team that began the fall with some youth and inexperience.
"Fourth quarter. We let up there," McDonald said. "We did some good things, but we've got to play four quarters."
The opening three produced positives including a key defensive turnover early in the second quarter that kept the Jaguars out of reach after Northgate immediately jumped ahead 7-0 with a touchdown on its first possession of the game.
A 1-yard touchdown by junior quarterback Isaac Corbitt, with a host of offensive lineman helping push him across, gave the Vikings a lead for good with 6:07 left in the opening quarter.
Coming off five consecutive 100-yard rushing efforts, senior running back Cameron Cruver didn't have to be the same workhorse in as two previous weeks while inching toward that plateau again at a slower pace.
Northgate's first back-to-back wins this season were instead paced by Corbitt, who continued to grow into his new role as a starter this fall behind center.
Corbitt threw for 178 yards and two touchdowns in addition to own score while finishing the first half 4-for-5 as the Vikings took a comfortable 17-0 lead into the break.
On the heels of a Homecoming win over Alexander a week earlier, Northgate now takes a 3-2 region record into its bye week after also improving to 4-3 overall.  
The Vikings' second straight win also kept the team a half-game behind Mays, Creekside and Alexander in second place in the 5-6A standings.
The Vikings, however, have head-to-head tiebreakers with both Creekside and Alexander and have a chance to do the same against Mays, which fell to 3-1 in 5-6A following a 23-8 loss to Douglas County.
Corbitt connected on touchdown passes to Tanner Hughes from 60 yards and Gerald Harris on an 18-yard pass that upped Northgate's lead to 14-0 midway through the second quarter and then 23-0 heading into the final period.
Prior to Harris' score, Kade Loggins had padded the Vikings' halftime advantage to 17-0 after booting a 29-yard field goal with 12 seconds remaining in the second quarter.
Northgate's defense maintained a 7-0 lead on a key fumble recovery by Dillon Wade in the Vikings' end zone after stripping the ball loose from New Manchester running back Teondre Carter as it came inches from the goal line.
It led to Corbitt's strike to Hughes on an overhead grab down the right sidelines.
Corbitt's solid evening included a 56-yard catch and run from Steve Hess that set up Northgate's first touchdown.
The only major blemish for the Viking quarterback came when Hughes was tripped up while battling a Jaguars defensive back on a long throw that gave the New Manchester defender a chance to get his hands on an interception at the Jaguars 10-yard line that acted nevertheless like a Northgate punt.
On the following Viking possession, however, the duo made a connection on a key third-down conversion that set up Harris' scoring catch where the senior receiver was left alone in the left side of the end zone on an obvious missed assignment.
New Manchester, however, stayed in the game with 12 unanswered points in the fourth quarter behind quarterback Jimmy Inman.
Inman ended the shutout bid when on a 25-yard touchdown run after dropping back and then finding running room up the middle before bouncing off to his left and eluding a Northgate defender en route to the end zone.
New Manchester then caught a break when a botched punt return was negated by an inadvertent whistle that gave the Jaguars another chance to take possession.
Both teams then traded fumbled on consecutive plays, allowing New Manchester to regain possession inside Northgate territory and eventually score when Inman hit sophomore Malik Laurent from nine-yards out with 5:41 to play.
The Jaguars got one more possession on a drive that ended on its own 29 with Inman heaving a desperation pass in the direction of three Vikings on fourth down that found the turf, allowing Northgate to run out the final 3:17 off the clock.
The Vikings still have two region opponents on the schedule who have struggled this season in Tri-Cities (0-6, 0-4) and Hughes (2-5, 2-3) with a chance to clinch a state playoff berth prior to closing the year with a trip to Mays.
Mays plays Creekside (3-3, 3-1) on Friday in a matchup of two of the three teams tied ahead of Northgate. Alexander (3-3, 3-1) travels to Hughes.