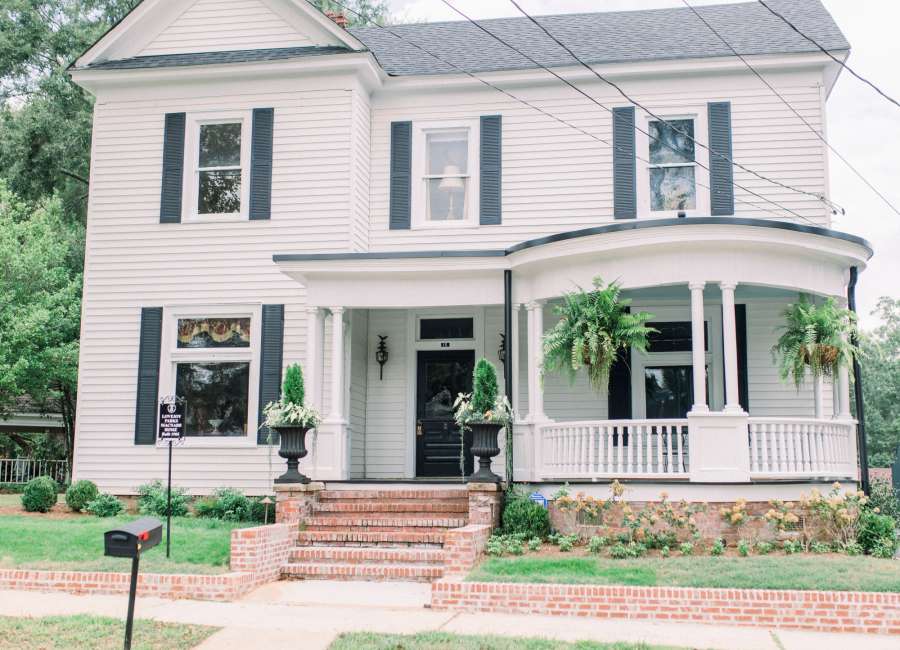 One of the homes on this year's Christmas Tour of Homes was purchased when an entertainment producer made a bold move, knocked on the door and made an offer.

The Clowdus Home at 15 Wesley St. is a 1905 Victorian farmhouse with a one of a kind circular porch and regal charm. After months of looking for his perfect historic dream home to no avail, the producer saw just what he wanted on Wesley Street and persuaded the owners to sell.
The house has been brought back to life in the most dramatic way possible, with the owner embracing the time period and boldness of turn of the century color and décor. Original molding, bubble glass windows and sweeping staircase anchor the two story, four-bedroom Victorian storybook home.
Floor to ceiling, historically accurate wall colors and antique chandeliers illuminate the height and grandeur of each of its 15 living spaces, all themed and painted in rich
shades of yellow, blue, green and black with pops of red integrated into fabrics and artwork.
The three bathrooms feature the ultimate in Victorian luxury with Bradbury & Bradbury wallpapers with up to 20 different hand painted colors.
The master bedroom and bath feature one of the original three fireplaces which, until recently, had been buried and hidden in a wall, leading to opening the whole space into a massive living area with custom walk-in closet and gentleman's lounge. The open
concept brings a modern breath into the classic beauty, enabling the owner to soak in his claw foot tub with the rustling fire of the master fireplace in the background.
The owner has decorated the entire house himself, collecting antiques from around the country, to dress his ultimate set, his dream home. Although loving the privacy of his life in
Newnan, he looks forward to sharing his home with the community and showing that the way to keep small towns alive is to restore and honor the past but with a wink toward the future.
The 2018 Christmas Tour of Homes is hosted by Newnan Presbyterian Preschool and Kindergarten.
The tour will be on Dec. 7 from 4-9 p.m. in the College-Temple Historic Neighborhood. Tickets can be ordered until Dec. 6 at midnight from the website  – www.newnantourofhomes.com
Tickets can be purchased the day of the tour at Christy's Café starting at 3:30 pm. Tickets are $20 in advance, $25 the day of the tour. "A portion of the proceeds will go to the Newnan-Coweta Humane Society," said Barbara Kookogey of NPPK.